How I Am A Killer's Deryl Madison Escaped The Death Penalty
As in seasons past, the third installment of the Netflix documentary series "I Am a Killer" profiles death row inmates and their perspective on the crimes for which they were convicted (via IMDb). Included in the 2022 season of the show is Texas prisoner Deryl Madison, who in 1989 was sentenced to be executed for the murder of elderly Houston resident Beulah Jolivet (per reporting by The New York Times). Though sentenced to die for his crimes, Madison has managed to escape the death penalty, as the "I am a Killer" episode reveals.
According to the show, Madison will instead live the rest of his life behind bars in Texas on a capital murder and kidnapping conviction, according to Mayer Brown, the global law firm that successfully represented Madison's request to overturn his death row conviction. Madison avoided the death penalty only a matter of weeks before his death sentence was set to be carried out. He did so with the help of that well-known law firm as well as an international anti-capital punishment aid agency.
Madison lives with mental health challenges
As The New York Times relates in its April 7, 1988 report, Beulah Jolivet, 81 years old, was stabbed and beaten in her Houston home. Deryl Madison (above) was found guilty of aggravated kidnapping and murder in the case (per The Cinemaholic). Central to Madison's defense in the case were his mental health issues, worsened by a long history of substance use disorder. After the murder, Madison stole money from Jolivet and ransacked her house, selling the items to buy cocaine. Those particulars of Madison's mental health challenges were corroborated by Dr. Wendall Dickerson at the trial, as a legal memorandum explains (via Casetext).
Madison was only able to get the help of the Mayer Brown firm, however, with the help of an international anti-capital punishment organization, the Italian Coalition to Abolish the Death Penalty, part of the World Coalition Against the Death Penalty. Madison got in touch with the coalition founder Michela Mancini through a letter he wrote to her from prison in 1995 (via The Focus). From there, Madison and Mancini grew close, and once Madison's execution was scheduled she helped put him in touch with high-profile legal representation.
If you or anyone you know needs help with addiction issues, help is available. Visit the Substance Abuse and Mental Health Services Administration website or contact SAMHSA's National Helpline at 1-800-662-HELP (4357).
Madison wrote to an Italian anti-capital punishment organization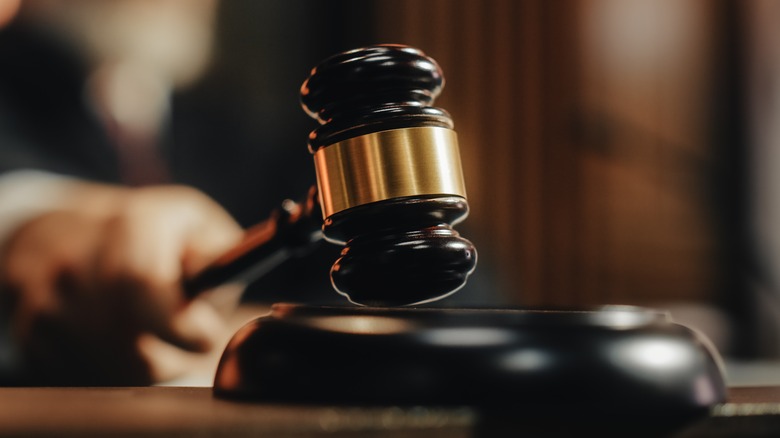 Gorodenkoff/Shutterstock
Though Madison wrote three confessions to the crime, he was initially tried by a jury in a Texas courtroom on a not guilty plea, as the Casetext memorandum goes on to note. That successful memorandum asserted that the jury in Madison's case was not able to fully act on all mitigating evidence, and most notably, Dr. Dickerson's long list of mental health diagnoses. That claim would be the crux on which Madison's death sentence was appealed and eventually revoked.
In 2001, Mayer Brown won a stay of execution for Madison (per The Focus) for a number of legal reasons, including those outlined in the Casetext memorandum. In 2009, the firm convinced the Harris County DA to remove the death penalty in the Madison case. Deryl Madison now serves a life sentence in Texas with no chance for parole. A trailer for the Netflix documentary series "I Am a Killer," featuring the episode telling the story of Deryl Madison, is available to watch now on YouTube.
If you or someone you know needs help with mental health, please contact the Crisis Text Line by texting HOME to 741741, call the National Alliance on Mental Illness helpline at 1-800-950-NAMI (6264), or visit the National Institute of Mental Health website.