Queen Elizabeth II Will Be The First Monarch Funeral At Westminster Abbey In 262 Years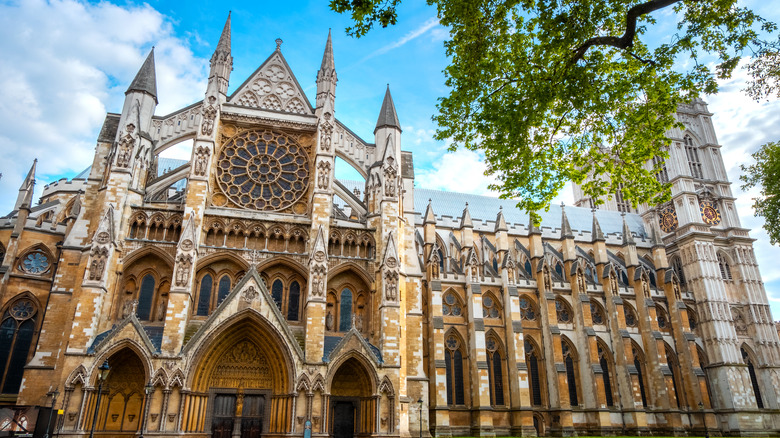 cowardlion/Shutterstock
On September 8, 2022, British Queen Elizabeth II, the longest-reigning monarch in world history, died peacefully at the age of 96 at Balmoral Castle in Scotland, as the BBC reports. Elizabeth's son, Prince Charles, now King Charles III, will succeed his mother on the English throne. When it comes to the British royal family, tradition and custom have always reigned supreme, never more so than in the aftermath of the queen's death.
As ABC News reports, after a period of national mourning in the U.K. and elsewhere, the funeral of Queen Elizabeth II will take place at Westminster Abbey in London, 10 days after the official announcement of the queen's passing. Queen Elizabeth II is expected to be buried next to her father, King George VI, at Windsor Castle, who died in 1952 (via Britannica). And in keeping with the historical importance of Queen Elizabeth II's passing, it will be the first monarch funeral held at Westminster Abbey (pictured) in nearly three centuries, as ABC News goes on to note.
30 British kings and queens are buried at Westminster Abbey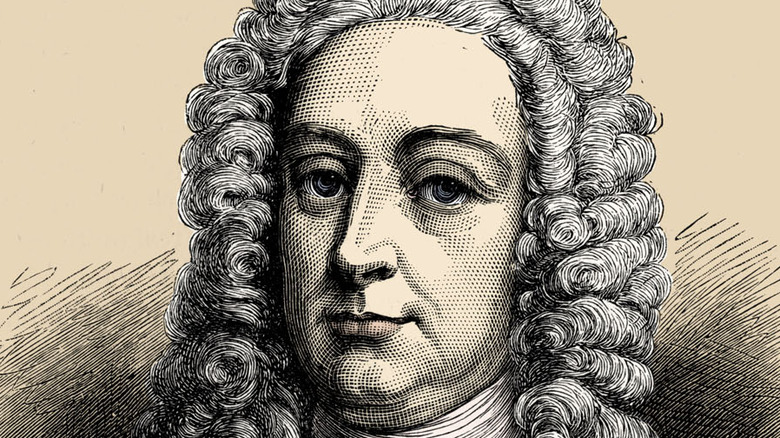 Culture Club/Getty Images
As the official Westminster Abbey website explains, there are 30 kings and queens interred at Westminster Abbey, dating back hundreds of years in English history. King George II, who died in 1760, was not only the last British monarch to be buried at Westminster — he was also the last British king to have his funeral take place at that location (via Britannica). As the Westminster Abbey website elsewhere notes, George II was buried at the church next to his wife, Queen Caroline of Brandenburg-Ansbach, who died in 1737 (per Britannica).
Though no monarch funerals or burials have happened at Westminster since then, several other royal funeral services have taken place at the abbey, and cremated ashes are still sometimes interred there. Most notably, the funeral service for Princess Diana — the late first wife of Elizabeth II's son, Charles — took place at Westminster in 1997. Elsewhere, Diana and Charles' son, Prince William (now directly in line for the British throne behind his father, Charles), married Catherine Middleton there in 2011, as Guide London notes. Elizabeth herself married the late Prince Philip there in 1947, as Britannica elsewhere explains.
Queen Elizabeth will be buried near family
Dan Kitwood/Getty Images
As previously mentioned, after Queen Elizabeth II's funeral service at Westminster Abbey — the first of its kind in nearly 300 years — her final resting place is expected to be St. George's Chapel, on the grounds of Windsor Castle. She will be buried near her father, King George VI; her sister, Princess Margaret; and her husband, Prince Philip. Elizabeth spent much of her time in the years leading up to her death at Windsor Castle, according to ABC News reporting.
As far as King George II's funeral service and burial at Westminster, touchingly, the sides of his coffin were removed at his request so that his dust could intermingle with that of his late wife, Queen Caroline, according to the official Westminster Abbey website. The death of Queen Elizabeth II was not unexpected, and plans for her funeral have been underway for quite some time, as NBC News reports. The service is expected to last 90 minutes, after which time her coffin will proceed from Westminster, past Buckingham Palace and Wellington Arch, and finally, to Windsor Castle, based on NBC News reporting.