Amanda Ray Byerly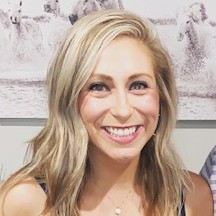 School
University Of North Carolina At Asheville
Expertise
Women's Lifestyle, Wellness, Skincare Trends
Amanda has a deep-seated obsession with devouring female-written memoirs.

Amanda considers the "Real Housewives" franchise to be her very own case study on the dynamics and inner workings of female relationships.

As the mother of two young girls, Amanda is working hard each and every day to raise strong women who are confident of their worth and place in this world.
Experience
Amanda was born with an insatiable appetite to put her thoughts on paper. Later she graduated to furiously tapping away on her MacBook. Her first foray into writing for others began when she served as the sole writer of a one-sheet "newspaper" at her local Elementary school. As she got older, she sank her teeth into every celebrity magazine her allowance afforded her and stayed up way past her bedtime watching the E! channel and every episode of MTV's celebrity docuseries "Diary." After graduating, she landed a paid gig writing television recaps and never looked back. Currently, she serves as a news writer for Nicki Swift, The List and Women.com.
Education
Amanda graduated from the University of North Carolina at Asheville with a bachelor's degree in Mass Communication in 2012. She graduated with "Departmental Distinction" and was the recipient of an "Outstanding Achievement in Commercial Media" award. She also served as the Associate Editor of the departmental newsletter "MASSCOMMunity" and was an active member of the Public Relations and Advertising Association (PRSA).
Grunge Editorial Policies
The unique content on Grunge is a result of skilled collaboration between writers and editors with a broad array of expertise in everything from history to classic Hollywood to true crime. Our goal is to provide accurate and diverse content bolstered by expert input.
Focused on accuracy and ethical coverage, the Grunge editorial team consistently fact-checks and reviews site content to provide readers with an informative, entertaining, and engaging experience. Click here for more information on our editorial process.
Stories By Amanda Ray Byerly