Shannen Camp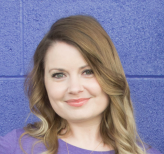 Shannen has been writing and gaming since she was old enough to hold a controller. With 13 published books as of 2018 under the pen name Shannen Crane Camp and endless hours logged playing video games, Shannen eats and breathes gaming. She has a bachelor's degree in film, though that mostly just means she's great at special effects makeup. When not writing about games, Shannen can be found on YouTube making awkward gaming videos under the name Persephone Plasmids and is usually busy looking for the next creepy indie game she can fall in love with (though she's pretty sure nothing will ever beat Limbo and Oxenfree).
Grunge Editorial Policies
The unique content on Grunge is a result of skilled collaboration between writers and editors with a broad array of expertise in everything from history to classic Hollywood to true crime. Our goal is to provide accurate and diverse content bolstered by expert input.
Focused on accuracy and ethical coverage, the Grunge editorial team consistently fact-checks and reviews site content to provide readers with an informative, entertaining, and engaging experience. Click here for more information on our editorial process.