The Bizarre Mishap That Led To This Royal Coffin Tradition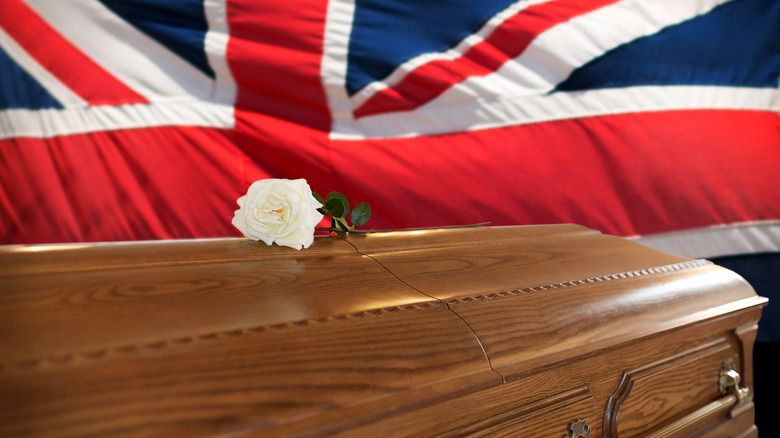 Ground Picture/Shutterstock
With tradition handed down over centuries, monarchal funerals are solemn and highly ceremonial affairs in the U.K. and elsewhere. As it will be for Britain's Queen Elizabeth II, who died on September 8, 2022, at age 96, at Balmoral Castle in Scotland (via BBC). One unusual royal funeral tradition in the U.K. got its start at the funeral ceremony for Britain's last female monarch, Queen Victoria, who died in 1901. Victoria was Elizabeth's great-great-grandmother and, next to Elizabeth, Victoria was the second longest-reigning female monarch in British history, according to NPR.
Victoria's funeral aside, the last British monarch to die was Elizabeth's father, George VI, in 1952. But most might remember the high-profile funeral for Princess Diana, who died in a car crash in France in 1997. She was the first wife of Elizabeth's eldest son Prince Charles, now King Charles III, as the Daily Mirror reports. Elizabeth's mother, Queen Elizabeth, the Queen Mother, died in 2002. Many of the traditions associated with a royal funeral are not so dissimilar to a funeral service for any person — mourners are asked to wear black, for example. Other rituals, though, only make sense for royalty, such as one coffin-pulling tradition that began at the funeral of Queen Victoria.
Elizabeth's coffin will travel some distance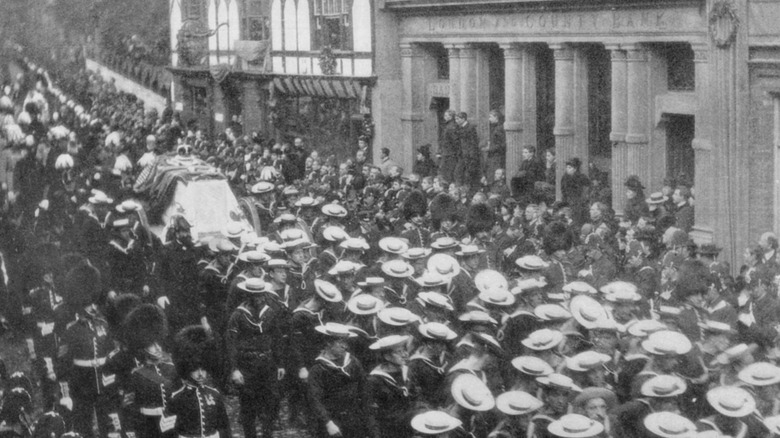 Print Collector/Getty Images
Queen Elizabeth's funeral will reportedly take place at Westminster Abbey before she's laid to rest alongside her parents and late husband, Prince Philip, in St. George's Chapel at Windsor Castle, as The New York Times reports. At the conclusion of the proceedings at Westminster, Queen Elizabeth's coffin will be pulled on the same green gun carriage that was used to carry the coffins of generations of British royalty before her from Westminster, down the Mall between Buckingham palace and Trafalgar Square, all the way to its destination, Windsor Castle. It's who will transport that coffin on its trip where one royal tradition takes effect.
One might imagine that a team of horses would be suitable to pull the coffin of a royal family member past crowds of thousands, and at the funeral of Queen Victoria in 1901, that's exactly what was planned to happen. But those horses, after all, were only horses, and when they were called open to perform their duty, they weren't up for the task. It was then that 138 junior sailors at attention for Victoria's funeral stepped in to move the coffin where it was meant to go (pictured). With that, a new royal tradition was born, and a replay of that event is expected to also take place at the funeral of Queen Elizabeth, as The Guardian reports.