The Tragic 2012 Death Of Jenni Rivera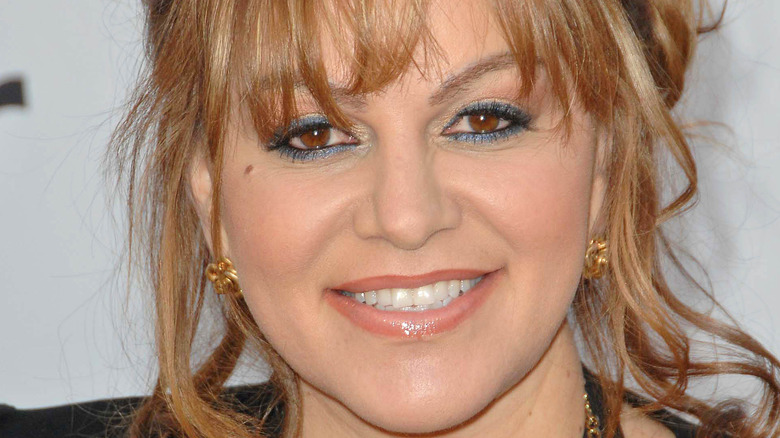 s_bukley/Shutterstock
Jenni Rivera is remembered for being the "Diva de La Banda" and for singing about the struggles that women endure (via Reuters). Born in Long Beach, California, to Mexican immigrants, AllMusic reports that Rivera primarily sang corridos. However, she also specialized in norteño and ranchero music. This was a rarity as these genres were — and still are — primarily dominated by men. Nevertheless, Rivera went on to sell millions of records and become a Mexican-American icon. Her journey to fame and musical acclaim was anything but easy. According to LiveAbout, Rivera was a teen mother and a young wife, and her first husband, Jose Trinidad Marin, abused her.
Per CNN, Rivera divorced Marin when she discovered that he had molested their daughter and her younger sister. After her divorce, the single mother of three went to work at her father's record label, Cintas Acuario. AllMusic writes that Rivera's father and brothers were also musicians. At the label, Rivera honed her passion for music, and in 1995, she released her debut album "La Chacalosa."' From then on, Rivera continued to drop hit after hit. Biography states that she had 15 gold, 15 platinum, and 5 double-platinum records.
CNN explains that she was also a businesswoman and actress, and starred in her own reality TV show called "I love Jenni." Indeed, she was in the prime of her career when the unthinkable occurred. On December 9, 2012, Rivera's life and career were cut short in a catastrophic plane crash (per All That's Interesting).
If you or anyone you know has been a victim of sexual assault, help is available. Visit the Rape, Abuse & Incest National Network website or contact RAINN's National Helpline at 1-800-656-HOPE (4673).
If you or someone you know is dealing with domestic abuse, you can call the National Domestic Violence Hotline at 1−800−799−7233. You can also find more information, resources, and support at their website.
Her and her crew died instantly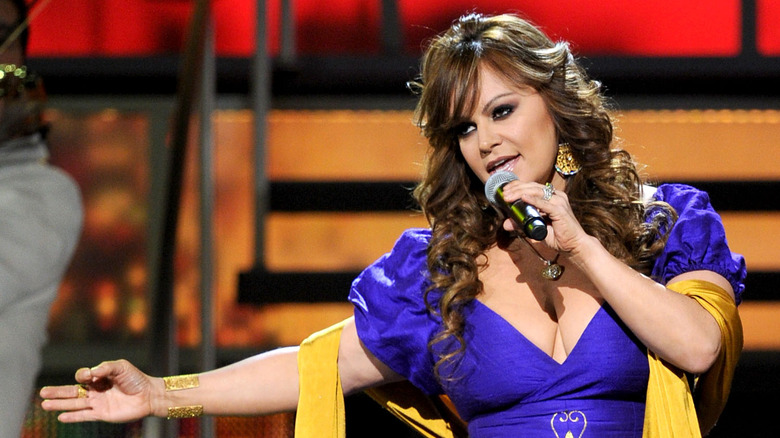 Kevin Winter/Getty Images
According to the Los Angeles Daily News, Jenni Rivera performed a concert in Monterrey, Mexico, before boarding the ill-fated flight. Time reports that she was headed to Toluca to film the Mexican version of "The Voice." Rivera was not alone; besides the two pilots on board, she was traveling with four members of her entourage, including her lawyer, makeup artist, publicist, and stylist (via NBC News). Per CBS News, Rivera and her crew took a photo in the plane before it took off. About 10 minutes later, the plane, a Learjet, went missing. Shortly after, the plane crashed in Nuevo Leon, a state in Northern Mexico (via The Guardian).
USA Today writes that the Learjet traveled vertically at more than 28,000 feet before it hit the ground at over 600 miles per hour. With this, Gerardo Ruiz Esparza from Mexico's Secretary of Communications and Transportation revealed, "The plane practically nose-dived. The impact must have been terrible." All seven individuals on board died (via the Los Angeles Daily News), and only scattered human remains and plane fragments were found at the crash site. This prompted authorities to use DNA testing to confirm the identity of the victims.
However, Rivera's mother, Rose Saavedra, still hoped that her daughter was alive. She theorized that Rivera had been kidnapped and said (via USA Today), "We're hoping it's not true, that perhaps someone took her and left another woman there." But tragically, it was Rivera. As reported by ABC News, her family traveled to Monterey to identify the remains, and her brother later confirmed that "Jenni is no longer with us."
What led to the plane crash?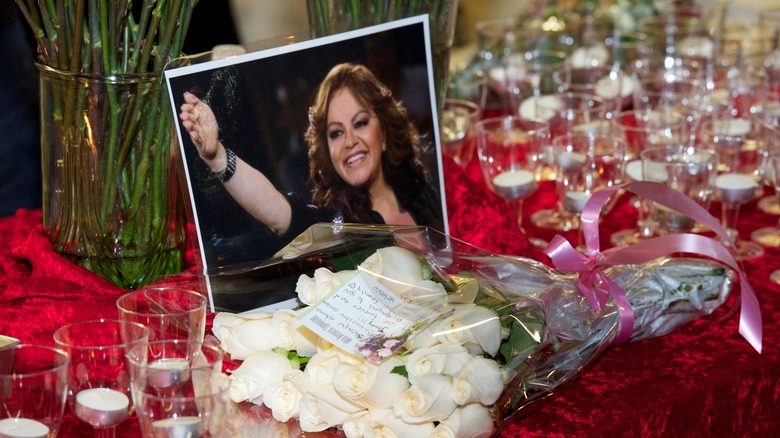 Earl Gibson Iii/Getty Images
A year after Jenni Rivera's death, the Los Angeles Daily News reported that the crash was so destructive that Mexican authorities had trouble discerning what had caused it in the first place. Mexico's General Civil Aviation Administration was able to rule out the weather. However, they were unable to come up with a specific cause for the crash. Instead, the organization cited a "series of factors" (per Billboard). This included the Learjet's age, the age of the pilots, and a failure to report the plane's previous problems. ABC News states that the Learjet had previously been in an accident in 2005. The plane was built in 1969, and the pilot was 78. His co-pilot was 21.
According to CNN, the pilot should not have been given a flying license in the first place because he was too old. The co-pilot was also not licensed to fly outside of the U.S. Mexican authorities noted (via SPIN), ​​"The aircraft operator did not allow notes in the logs about failures detected by the crew as when the aircraft flew out of alignment and vibrated when it reached cruising altitude." Ultimately, it's believed that the crash was caused by "a sudden and abrupt lack of control" that was likely the result of an issue with the Learjet's horizontal stabilizer.
Per NBC News, Starwood Management LLC, the company that owned the Learjet 25 later, paid $70 million to the family members of the four that died alongside Rivera. As for Rivera, her legacy continues. In 2022, her daughter Jacqie Rivera told Billboard that fans can expect the release of new music recorded before her death, a concert honoring her memory, and a new biopic.