The Tragic 2019 Murder Of Charles Vallow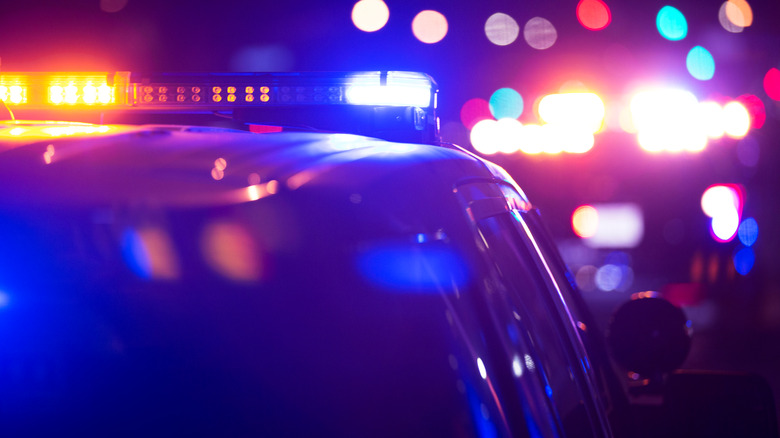 Matt Gush/Shutterstock
Lori Vallow Daybell married her fourth husband, Charles Vallow, in 2006, reports the Post Register. Lori had a daughter named Tylee from one of her previous marriages, and by 2014, the Vallows adopted J.J., Charles' grandnephew. Around 2015, Lori started to read all of author Chad Daybell's books, sparking a religious obsession that continued for years and changed the lives of the Vallow family forever. 
Per 12 News Now, in early 2019, Lori began telling her friends and family that her husband was possessed by evil spirits after establishing contact with Chad Daybell. He told her that her husband was possessed by three evil demons and was constantly giving her new religious beliefs. Lori called Charles a monster, telling everyone who would listen that Charles cheated on her and was an evil being. She even planned a prayer circle to try and get the demons out of him.
Per Fox 10 Phoenix, Lori also told people that she was a god. She had visions of a religious war and told Charles that he shouldn't get in the way of her preparations for the next coming of Christ. She refused Charles' offer to help her and instead threatened his life. At that point, Charles got a protective order against her. Per ABC 15, he was genuinely worried that Lori would follow through on her threats to murder him. He said that Lori was " ... infatuated and, at times, obsessive about near-death experiences and spiritual visions," per AZ Central.
Charles tried to get Lori help
Charles also had financial worries, reports Fox 10 Phoenix. In 2019, Lori had moved $35,000 from their joint accounts to an unknown bank account. Since her name was on their shared account, there was nothing Charles could do to stop her from draining his funds. Post Register reports that Charles was on a business trip when she transferred the money, and Lori canceled his return flight. When Charles finally returned to their Arizona home, all his belongings had disappeared. 
Lori left and took J.J. with her. Alarmed, Charles tried to get his wife a 72-hour mental health evaluation, but she was discharged within just a few hours. In February 2019, Charles started divorce proceedings and quietly removed Lori from his life insurance policy. She fled to Hawaii for almost two months without telling her family where she'd gone. In March 2019, Charles changed his mind about divorcing Lori.
The Post Register reports that their marriage didn't improve. In fact, Charles confided in friends that Lori changed drastically in the last six months. She referred to her daughter Tylee as a "zombie" and told Charles he'd been inhabited by an evil spirit with a different name. Things came to a head in mid-July when Lori found out Charles concocted an intervention for her. She texted her brother, Alex Cox, asking if he could stay by her side in the coming days. Per Law and Crime, on July 11, Charles visited Lori's house.
Lori pretended her kids didn't exist
Cox and Charles reportedly fought about Lori and Charles hit Cox in the head with a bat (per Law and Crime). Cox then grabbed his gun and shot Charles twice in the chest, causing his death (per Post Register). Fox 10 Phoenix reports that one of Charles' sons, Justin Lum, said that Charles was a nonaggressive person who usually avoided arguments. Lum found out about Charles' death on the news because Lori never called to tell him that his father was shot.
Per 12 News, with Charles dead, Lori took charge of their children. But per the Post Register, when relatives asked about 7-year-old J.J. and 17-year-old Tylee in late 2019, Lori pretended they didn't exist. At one point, she said that Tylee died two years prior. Lori and Chad Daybell flew to Hawaii and married the same month, but as 2020 started, J.J. and Tylee's grandparents launched a public campaign to find the kids. When Lori didn't bring them to the police, she was arrested.
Tragically, the children's remains were buried at Daybell's home in June 2020. Per AZ Central, Daybell was subsequently arrested, and both he and Lori were charged with J.J. and Tylee's murders. For at least the next six months, Lori was deemed incompetent to stand trial for mental health reasons (via 12 News). As for Alex Cox, Lori's brother who allegedly murdered Charles, he never faced any consequences for Charles' death and died in December 2019 from natural causes.
If you or someone you know needs help with mental health, please contact the Crisis Text Line by texting HOME to 741741, call the National Alliance on Mental Illness helpline at 1-800-950-NAMI (6264), or visit the National Institute of Mental Health website.