The Tragic 2019 Death Of Tammy Daybell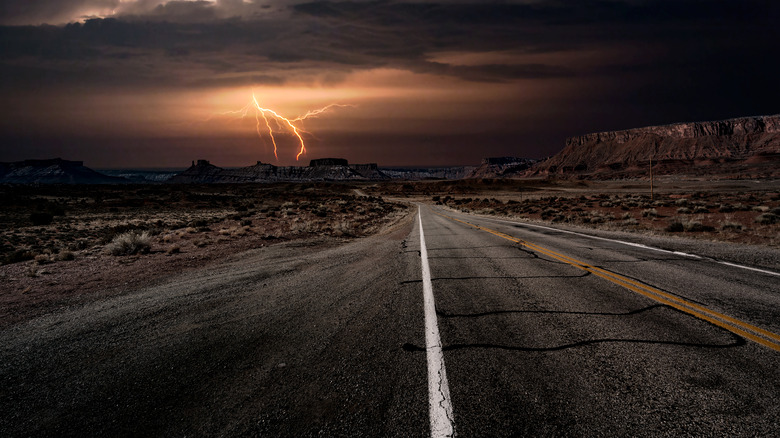 Sarah Quintans/Shutterstock
In 2019, 49-year-old Tammy Daybell died in her Idaho home from what was initially ruled to be asphyxiation caused by a cardiac event, according to Arizona news outlet Fox 10. At her family's request, no autopsy was performed on the mother of five's body when she died. A short time later, Daybell's husband, Chad Daybell, who was present when his wife died, married Lori Vallow. At that point, suspicions were aroused that there may be more to Daybell's death than what authorities first believed, as CBS News reports.
The subsequent investigation into Daybell's death revealed marital infidelity, a sizable life insurance policy, and a number of unusual spiritual beliefs, as well as a string of mysterious deaths surrounding Vallow including those of her own husband, and later her two children. The process also involved the exhumation of Daybell's body upon which an autopsy was performed. The results have yet to be released to the public, as CBS News goes on to note.
Tammy's husband and Lori Vallow were having an affair
At the time that she married her fifth husband, Chad Daybell (pictured), Lori Vallow had another mysterious death in her past: her fourth husband, Charles Vallow, who in 2019 was shot and killed by her brother, Alex Cox, as Law & Crime explains. According to police documents, authorities believe that Charles had discovered an affair between Chad Daybell and Lori Vallow. He also reportedly informed Tammy Daybell of the infidelity, according to Utah news outlet KSLTV.
Cox, who also allegedly shot at Tammy Daybell a matter of days before her death, died in prison from what were ruled to be natural causes, just one day before Tammy Daybell's body was set to be exhumed, as Fox10 notes. To cover up the marital infidelity, authorities believe that Chad Daybell may have killed his wife Tammy, collected on a life insurance policy, and freed himself to pursue a new life with Vallow. After Chad and Vallow were married, her own two children, Joshua "JJ" Vallow Tylee Ryan, later disappeared. Their remains were later discovered on the property Daybell shared with Vallow.
Daybell reportedly had a vision his wife would die
In addition to the marital infidelity that allegedly precipitated the death of both Lori Vallow's husband, Charles, and Tammy Daybell, it was later revealed that Chad Daybell and Lori Vallow Daybell (pictured) hold a number of unusual spiritual beliefs. As KSLTV goes on to note, Chad had reportedly had a vision that Tammy would die in a traffic accident while traveling in Utah a short time before her death. When she returned alive, he thought she had become a zombie. Lori and Chad were also known to speak openly of their belief in so-called doomsday events, and believed they possessed the power to differentiate between light and dark spirits. 
Because of this, the couple thought they were tasked with fighting zombies, as Fox10 notes. Therefore, in their view, the string of alleged murders were justified. After the remains of Vallow's children were discovered on the Daybell property, and as the investigation into Tammy Daybell's death intensified, Chad and Lori were arrested. Daybell was charged with killing both Tammy Daybell and his stepchildren, while Vallow was also charged in the death of her son and daughter. As of this report, the trials of Lori Vallow, who was at first ruled unfit to stand trial, and Chad Daybell, who plead not guilty, are set for January, 2023, as Idaho news outlet KIVITV reports. 
Daybell's five children maintain their father's innocence and allege he was framed, according to CBS News. The complete story of Tammy Daybell's death is told in the Netflix documentary series "Sins of Our Mother." A trailer for "Sins of Our Mother" is available to watch now on Youtube.