The Disturbing Truth About The Relationship Between Alex Cox And Lori Vallow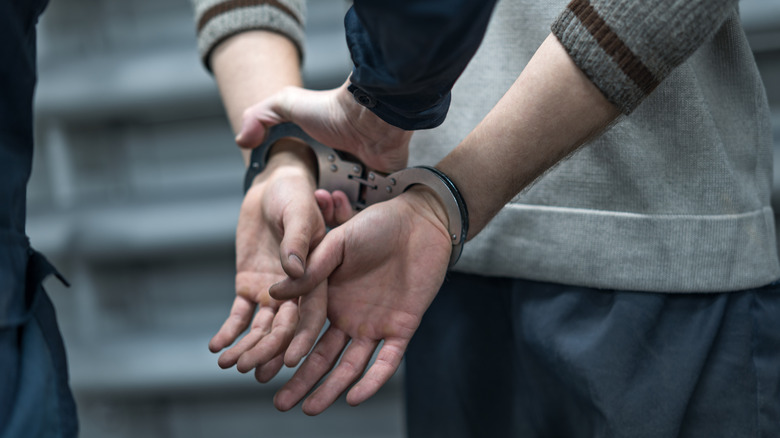 Vadim Kulikov/Shutterstock
The following article includes allegations of sexual assault and inappropriate sexual contact between family members.
In 2019, Arizona resident Charles Vallow, the fourth husband of Lori Vallow Daybell, was shot and killed. Pulling the trigger was Lori Vallow's brother, Alex Cox, who claimed self-defense. A short time later, Cox would be dead from what was ruled to be natural causes. Lori's children, J.J. Vallow and Tylee Ryan, would also be found dead but from murder, based on CBS News reporting. Revealed by subsequent investigations were the controversial spiritual beliefs held by Lori and her fifth husband Chad Daybell, whom she married shortly after Charles Vallow's death. At that time, Vallow also reportedly had an inappropriate relationship with her own brother, Cox, according to Cox's ex-wife, known to the press only as Debbie, as East Idaho News reports.
After the remains of Lori's two children were discovered on an Idaho property owned by Chad Daybell, the couple faced a number of charges including first-degree murder and conspiracy to commit murder, to which both pleaded not guilty, as CBS News elsewhere notes. Chad Daybell's late wife, Tammy Daybell, died under mysterious circumstances around the same time that an alleged extramarital affair between Chad and Lori was uncovered.
Alex Cox married Debbie in 1992
As East Idaho News goes on to report, in 1992, Lori Daybell Vallow's brother, Alex Cox (pictured), married a woman known in the media only as Debbie but they divorced a year later. When Debbie learned that Cox was allegedly involved in the death of his sister's husband, Charles, Debbie came forward to speak with police where the Vallows lived in Chandler, Arizona. In the short time that Debbie and Cox were married, a troubling side of him was revealed, including the sexual abuse of a minor.
Also according to Debbie, speaking with Chandler police via official police records, around that same time, Cox was also ex-communicated from the Mormon church for sex-related offenses, as East Idaho News notes. While speaking to Chandler police, Debbie alleged that in her view, Cox was described as a sex addict, and that, though they kept in touch after their split, it was that troubling aspect of Cox's personality that contributed to their divorce.
If you or someone you know may be the victim of child abuse, please contact the Childhelp National Child Abuse Hotline at 1-800-4-A-Child (1-800-422-4453) or contact their live chat services.
Cox allegedly had a sexualized relationship with his sister
Also noted in the East Idaho News report is that the death of Charles Vallow was not the only time Cox intervened in one of his sister's relationships. Cox also attacked Lori's third husband, Joseph Ryan (via ABC News). What might have motivated that attack, as well as Cox's willingness to shoot and kill his sister's fourth husband, were the dynamics in the Cox family that Debbie characterized as unusual and that she said created a number of issues early on in her marriage with Cox. Referring to those dynamics, Debbie reportedly said (via East Idaho News), "It caused a lot of issues right away, and it actually made me scared and nervous."
Chief among those concerns were sexualized behaviors Cox displayed toward his own sister. According to Debbie, these behaviors sometimes happened in full view of other family members. She also said that Cox spoke of how sexually attractive he found his sister to be and that he touched her body inappropriately on a number of different occasions. "He sexualized her quite a bit," Debbie went on to add. "Alex and I only lived together married about four or five months. Then I just knew that family was too weird and that I made a big mistake, so I got out." 
The complete Daybell-Vallow story is told in the Netflix documentary "Sins of Our Mother," with a trailer available to watch now on YouTube.
If you or anyone you know has been a victim of sexual assault, help is available. Visit the Rape, Abuse & Incest National Network website or contact RAINN's National Helpline at 1-800-656-HOPE (4673).