Whatever Happened To Sins Of The Amish Subject Mary Byler?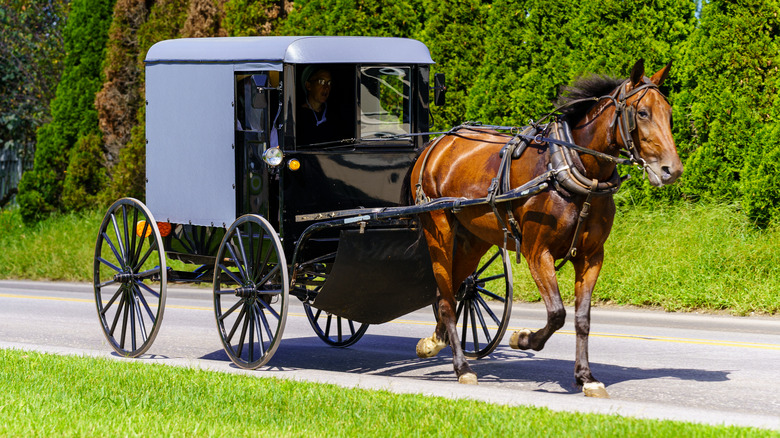 George Sheldon/Shutterstock
The following article contains information regarding the sexual abuse of minors.
The Amish are often seen as leading idyllic lives, driven by hard work, strong family ties, and unwavering faith. However, like any other community, the Amish have their problems, including dark family secrets. As reported by Legal Affairs, Mary Byler was born and raised in an Amish community in Pennsylvania. She experienced devastating abuse at the hands of her father and several other relatives. While she eventually left the community and has continued to work toward healing, Byler will never forget the abuse and betrayal.
Legal Affairs reports that the sexual abuse began when Byler was only four years old and continued until she was 17. Although the abuse began with Byler's father, who was killed in an accident when she was five years old, it continued with her older brothers and a cousin. Mary said that she talked to her mother about what was happening to her. However, her mother did little to actually prevent the abuse.
By the time she was in her late teens, Byler was no longer being abused. However, she became concerned for her younger sister's safety, as she had reason to believe she was now being abused. According to Legal Affairs, Byler initially contacted church leaders hoping they would intervene. Unfortunately, the punishments imposed on her abusers were insignificant and lasted only six weeks.
As Byler was still concerned for her sister's welfare, she ultimately went to the authorities with her concerns. Byler was shunned from the Amish community shortly thereafter. 
Mary Byler became an advocate for survivors of sexual abuse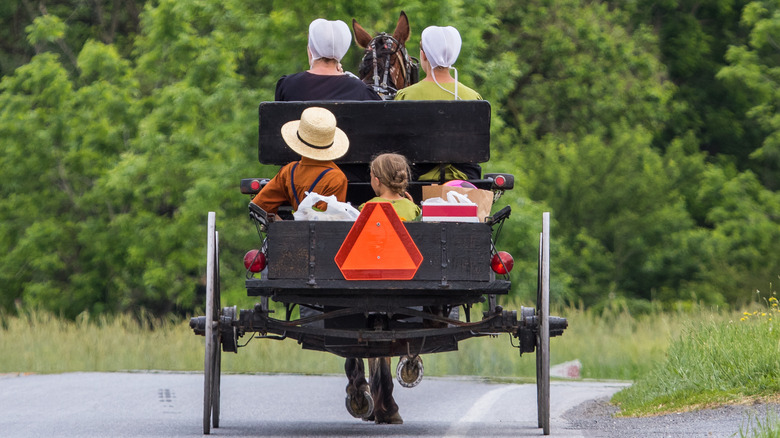 hutch photography/Shutterstock
Three of Mary Byler's brothers were eventually arrested and charged with several counts of sexual assault. As reported by Legal Affairs, the men ultimately pleaded guilty. Her brother Johnny was sentenced to one year in jail, which was only served at night, as he was permitted to continue working on his farm during the day. According to The Cinemaholic, her brother Eli was sentenced to eight years, as he had a prior criminal conviction. The third brother, David, was sentenced to four years. Byler's stepfather was also charged with physical abuse and failing to report the sexual abuse he knew was taking place in the home. Her mother was also charged with failing to protect her daughters from the abuse.
When Byler left her community, she began advocating for survivors of sexual abuse in the Amish community. She is also the co-founder and CEO of the Misfit Amish organization, which helps connect members of the Amish community with those who are outside of the community. As reported by The Cinemaholic, Byler has been particularly candid about her abuse and other experiences of being raised in the Amish community. She has given multiple interviews, appeared on several television programs, and has attended many public speaking engagements to raise awareness about how sexual abuse is handled in Amish communities. Byler said she sincerely hopes sharing her experiences and the pain she suffered will help make a difference.
Mary Byler hopes sharing her story will help others
In a 2021 interview with The Cinemaholic, Byler said, "I have to believe that there are enough people that see these actions for the atrocities that they are; that we can all stand together and we can raise awareness, we can create education, we can use the education already out there, and we can make a difference." In the months and years after she left the Amish community, Byler took classes and earned her GED. As reported by Distractify, she also took driving lessons, got a driver's license, and purchased her first car. She also went on to join the U.S. Army (per ABC News).
Byler shared her experiences in a television mini-series titled, "Sins of the Amish," which premiered in 2022. By the time the series aired, more than 20 years has passed since she left the Amish community. According to The Cinemaholic, Byler is also now a mother. 
According to Legal Affairs, Byler said that she cut all ties with her mother and brothers and that they were essentially "dead to her." However, she admittedly drove past her mother's home on several occasions, but has not had any known contact with her estranged family members. Byler continues her work to advocate for children who are in a similar situation that she was in. 
If you or anyone you know has been a victim of sexual assault, help is available. Visit the Rape, Abuse & Incest National Network website or contact RAINN's National Helpline at 1-800-656-HOPE (4673).