Who Is The Garter King Of Arms?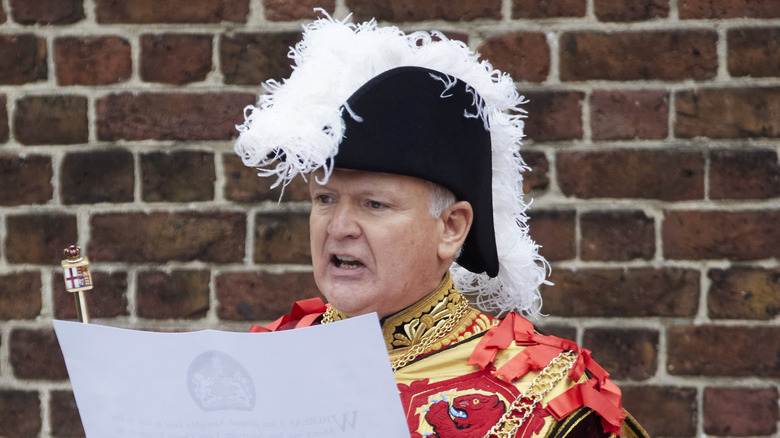 Wpa Pool/Getty Images
With the death of his mother Queen Elizabeth II, her eldest son, Charles, immediately became the new king of England, choosing to reign as King Charles III, according to CNN. Though that change happened right away, there were further steps that had to be taken in the crowning of a new monarch before Charles' so-called accession to the English throne. Crucial to that process is the Garter King of Arms (pictured), who for centuries has had an important role advising monarchs on all things related to royal practices, as The New York Times explains.
As of this report, the most notable part of the process for King Charles III would be the coronation ceremony. In the immediate aftermath of the queen's death, exactly when Charles would be crowned was undecided. It would likely happen at Westminster Abbey in London, where Charles' own mother was crowned in 1953, and where every English monarch has been crowned dating to the time of William the Conqueror in 1066, according to the Westminster Abbey's website (aside from two, that is — Edward V and Edward VIII were never crowned at all). Before that though, Charles met with the so-called Privy and Accession Councils, after which time the Garter King of Arms was called into duty on September 10, 2022.
The Garter King of Arms proclaimed Charles the new king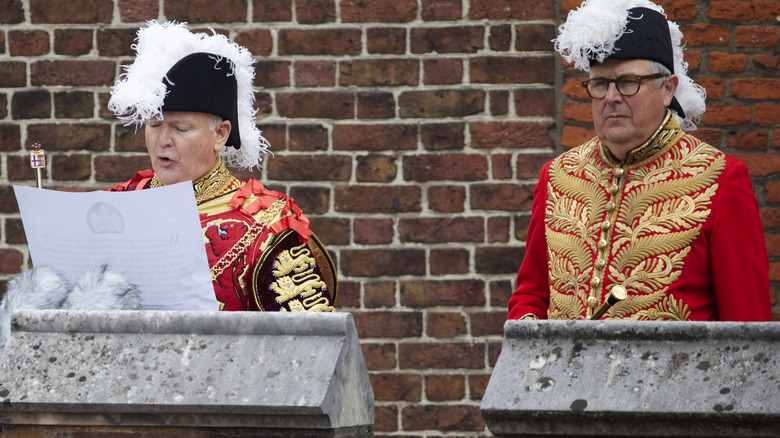 Wpa Pool/Getty Images
As the College of Arms website explains, the Garter of King of Arms is the most senior position among the three King of Arms. At the time of Queen Elizabeth's death, the Garter King of Arms, a role created by King Henry V in 1415, was David James White, as the College of Arms goes on to note. In times past, the King of Arms settled issues of heraldry, and assigned armorial bearings, among other duties, per Collins Dictionary. According to the NCPedia website from the University of North Carolina, armorial bearings are defined as crests, coats of arms, and insignia granted to knights by a sovereign.
In the process of announcing a new king, King Charles III met first with the Privy and Accession Councils, which included former Prime Ministers, and Charles' son, William, the prince of Wales. The Garter King of Arms then declared Charles king in a proclamation to a small group gathered at St. James' Palace in London, according to The New York Times. Video of the Garter King of Arms proclaiming Charles' the new king of England is available to watch now on YouTube.