Aretha Franklin's FBI Files Revealed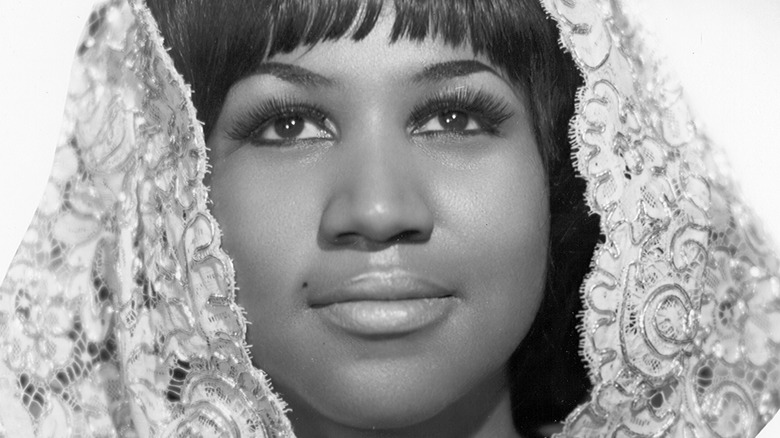 Michael Ochs Archives/Getty Images
The 1960s and '70s in the U.S. were a time of great cultural upheaval, with active support for broad political, social, and cultural reforms now known as the Civil Right Movement, according to the University of Georgia website. That activism was supported by many popular musicians at the time. Since desired outcomes called for from the social justice movement at that time were considered controversial, the FBI kept close tabs on those artists, such as John Lennon, Jim Morrison, and others, according to the NME.
Among those musicians who the federal agency kept a file on was the soul singer Aretha Franklin, who died in 2018, and who was a noted Civil Rights activist in her youth, as Biography notes. Thanks to a Freedom of Information Act (FOIA) request from journalist Jen Dize, the contents of Franklin's FBI file from the Civil Rights period and beyond are now declassified, based on reporting from People.
The FBI tracked Franklin's Civil Rights activism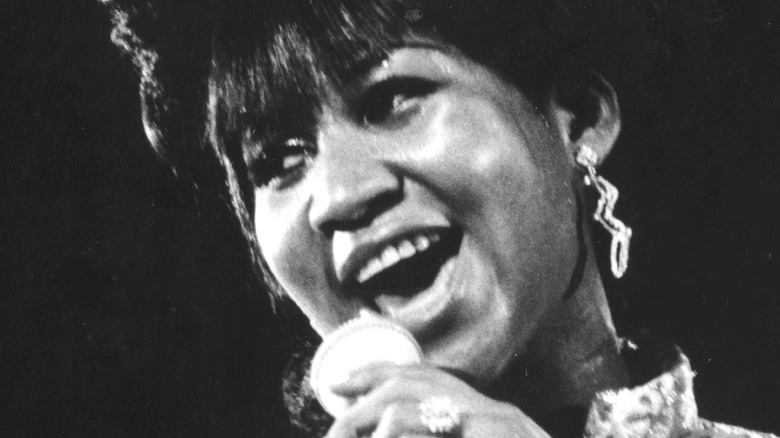 Michael Ochs Archives/Getty Images
As was revealed in the 270-page declassified document now posted on the FBI website, the federal agency kept an eye on Franklin for her known involvement in the Civil Rights movement. The FBI also tracked her association with other activists at that time, such as Dr. Martin Luther King Jr. and Angela Davis, as Pitchfork reports. Due to her radical activism, Alabama academic and social and cultural philosopher and critic Angela Davis spent time on the FBI's most wanted list, according to Britannica. Davis faced charges in California of charges kidnapping, murder, and conspiracy in 1970, but she was acquitted.
In addition to those two aspects of Franklin's life, the FBI noted Franklin's choice to perform at a number of events associated with the Southern Christian Leadership Conference, of which Dr. King was president. In 1972, she also performed at a fundraiser for the Davis defense fund in Los Angeles, as Pitchfork goes on to note. According to those declassified FBI documents, Franklin was linked to a number of other music events at the time, some with reported links to the Black Panther Party, the Black Liberation Army, and the Coordinating Council for the Liberation of Dominica. Some such performances were canceled, others never came to pass. Still other allegations against Franklin turned out to be mere speculation.
Death threats against Franklin were also noted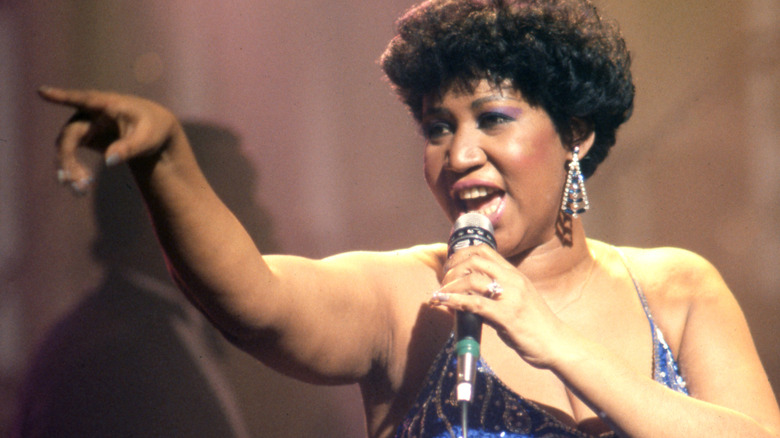 Icon And Image/Getty Images
Also part of the declassified FBI documents pertaining to Aretha Franklin were reports of a number of death threats made toward the star, as People goes on to note. The files also mentioned an effort by Franklin's legal representation to control the sale of bootlegged Franklin material on CD and DVD, including details of a 2006 copyright infringement suit the singer brought against a well-known bootlegger of her work through a Yahoo! fansite. That case never went to trial.
Once the Franklin files were reviewed by journalist Jen Dize, whose FOIA request was responsible for their eventual declassification, Dize said (via Newsweek) that they showed "repeated and disgusting suspicion of the famed Black singer, her work, and activists around her." Franklin's every move was carefully documented, Dize added. Aretha Franklin died in her Detroit, Michigan home, age 76, from cancer on August 16, 2018.