The Cure's Robert Smith Had A Creepy Prediction About The Queen's Death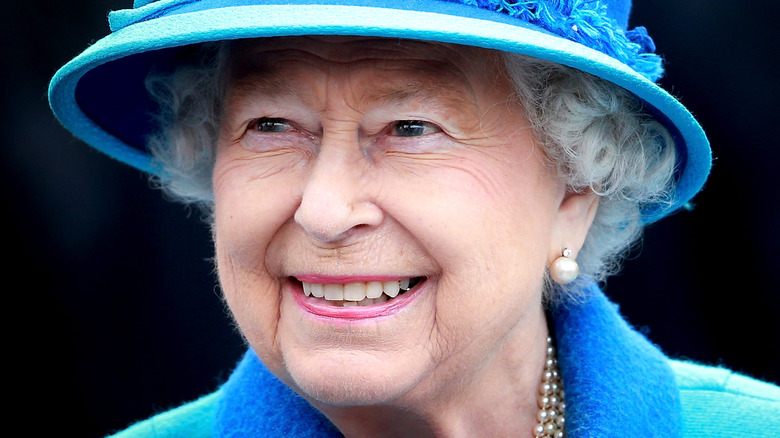 Chris Jackson/Getty Images
In the days since the death of Queen Elizabeth II and the transition to the reign of King Charles III, tributes have been pouring in for her left and right, from all over the U.K. and its realms, and even places that have no connection to the British monarchy, such as in the United States. Of course, not everyone loved and/or loves the British monarchy and the former queen for that matter. Over in Ireland, for example, football fans sang a morbid tune celebrating her death.
Of course, over her reign, the late queen informed popular culture quite a bit, for good or for ill. She was used as comic fodder in goofy farce films, for example, and she also famously wound up on a Sex Pistols record.
The Sex Pistols weren't the only British recording artists to have an unsavory opinion of the queen. A decade or so ago, Robert Smith of The Cure gave an interview in which he talked over the matter, and in fact, he even came close to predicting the date of her death –- although he was about ten years early.
'There'll Be A Huge Uprising And I'll Be Made King'
Tim Roney/Getty Images
For those not familiar, The Cure is an English rock band that straddled the line between punk, New Wave, and goth music. As Another Man Mag reports, the band's heyday was in the 1980s, and for its entire existence, it has been fronted by lead vocalist and songwriter Robert Smith, known for his wild black hair and smeared red lipstick.
Back in 2012, according to the Daily Mail, Smith was at a music festival in Germany when he sat down for an interview. Somehow he and his interviewer wound up talking about the royal family, and Smith made it clear that he's not into them. Then he added, "The Queen's gonna die on September 7th, and there'll be a huge uprising, and I'll be made King." September 7th, 2012 came and went with neither the queen dying nor any kind of uprising in Britain. However, internet users consider his interview that day rather prescient, in that though he may have been a decade early, he was extremely close on the calendar day. Specifically, Smith predicted she'd die on September 7, and she actually died on September 8. There was, however, no uprising afterward, and as of this writing, Smith has not been made king (Charles III has).
Smith ended the interview by asking fans to vote for him for a king. That is, of course, not possible on any level.