The Bruce Springsteen Song About The Uneasy Relationship He Had With His Father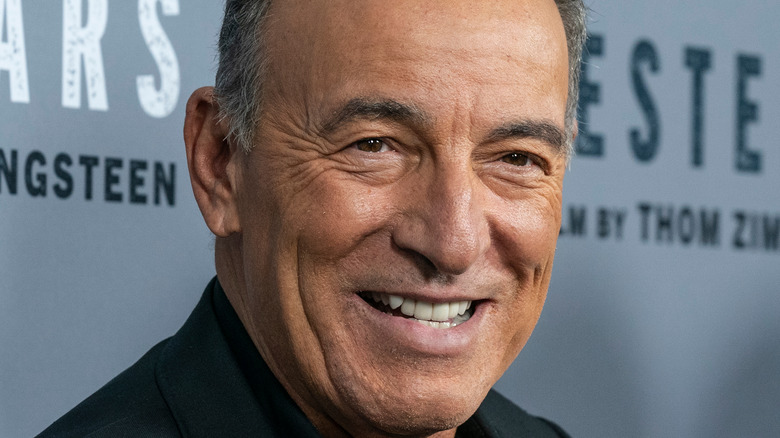 lev radin/Shutterstock
When you hear the name "Bruce Springsteen," a few songs come to mind first: "Born in the U.S.A.," "Glory Days," "Born to Run," "Dancing in the Dark." Defining 1970s and '80s rock, Springsteen's biggest hits injected some joy — and a spirit of freedom — into the genre. "The best music," he once said (via The Guardian), "is essentially there to provide you something to face the world with." That's what The Boss has given us.
But he also offered a hard look at the life of the working class. He sang not just of joy and freedom but of its absence, of the relentless search for it. This is perhaps best heard on the 1978 album "Darkness on the Edge of Town." In 2020, Rolling Stone ranked this record at No. 91 on its list of the 500 Greatest Albums of All Time, writing that the "youthful exuberance" of the "Born to Run" album had been overtaken by "hard-won adult realism." The record explored how to face a harsh world and how to keep going. "Promised Land" is a centerpiece that exemplifies this. But another song was more personal.
'Death in Their Eyes'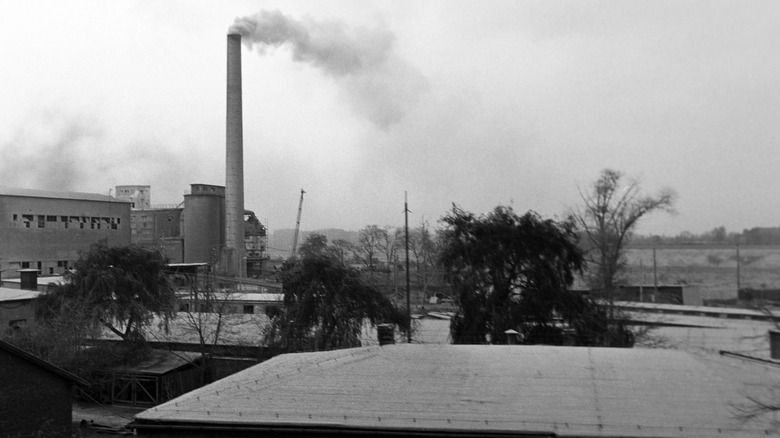 United Archives/Getty Images
"Factory" is as moving as it is short. Clocking in at just over two minutes but feeling like half that, the song has only three brief verses, concluding with Bruce Springsteen's peaceful humming. Its second verse speaks of Springsteen's father (via Genius): "Through the mansions of fear, through the mansions of pain / I see my daddy walking through them factory gates in the rain / Factory takes his hearing, factory gives him life / The working, the working, just the working life." Here, labor in the mill has taken a toll on his father's soul and body, the cost of earning enough to survive.
"End of the day, factory whistle cries," the final verse goes. "Men walk through these gates with death in their eyes / And you just better believe, boy / Somebody's gonna get hurt tonight / It's the working, the working, just the working life." Here, the father's story meets the son's. The stress and awfulness of working conditions infect the home, and pent-up frustration is inevitably taken out on family.
A Silent, Domineering Father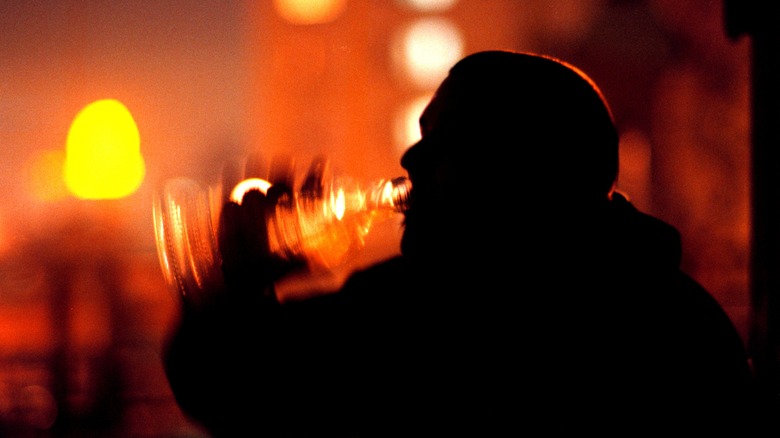 David Mcnew/Getty Images
Douglas Springsteen and Bruce Springsteen had a strained relationship for most of the rocker's youth. "He loved me, but couldn't stand me," Springsteen told "CBS Sunday Morning" (per Billboard). He could be "frightening" and "domineering." According to the Chicago Tribune, when Douglas came home from that miserable factory in Freehold, New Jersey, he would drink and smoke cigarettes in silence. When he did interact with Springsteen and his siblings, Douglas could be verbally abusive. Springsteen said his father spoke fewer than 1,000 words to him as a youth (via the Daily Mail). When Bruce was 19, his parents moved to California without him. He forged a path out of New Jersey and into music.
Bruce Springsteen sang about his father at other times, too. Echoing "Factory," for instance, was the 1986 "Adam Raised a Cain" (via AP News): "My daddy worked his whole life for nothing but the pain / Now he walks these empty rooms looking for something to blame." The Boss understood and drew attention to what poverty and harsh working conditions can do to human beings and their families. "I have spent my life judging the distance between American reality and the American dream," he once said (via The Guardian). While his childhood was marred by tension between father and family, Douglas and Bruce did reconcile later on, when the latter was having children of his own. When Douglas died in 1998, Springsteen said they had "a very loving relationship" and that he would miss his father a great deal (via AP News).