The Truth About Cher's First Tattoo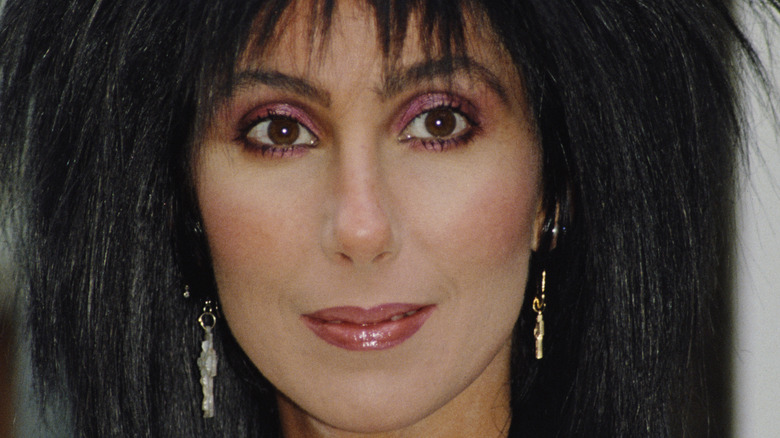 Fox Photos/Getty Images
When it comes to firsts, pop culture phenomenon Cher is an expert. Per The Hollywood Reporter, in 2011 she became the first and only artist to have No. 1 records in six consecutive decades. She remains the oldest woman to have a No. 1 song on the Billboard Hot 100, an achievement she reached in 1998 with her dance hit "Believe." Another, less expected area in which Cher is a groundbreaking woman is that of proudly displaying tattoos.
In a 2008 interview with USA Today, Cher discussed how she'd recently had a tattoo removed and explained, "When I got tattooed, only bad girls did it: me and Janis Joplin and biker chicks. Now it doesn't mean anything. No one's surprised. I got a tattoo right after I left Sonny (Bono) and I was feeling real independent. That was my badge." Per a 2010 article in Parade, the couple separated in 1974, which gives an approximate date for Cher's first tattoo. Other sources, including Purple Clover and News 24, give the dates as 1972 or 1973. But what design did Cher select to celebrate her new single status? 
Cher and David Letterman joked about her tattoos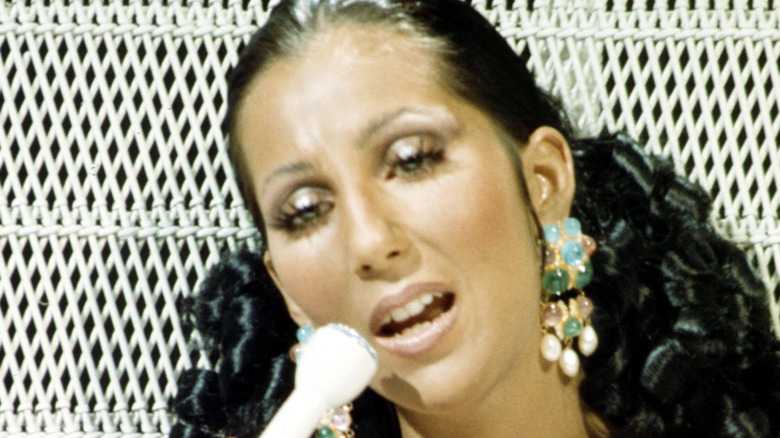 Michael Ochs Archives/Getty Images
In a 2013 interview with David Letterman on his late night talk show (available on YouTube), Cher and Letterman bantered about her tattoos. She corrected the host when he quoted her as having said she had tattoos she'd never seen, noting, "That's not what I said; I have tattoos that I hardly ever see. When I had a boyfriend, he told me about it," gesturing behind her with her thumb. In an interview with Rosie O'Donnell seemingly from the same time period, available at the same YouTube link, she called her tattoos "passe" and explained "I've got 'em everywhere I don't want 'em. I'd like to look at my butt once before I die and just see ... it." 
In another interview with Letterman, Cher brought up the connection that she and Janis Joplin had as women who'd been early adopters of the tattoo trend. She went on to reminisce, "I think my first one was on my butt." When Letterman prompted "And it said ..." Cher responded, deadpan, "Hi, sailor." As Letterman laughed and the studio audience applauded, she continued, "That was on one cheek The other cheek said 'New in town?'" Cher was 27 years old at the time and noted once again that she wanted to have them removed, as the art was so old-fashioned and had improved in recent times.
Cher's tattoos are part of her image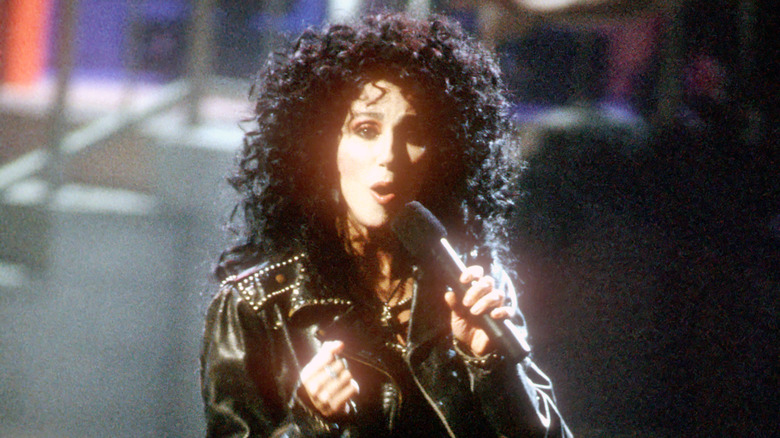 Michael Ochs Archives/Getty Images
Cher's actual butt tattoos are not really much of a secret. In 1989, she made the video for her song "Turn Back Time" (shown above) which featured the singer performing on a battleship in an extremely revealing leather and mesh outfit that highlighted the butterfly and flowers she has tattooed across her backside. Per a 1996 article in the Baltimore Sun, which gave 1972 as the year Cher got her first tattoo, she herself has made reference to "a garden on [her] butt" and said of her early body art, "My mother was appalled. Everybody was appalled. And that suited me just fine. Now everybody has tattoos." 
The Baltimore Sun reported that Cher had a total of six tattoos at that point and was considering getting all but one removed: a crystal dagger on the inside of her right arm. Once again, she joked about life without her famous ink, telling the reporter, "I can't imagine what my butt's gonna look like without the entire you know." According to News 24, her other tattoos include a necklace on her left arm, a black orchid on her right thigh, and a chrysanthemum on her left ankle.