The Intense History Of The Plane That Carried The Queen's Coffin To London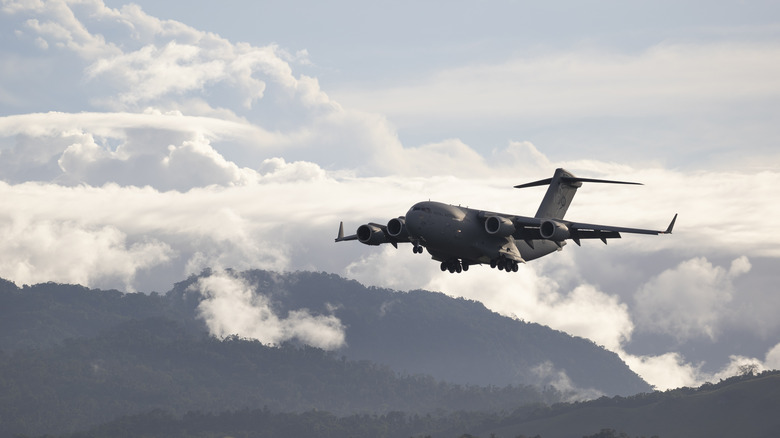 Handout/Getty Images
Though she traveled less in recent years, the late Queen Elizabeth II often flew overseas or throughout the United Kingdom in helicopters, private jets, and even commercial airliners such as the British Airways Boeing 777 (via Simple Flying). The "Queen's Flight" is a small fleet of private planes, including a couple of Airbuses, that were always ready to transport Her Majesty to her destinations. All travel for the royal family is overseen by the Royal Air Force, according to Newsweek.
The aircraft taking Queen Elizabeth, who died on September 8, 2022, to London for her funeral is a military plane, the C-17 Globemaster, according to The National. It is flying out of Edinburgh, the Scottish capital in the northern U.K., and the last stop on the procession of the queen's coffin throughout the country. Interestingly, this C-17 has been involved in some of the most dramatic global events of the past year.
Witnessing History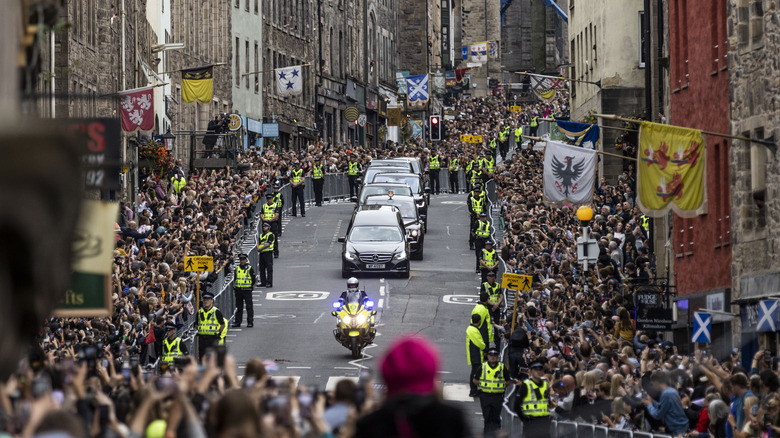 Wpa Pool/Getty Images
The R.A.F.'s C-17 was used in the tumultuous evacuation of Afghanistan (via USA Today). As American, British, and other forces departed the war-torn nation in summer 2021, the Taliban overwhelmed Afghanistan's army and raced to capture the capital of Kabul. Over 100,000 Americans and Afghans were airlifted out of the country (per U.S. News & World Report). The C-17, a massive cargo craft, rescued nearly 15,000 people, according to The National.
"Since then," the U.K.'s ​​Air Chief Marshal Sir Mike Wigston said, "it's been involved in airlifting humanitarian aid and lethal aid nodes to support Ukraine" (per The National). In early 2022, Russia invaded neighboring Ukraine, an ongoing conflict that has killed tens of thousands and displaced over 13 million people, according to NPR. 
The C-17 has been hard at work delivering supplies to Ukraine, which has the backing of the United Kingdom and much of the rest of the world. The plane now takes part in its third historic event as it carries the queen's coffin to London for the September 19 service at Westminster Abbey.