Buckingham Palace Has A Very Green Approach To The Queen's Memorial Flowers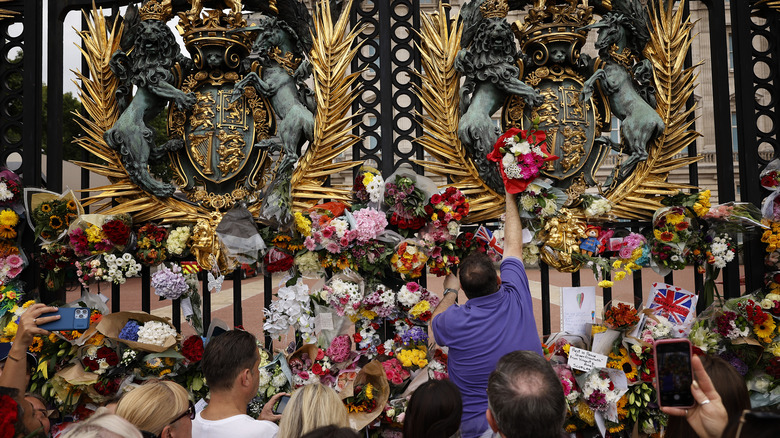 Chip Somodevilla/Getty Images
As the U.K. and the world mourn Queen Elizabeth II's death, the Daily Mail reports that thousands have paid their respects by leaving flowers, cards, and other trinkets at various royal residences. This includes Buckingham Palace, Balmoral Castle, Windsor Castle, and more. The Richmond and Twickenham Times explains that this public outpouring of grief has resulted in specific rules on where to place flowers and other items honoring the queen. Per the Daily Express, flowers are symbolically significant to the royal family. It's noted that the queen's favorite flower was a Lily of the Valley. Tatler writes that the flower was included in her coronation bouquet.
A different article by the Daily Express notes that it's possible the flowers will make an appearance at her funeral. Nevertheless, Euronews states that the number of items left in her memory is an environmental nightmare. So much so, that mourners in London have been asked to not leave toys or food (via The Guardian). The Royal Parks, a charity that manages royal land in London, released a statement that read it would "prefer visitors not to bring non-floral objects/artifacts such as teddy bears or balloons" They added that "organic or compostable material" is the way to go. These tributes, House Beautiful reports, will remain until after the queen's funeral.
The flowers will be composted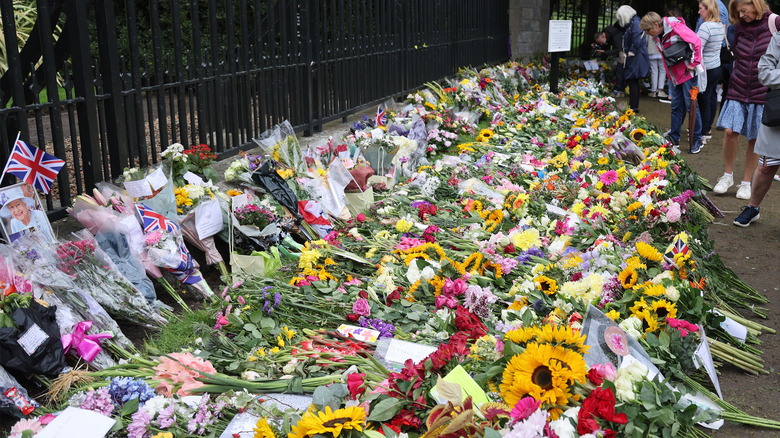 Neil P. Mockford/Getty Images
According to House Beautiful, Londoners can leave floral tributes for the queen at Green Park Floral Tribute Garden near Buckingham Palace. Although plastic items are prohibited, cards are accepted. That said, Euronews reports that the Royal Parks are asking mourners to follow certain rules if they want to leave flowers for the queen, like getting rid of the flower's plastic wrapping in provided trash bins. They noted that "Removing the wrapping will aid the longevity of the flowers and will assist in subsequent composting which will start between one week and a fortnight after the date of the funeral." Per Country Living, some mourners are now aiding Green Park's gardeners in removing the wrapping from the flowers that have been left.
The Independent writes that after the queen's funeral, the flowers will be taken to Hyde Park where they will be prepared for composting. The flowers will then be composted at Kensington Gardens while all other organic materials will be used for the Royal Parks. The plastic wrapping will be properly recycled. Another article by Euronews states that the queen made efforts throughout her reign to be more environmentally friendly. This includes banning plastic bottles and straws from her royal residences, amongst other things. Needless to say, the composting of her floral tributes contributes to this eco-friendly legacy.