What We Know About The Monstrous Vehicle Joe Biden Might Be Taking To The Queen's Funeral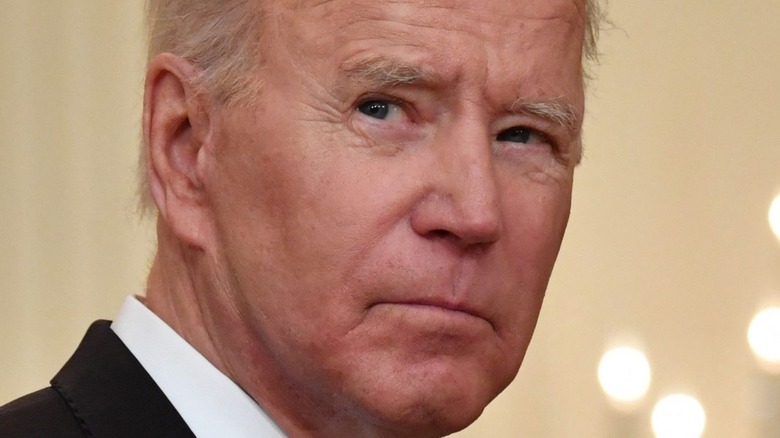 Shag 7799/Shutterstock
When Queen Elizabeth II died at the age of 96 on September 8, 2022, it set into motion Operation London Bridge — a series of protocols to be followed in the event of the queen's death. From processions to transporting her coffin to making Prince Charles king, everything needed to be perfectly orchestrated. The queen's death also launched a security logistics nightmare for the British government. On September 19, 2022, the country will be flooded with presidents, prime ministers, monarchs, and other world leaders for Queen Elizabeth's state funeral at London's Westminster Abbey, according to CNN.
Managing the international arrival and transportation to the funeral is no small task. According to Politico, the number of invitees is so stringent that heads of state and their spouses were asked to travel by commercial flight and were told helicopters could not be used in London's airspace. VIP attendees were also informed they are forbidden from using their own state vehicles to arrive at Westminster Abbey. Instead, transportation by shuttle bus from west London would be provided, per Newsweek. "Can you imagine Joe Biden on the bus?" one bemused foreign ambassador in London said to Politico. The White House confirmed President Joe Biden and First Lady Jill Biden would attend the state funeral but declined to offer details on transportation matters, per The Washington Post.
Biden's Beast in London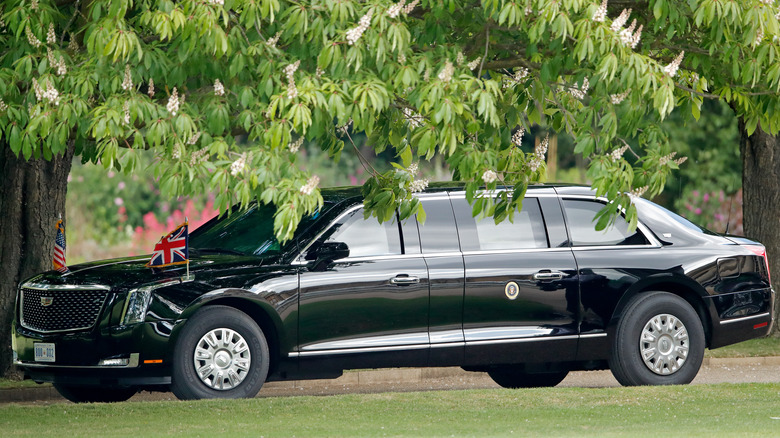 Max Mumby/indigo/Getty Images
Within days, the British government eased its restrictions for President Joe Biden and other heads of state. The spokesperson for British Prime Minister Liz Truss walked back the limitations on transportation, saying they were more guidelines than rules. "The arrangements for leaders and how they travel will vary depending on individual circumstances," the spokesperson said, according to HuffPost. When the spokesperson was asked if the British government anticipated Biden getting on a shuttle bus, she replied: "That would be a question for the U.S. in how they prefer the president to travel and I think that's fairly well documented."
Although the president's mode of transportation to England hasn't been disclosed, within the U.K., he's expected to ride around in his armored Cadillac state car known as "Cadillac One" or, more informally, "The Beast" (per The Independent). According to NBC News, the limousine weighs more than 20,000 pounds and comes with a price tag of $1.5 million. Per The U.S. Sun, The Beast has 8-inch thick armor plating, and the motor is sealed to protect against chemical and biological attacks. The 5-inch layered windows are essentially blast-proof, and the door handles can be electrified to keep attackers from entering. In the event something does happen to the president, The Beast has a refrigerator filled with his own blood, according to NBC News. However, Biden does have one complaint about this highly specialized vehicle. According to Car and Driver, he'd like to see The Beast go electric.