Even The Bustling Shipping Industry In Liverpool Is Honoring The Queen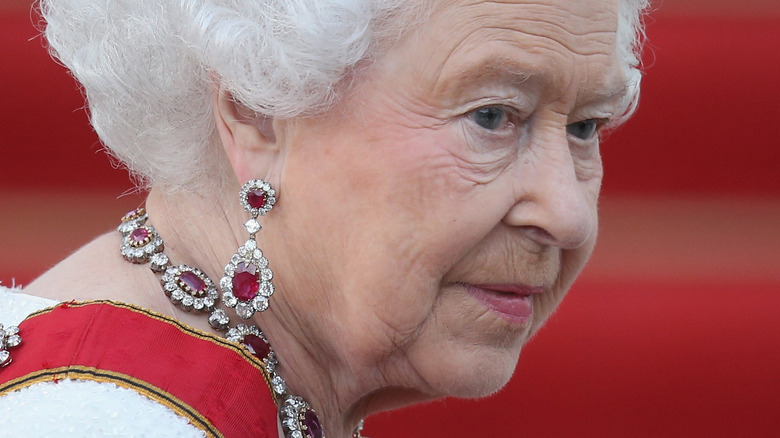 Sean Gallup/Getty Images
The Port of Liverpool is one of the UK and Northern Europe's busiest ports, according to World Port Source. Every year, nearly 700,000 20-foot-equivalent units of cargo enter or leave the port via container ships. But on Wednesday, September 14, the commercial hub will take the time to honor the life of Queen Elizabeth II, who passed away on September 8 at the age of 96. 
All boats working on the port's Mersey River will pause to observe the tribute at 2 p.m., the Liverpool Echo reported. They will meet in front of the Liver Building, the Cunard Building, and the Port of Liverpool Building, a trio of edifices known as the Three Graces. The Port of Liverpool was instrumental in the history of Britain and the expansion of its empire during the 18th and 19th centuries, per UNESCO.
As told by Current Archaeology, at the beginning of the 18th century, Liverpool was a sleepy town with the foresight to build the first-ever enclosed wet dock. By the end of the 19th century, it managed 9% of international trade. It's partly this history that inspired the tribute.
"With Liverpool's world-renowned maritime heritage it feels right that we use the River Mersey to pay a special tribute to Queen Elizabeth II," Lord Mayor of Liverpool, Councillor Roy Gladden said (via the Liverpool Echo). "Following discussions with our maritime community, there is a real appetite for the working vessels to pay their own unique mark of respect to the monarch."
What the tribute will look like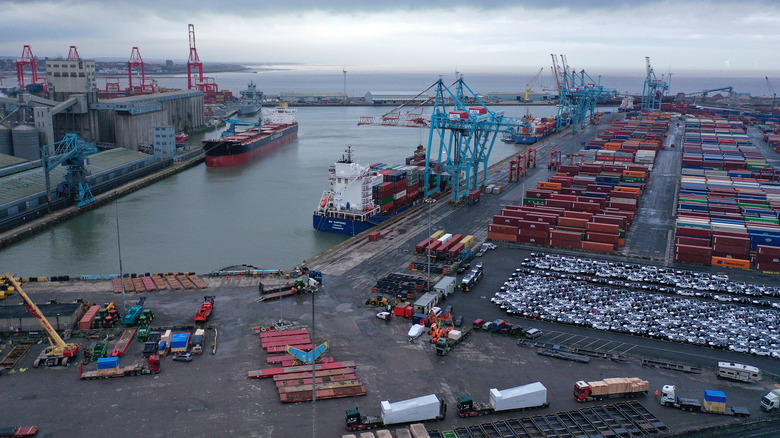 Christopher Furlong/Getty Images
The Port of Liverpool's tribute to Queen Elizabeth II will begin just before 2 p.m. on September 14 with a performance by a bagpiper, according to the Liverpool Echo. When the piece concludes, all of the vessels gathered for the tribute will blow their whistles while the tugboats in the formation will shoot water from their cannons, a gesture known as a Fleur De Lis. The bagpiper will then play the lament to signal the tribute's conclusion. "This tribute will be a rousing chorus of whistles and horns to echo along the shore of The Mersey, a river upon which many of Her Majesty's vessels have visited," Lord Mayor of Liverpool, Councillor Roy Gladden said. 
All told, around 20 boats are expected to participate in the immediate tribute. Among them will be lifeboats, tug boats, ferries, pilot launch boats, and the Disney Magic cruise line. However, every boat present in the Liverpool and Wirral dock systems at the time of the tribute will also sound its whistle. Anyone who wants to witness the event can view it from the Pier Head. Liverpool has observed tributes to the queen on land as well. The city's soccer team observed a moment of silence in honor of the late monarch before a game on September 13, per The Athletic.