The Pearl Earrings On The Queen's Coffin Crown Have A Storied Past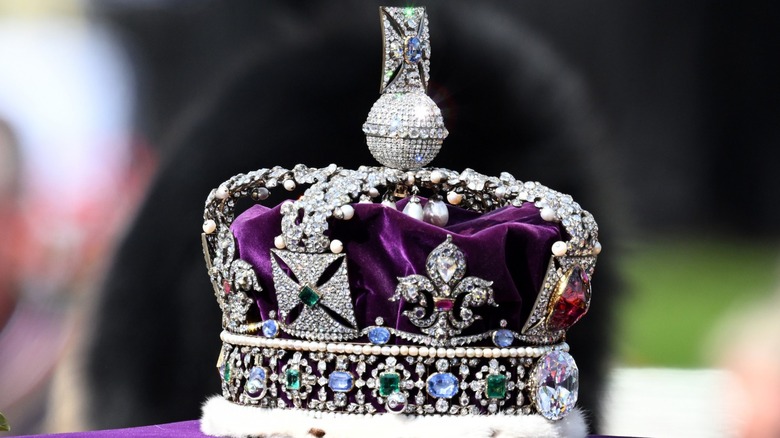 Leon Neal/Getty Images
As part of Britain's goodbye to Queen Elizabeth II, her coffin traveled through London from Buckingham Palace to Westminster Hall on September 14, 2022 (via People). Her coffin was draped in the royal standard, a flag that symbolizes the monarch, and a striking crown sat atop. This striking crown is known as the imperial state crown, and it features an impressive array of gems and jewels.
This crown was created in 1937 by Garrard & Co for the coronation of Queen Elizabeth's father, King George VI. To make this wondrous headpiece, the jewelers used 2,868 diamonds, 17 sapphires, 11 emeralds, and 269 pearls, according to the Royal Collection Trust. These gems included the Black Prince's Ruby, the Stuart Sapphire, the Cullinan II diamond, and St. Edward's Sapphire, per the Tower of London. Tucked under the orb and cross at its top hang four large pearls known as "Queen Elizabeth's earrings." And these four little beauties have quite an interesting history.
Queen Elizabeth's Earrings belonged to several royals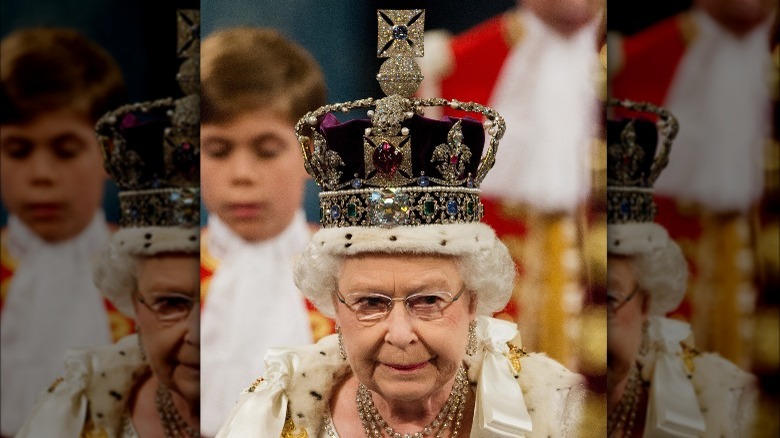 Wpa Pool/Getty Images
Before becoming part of the imperial state crown, these four pearls have belonged to many famous historical figures. Per the Royal Collection Trust, these gems are believed to be some of the seven pearls that Catherine de Medici received as a wedding present from Pope Clement VII when she tied the knot with Henri II of France in 1533. Catherine de Medici later gave the pearls to Mary, Queen of Scots. Mary had moved in with de Medici and her family when she was only 5 years old, according to National Museums Scotland. Mary had been betrothed to de Medici's son, who was the heir to the French throne. When the two married, Mary received the pearls as a present from her mother-in-law.
The four pearls reportedly changed hands again when Mary was imprisoned at the orders of her cousin, Queen Elizabeth I of England, in 1569. These gems allegedly earned their current name — Queen Elizabeth's earrings — when they were sold to Elizabeth I. According to the Royal Collection Trust, however, some of this story may be false as two of the pearls didn't become part of the collection until the 1800s. Elizabeth I also wasn't a fan of earrings, so she probably wore them in her hair or on her clothes. One thing is for certain: Her more contemporary counterpart, Queen Elizabeth II, definitely shared her love of pearls and frequently loved to wear pearl earrings.