The Real Reason Members Of The Royal Family Wore Black Veils At The Queen's Coffin Procession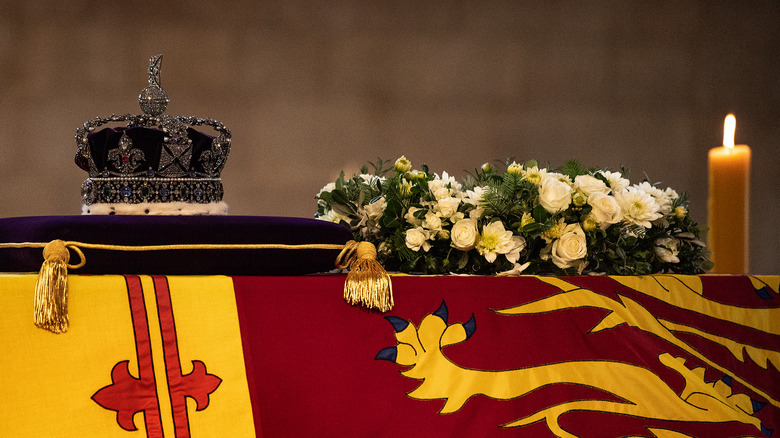 David Ramos/Getty Images
All-black attire for royal mourners has been customary since the time of Queen Victoria, who famously wore mourning clothes for 40 years after the death of her husband, Prince Albert. One important piece of mourning attire for royal ladies is black veils worn over the face. These may be made of lace, tulle, or netting — some kind of cloth that allows the wearer to still see out (via Hello! Magazine). That's why several royal ladies were wearing veils while following the queen's coffin on its procession through London on September 14, 2022.
Though the Daily Express relates that there was no formal requirement about veils  when King George VI died circa 1952, it also notes that all female members of the royal family are expected to wear them (even non-working ones like Meghan, Duchess of Sussex). For the queen's funeral, the royal ladies will once again be expected to wear veils, along with black dresses, tights, and some kind of headpiece. Hats or head scarves have been required for ladies at major royal events since at least the 1950s because showing one's hair in public was considered improper for high-class women.
Why are veils expected?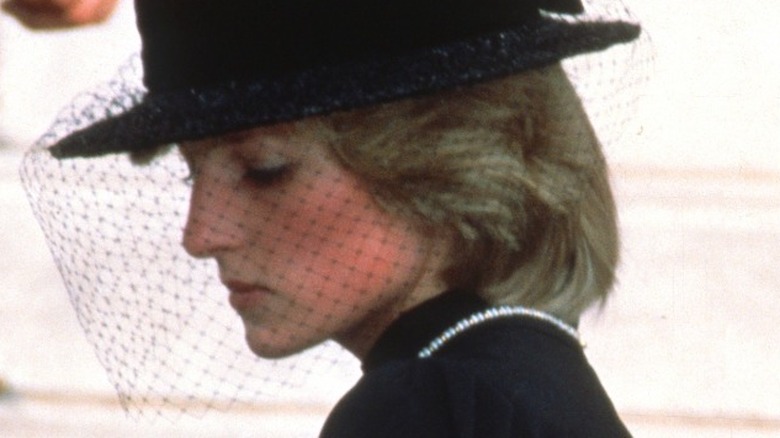 Anwar Hussein/Getty
Hello! Magazine notes that the royals wear veils on somber occasions so they can grieve the whole world seeing their emotions. The veils also protect them, to a degree, from photographers. They may also be worn as a sign of respect for the dead. This may be why, according to the Daily Express, most of the royal women didn't wear them to the funeral of the Duke of Windsor, Queen Elizabeth II's uncle. The duke — formerly King Edward VIII — had abdicated the throne to marry his American mistress, Wallis Simpson, causing a major scandal (via History). On the other hand, the royal women wore long veils — 18 inches over the face and more than 4.5 feet down the back — to the funeral of King George VI, Queen Elizabeth II's father (via the Daily Express).
One royal woman, however, may not be expected to wear a veil to the queen's funeral: her only daughter, Princess Anne. On the procession through London, she wore a military dress instead, as did many of the royal men. She may do the same for the funeral (via Hello! Magazine).