The Truth About Wallis Simpson And Edward VIII's Relationship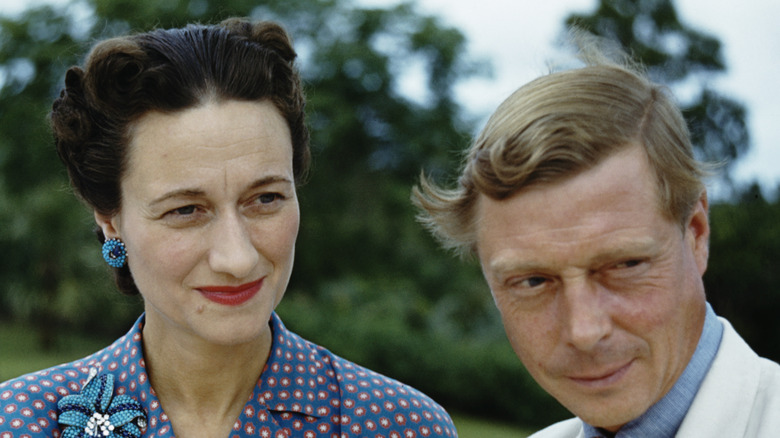 Michael Ochs Archives/Getty Images
The heart wants what it wants. And it sometimes makes people do outrageous things in order to get what it wants. Such was the case in 1936 when King Edward VIII faced a romantic dilemma of geopolitical proportions. He was in love with a divorced and remarried American woman named Wallis Simpson, and the royal family was not having it. Why couldn't he just hook up with a cousin like a normal relative-marrying royal? No, Edward was determined to be with Simpson, no matter what. He had become king after his father, King George V, died in January 1936, but his reign was short-lived. Before the year was up, he abdicated the throne to marry Simpson. According to Britannica, he said in a radio broadcast, "I have found it impossible to carry the heavy burden of responsibility and to discharge my duties as King as I would wish to do without the help and support of the woman I love."
Unsurprisingly, those opposed to the union and the abdication laid the blame on Simpson and barraged her with caustic and vulgar insults. Town & Country magazine notes that she was called things like "ugly whore," "Yankee harlot," and "mofradite," which in uncouth British slang apparently means "hermaphrodite." But the truth about Simpson and Edward's relationship is quite a bit different from the sensational and sexist accusations levied against the woman who brought the British crown to a constitutional crisis.
Wallis Simpson tried to avoid marrying Edward VIII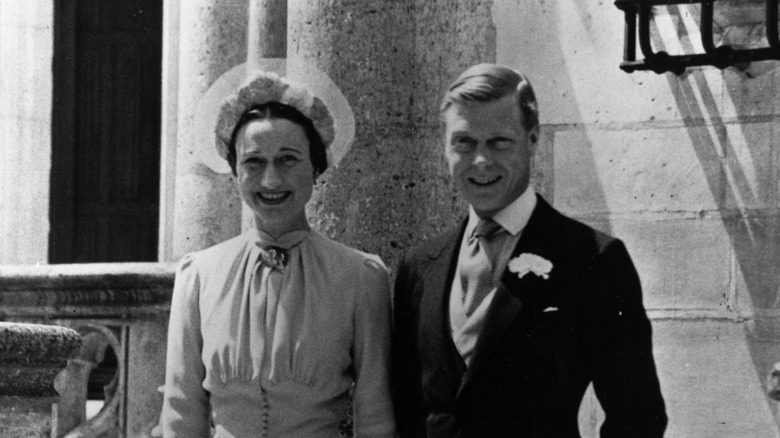 Central Press/Getty Images
While Britons hailed her as an American harlot who wanted to dismantle the British crown and turn the king into a Nazi, the reality was actually the complete opposite. According to CNN, she tried to convince Edward to chill out on the whole abdication in order to marry her idea. She wanted him to remain on the throne and even proposed a situation in which she remain his mistress, rather than become his wife and bring scandal to the monarchy. In her 2019 book "The American Duchess: The Real Wallis Simpson," writer Anna Pasternak documented how Simpson hoped that both she and Edward would "cease to want what is hardest to have and be content with the simple way." So no, she did not trick or manipulate the king in order to get him to abdicate the throne for her.
Neither did she persuade him to sympathize with Nazis, of which she has also been accused. In 1937, she and Edward did travel to Nazi Germany, and while they both despicably showed enthusiasm and support for the Third Reich, Simpson in no way was responsible for Edward's sympathies. As the BBC notes, footage filmed before his relationship with Simpson and released in 2015 shows Edward raising his hand in a Nazi salute alongside his aunt and niece, the latter of whom is the current Queen of England. The truth is that Edward was just a Nazi sympathizing king who followed his heart, no matter the cost.