Why Is There A Ping Pong Ball In King Charles' Old Crown?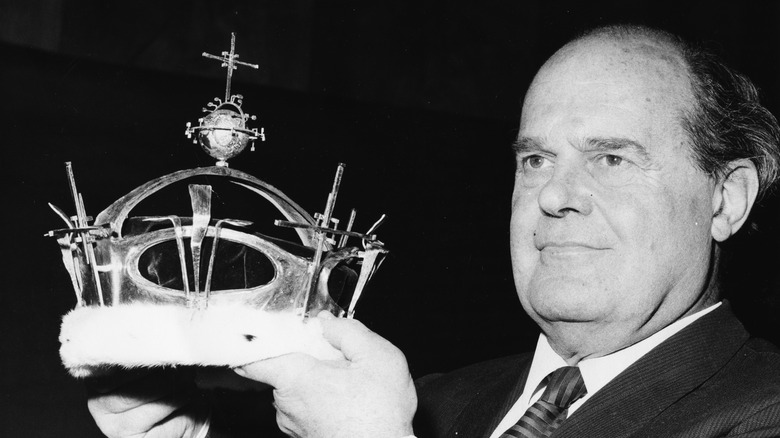 Fox Photos/Getty Images
Upon Queen Elizabeth II's death, her oldest son Charles instantly became King. However, he won't be formally crowned as monarch until his coronation, likely in 2023. According to Today, it's expected that King Charles III will wear St. Edwards Crown for this historic occasion. Ancient Origins writes that this piece is made with solid gold and features various semi-precious stones including rubies, sapphires, and more. It was also used in Queen Elizabeth's 1953 coronation. As Today points out, this will not be the first time Charles has worn a crown. In 1969, he was given a gold crown called a coronet. 
Town & Country reports that this coronet was created to mark his investiture as the Prince of Wales. Marie Claire explains that the investiture was held to formally anoint Charles as the Prince of Wales, a title he was given at only 9 years old. In simple terms, the investiture can be likened to a small-scale coronation of sorts. Per the BBC, Charles' investiture took place on July 1, 1969, at Caernarfon Castle in Wales. Oprah Daily notes that he was 20 years old and 500 million people around the world witnessed the ceremony from their homes (via the BBC).
At his investiture, Charles took an oath and stated "I, Charles, Prince of Wales, do become your liege man of life and limb and of earthly worship and faith and truth I will bear unto thee to live and die against all manner of folks" (per History Extra). However, unbeknownst to him, the coronet he was wearing featured a gold-plated ping pong ball (per Daily Mail).
The design was meant to be contemporary
Anwar Hussein/Getty Images
The BBC states that at the investiture, the queen bestowed Charles with a sword, his coronet, a ring, a rod, and a mantle. According to Town & Country, his coronet was specifically made for him. Although there was a coronet that had been traditionally used for such a ceremony, People writes that it was illegally taken by Edward VIII in 1936 when he abdicated the throne. That said, Louis Osman was tasked with designing Charles' coronet. The Independent describes Osman, who died in 1996, as a man of many trades and a creative genius. There were, however, some stipulations regarding the coronet.
Osman needed to design a crown that was representative of the times. Town & Country notes that the coronet was first designed by Garrard, which was the crown's official jeweler until 2007 (via the Daily Mail). It was then decided that Garrard's design was too over the top. Due to a series of social problems plaguing the monarchy (including protests), Mahnaz Ispahani Bartos, an English Jewelry expert explained that "They wanted to do something slightly lower key and something in keeping with the mood of the time."
With this, Osman set out to design a crown that was sleek, stylish, and unlike any other coronet. Per Town & Country, Osman sketched a design similar to a coronet that was used in 1677 by King Charles II. However, he added several details that symbolized the crown was distinctly made for the new Prince of Wales. Osman later described his design as "Something that is modern."
The crown's designer ran out of time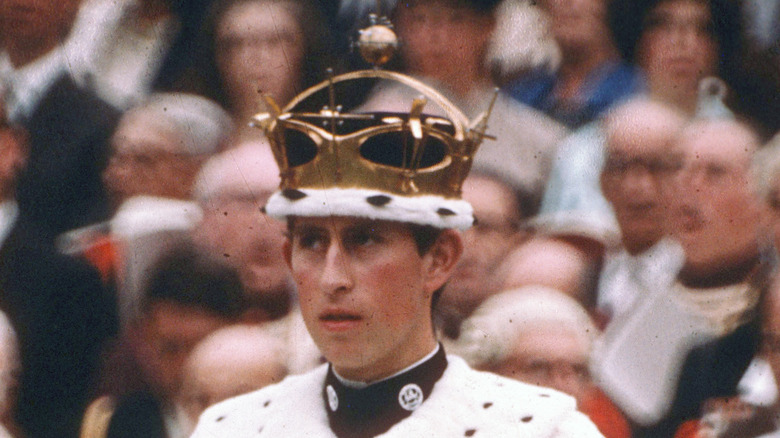 Anwar Hussein/Getty Images
Town & Country reports that Osman was given five months to create the coronet. Osman's design includes one arch, an orb, four crosses, and a velvet cap lined with fur, amongst other details. According to the Daily Star, it was important that the coronet be lightweight. To accomplish this, Osman decided to create the coronet using a new technique called electroplating. This was in lieu of using solid sheets of metal. When the coronet was first electroplated, it broke. On the second try, it was nearly perfect except for the orb at the top.
Known as the monde (via Town & Country), it posed a problem; it was too heavy and Osman no longer had any time to finish the coronet. Town & Country notes that he was infamous for his lack of punctuality. That's when David Mason, who was helping Osman with the electroplating process came up with a solution (per the Daily Mail). Mason explained "With just days to go I was watching a table tennis match on TV, when I suddenly came to me — a ping pong ball. We'll electroform a ping pong ball." 
He later revealed that the ping pall had to be kept in the coronet because "there was no way we could remove the ping pong ball from inside without destroying the gold" (via the Daily Star). Mason, then 28, saved the day but was sadly never paid for his efforts or given due credit.