London Just Got A Lot More Toilets Thanks To The Queen's Death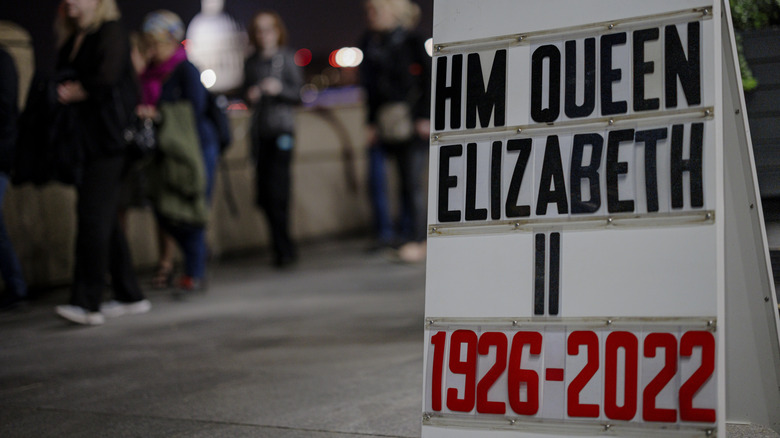 Rob Pinney/Getty Images
Queen Elizabeth II, who died at the age of 96 on September 8, 2022, will lie in state for four days at Westminster Hall in London, after which time her funeral service will take place on Monday, September 19, at Westminster Abbey. The queen will then be laid to rest in St. George's Chapel at Windsor Castle, per CBS News. Before that, though, many thousands are expected to line up for their chance to pay their respects to the late queen, the longest-reigning monarch in British history, according to The Guardian.
To help handle a crowd of that size, thousands have volunteered from agencies like the Salvation Army, and amenities have been added to prepare for a line that could stretch as long as five miles (or more) and include hundreds of thousands of people; based on some estimates, 750,000 are expected to file past the queen, per Reuters. Total infrastructure was added to handle a line as long as 10 miles, and many mourners had already gathered in the area before the queen arrived (via HuffPost). Among those preparations were first-aid services, and adequate facilities added to handle life's necessities.
Mourners should expect to stand in line overnight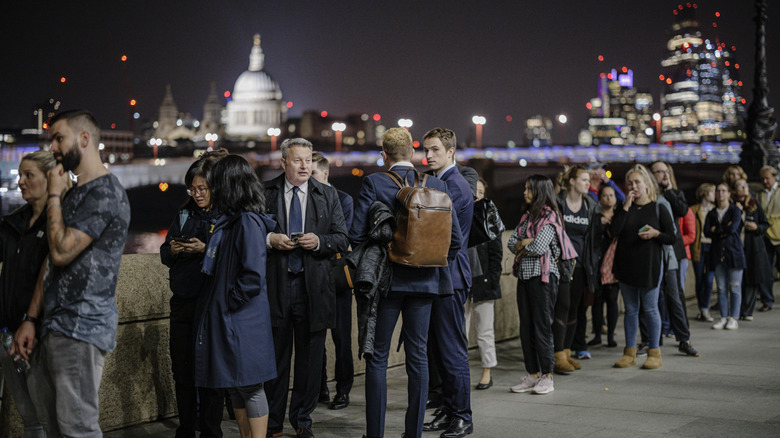 Rob Pinney/Getty Images
Per The Guardian, preparations for the immensely long line of mourners were conducted by the Department for Digital, Culture, Media and Sport. The governmental agency warned that people intent on viewing the queen should be prepared to stay overnight. Wristbands will be given out so that people can leave the line to use the bathroom or just for a break. Citizens will also be able to check on how long the line has grown using an online live "queue tracker" on YouTube.
According to HuffPost, should the line to pay respects to the queen grow too long, things might close down early. For those unable to stand or walk for the amount of time required, alternate accommodations were made available. Whenever that many people get together, though, nature inevitably calls, and extra toilets were also added to the so-called "queuing infrastructure." It all goes to show that in the memorial for Queen Elizabeth, British officials have thought of everything. Just how many toilets, though, have been installed to accommodate the growing queue?
500 portable toilets are on the scene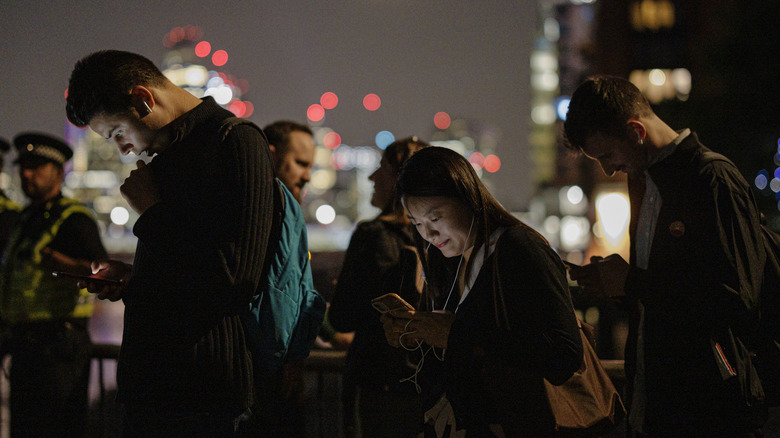 Rob Pinney/Getty Images
To prepare for the bathroom needs of the likely hundreds of thousands of mourners expected at Westminster Hall, some 500 portable toilets were brought to the area, per BBC News. In addition to those hundreds of portable toilets, bathroom facilities for those in line — as well as food and refreshments — will be provided by the Southbank Centre, as well as the National and Globe theaters, located along the route, according to The Guardian.
On the governmental preparation for the sheer scope expected to gather in Britain's period of national mourning, a spokesperson for British Prime Minister Liz Truss said (via The Guardian), "We do want as many people as possible to be able to come to the lying in state ... What we are doing is being upfront with what we expect to be significant numbers of people." And should the lines grow too long or run overnight, "We do have detailed plans in place to mitigate that," the prime minister's representative added.