The Story Behind Joe Namath's Famous Nickname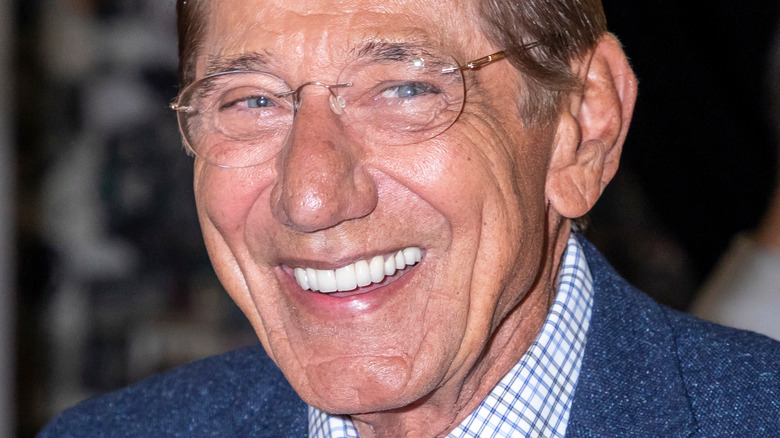 Sam Aronov/Shutterstock
Sadly, talent and success don't necessarily breed the fame that's deserved. The internet has a way of elevating people to celebrity status, whether they lack one or either of these qualities or not. Nevertheless, true icons earn their place, and they earn their nicknames, too.
Even among those of us who don't happen to be famous, there's a golden rule of nicknames that has to be obeyed: You can't give yourself your nickname. You have to receive it from others. For better or worse, flattering or otherwise, once a nickname catches on, it's yours for keeps. All you can do is hope it's a good one.
Many of the greatest stars' nicknames speak for themselves. Elvis Presley was, and remains, The King. Whitney Houston, absolutely justly, was dubbed The Voice. Wayne Gretzky, who won the Stanley Cup four times with the Edmonton Oilers between 1983 and 1988 (via Britannica), is an absolute NHL legend who's truly worthy of the honorific The Great One.
Fellow sports icon Joe Namath, meanwhile, has a relatively perplexing nickname: Broadway Joe. It came about, it seems, after a surprising high-profile magazine appearance.
The Sports Illustrated cover that birthed a legend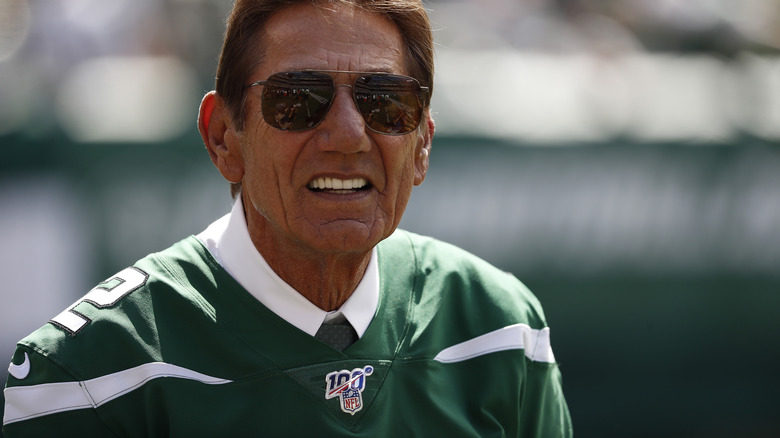 Michael Owens/Getty Images
Joe Namath, as football fans will know, is one of the most acclaimed players in New York Jets history. Per Biography, the young man honed his soon-to-be-world-famous passing at the University of Alabama. During his career with the Jets, Namath defined himself as a quarterback of remarkable talent with a workrate to match.
Namath joined the lofty ranks of the Pro Football Hall of Fame in 1985, and the institution lists just some of the many honors he received through the course of his astonishing career. Among them, Joe Namath was named AFL Rookie of the Year in 1965, won AFL Player of the Year and MVP honors for Super Bowl III in 1968, and then captured the Comeback Player of the Year award in 1974. These honors proved he had something special and certainly retained it. Another thing he carried with him throughout his time as a player was the nickname Broadway Joe. This, it seems, was a callback to an event from his time as a rookie.
Namath, per Jets Wire, was visiting New York City with some friends. He told Sports Illustrated that, like many newcomers to New York, the flashiness of Broadway soon made an impression on him. Here, he had a very famous photograph taken for the cover of none other than Sports Illustrated.
Sherman Plunkett used the name first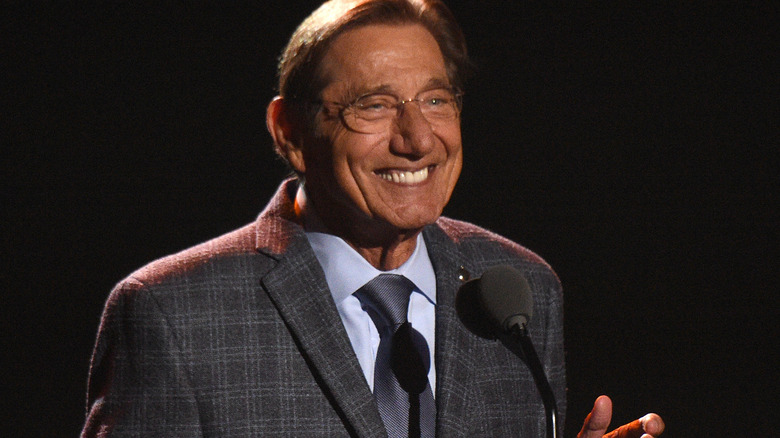 Kevin Mazur/Getty Images
Joe Namath appeared in his rookie season on the cover of Sports Illustrated on July 19, 1965. The cover's caption was "Football Goes Show Biz." This being an incredible coup for such a young player, it drew a lot of attention from his fellows.
In October 2018, Namath told SportsNet New York what happened when his peers got their hands on the magazine. According to him, the team had retired to the locker room at the legendary Shea Stadium and came to sit down. What was waiting for them on their stools? "Sports Illustrated with me standing on the cover, looking all sharp," the charismatic quarterback admitted, going on to state that in the picture, the various billboards and lights of Broadway were clearly visible.
Namath was met by a good-natured barrage of copies of the magazine, he told the outlet. Sherman Plunkett, offensive tackle and senior of the team, was undoubtedly the star of this anecdote. As Namath tells it, Plunkett was across the locker room while this was going on. Plunkett also had a copy of the fateful issue of Sports Illustrated, and he grinned across at Namath. "Broadway! Ol' Broadway! Broadway Joe," quoth Plunkett. And so history was made, per Broadway Joe, who reported that this was the first time he had heard the name.
"If it'd come from anybody else, I don't know that it would've felt as good," Namath concluded.