The British Soccer Legend Who Waited 12 Hours To See The Queen's Coffin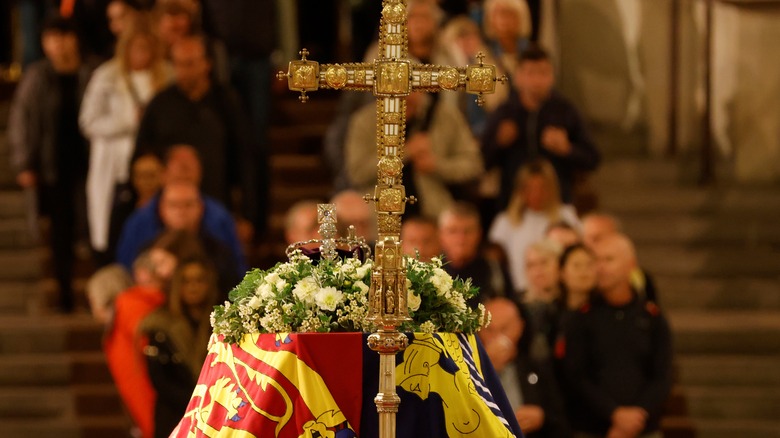 Wpa Pool/Getty Images
Since her death on September 8, the world has been mourning the loss of Queen Elizabeth II. After the death of the monarch, her coffin sits at Westminster Hall as hundreds of thousands of people line up in what is now known simply as the "queue" for a chance to pay their respects. According to The New York Times, at one point, any newcomers had to be turned away from joining the miles-long line until the 14-hour wait was shortened.
Queen Elizabeth held the throne for 70 years and, for many, was the only monarch they'd experienced their entire lives. So there's no surprise that so many mourners would make the journey to pay their respects to her before her funeral. Of course, there have been several notable mourners waiting with the crowd, including the former prime minister Theresa May, among others (via The Guardian). One soccer legend has gathered some attention, however, as he waits in the daunting line to view her majesty's coffin along with so many others.
David Beckham waited hours to pay his respects to the late monarch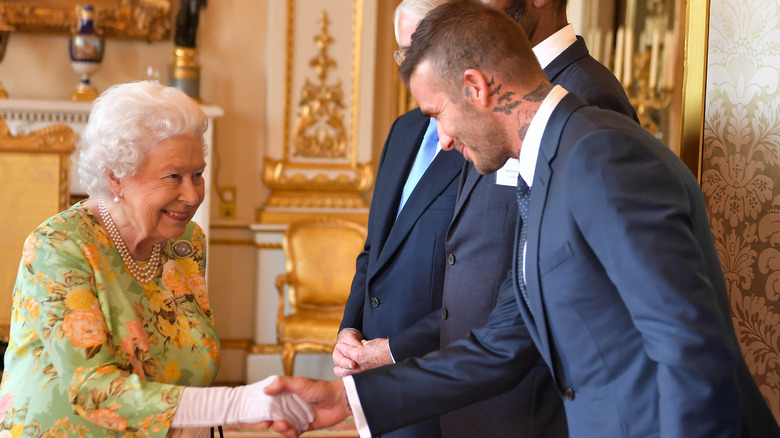 Wpa Pool/Getty Images
David Beckham was seen waiting in the queue to pay tribute to Queen Elizabeth. He told ITV News, "So this day was always going to be difficult, and it's difficult for the nation, it's difficult for everyone around the world because I think everyone is feeling it, and our thoughts are with the family and obviously with everybody here today. Because it's special to be here, to celebrate, and to hear the different stories that people have to say."
Beckham has been playing English football for most of his life. He was competing even as a teenager when he took part in the Manchester United youth squad with whom he won a championship in 1992, according to Britannica. Now, after making a career out of the sport and becoming a football legend, Beckham is known all around the world. Despite his own celebrity, the athlete waited over 12 hours to see her majesty's coffin.
Beckham was appointed the Order of the British Empire in 2003 for his time playing football; he recalled bringing his grandparents and his wife along for the occasion (via The Guardian). The line to see the queen is long and slow-moving, but to hundreds of thousands of mourners, the wait to bid farewell to such a beloved monarch is nothing compared to the weight of her loss. Queen Elizabeth's funeral is on September 19, and will be the day when the world pays a final tribute to her legacy and rule.