Why The Royals Dressed So Differently For The Queen's Procession Vs. Prince Philip's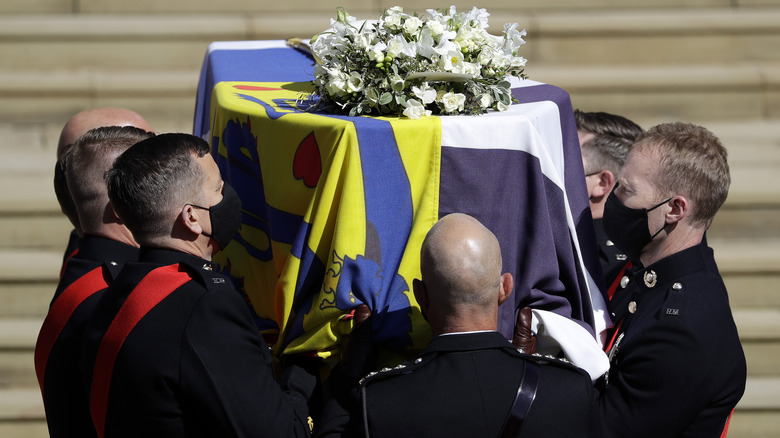 Wpa Pool/Getty Images
The world is in mourning after the death of Queen Elizabeth II on September 8, and as expected, the days following her passing are filled to the brim with procedures that were put in place years ago. Being a part of the royal family means that there's no shortage of expectations. Over the years, the public has come to recognize and memorize several of these rigorous rules the royals must adhere to.
Typically, when someone in the royal family dies, active members of the royal family are to wear their military uniforms while attending the funeral. However, this tradition has been rather swayed, starting with the death of Prince Philip in 2021, when the royal family swapped their military uniforms for morning suits, according to The Washington Post.
The change in wardrobe for Prince Philip's funeral was the result of a tough situation the royal family was in. Prince Harry had announced his decision to step away from his royal duties after living in Los Angeles for a year with his wife, Meghan Markle, and Prince Andrew had just taken part in an interview-gone-wrong regarding his friendship with convicted sex offender Jeffrey Epstein. Due to the chaos surrounding the royals, it was announced that the family would wear their "morning coat with medals or day dress" in lieu of their military uniforms, according to The Washington Post. This isn't the case for the queen's funeral, though.
Only active members of the royal family will wear their military uniforms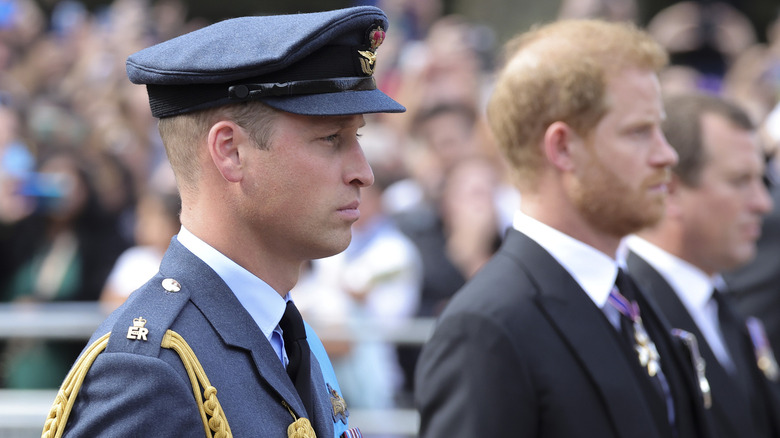 Chris Jackson/Getty Images
Since the passing of Queen Elizabeth, all eyes have been on the royal family and the sheer magnitude of attention to detail regarding the time leading up to her funeral. With the wardrobe switch from military uniform to morning suits for Prince Philip's funeral in 2021, attire has once again become a hot topic for discussion.
For the queen's funeral, not every member of the royal family will be donning a morning suit, but both Prince Harry and Prince Andrew will be. Even though the two served in the British military, they will not be wearing their military uniforms to Queen Elizabeth's funeral, according to "Today."
Military uniforms are meant to be worn by active members of the royal family to several of the events leading up to the funeral, and the funeral itself. While Harry will be wearing a morning suit to each of these events, Andrew has opted to wear his uniform to the vigil held at Westminster Hall (per "Today"). While the two will be noticeably dressed differently than active members of the royal family, they are still mourning the loss of a loved one alongside the rest of their family and millions of others.