The Queen's Relationship With David Beckham Explained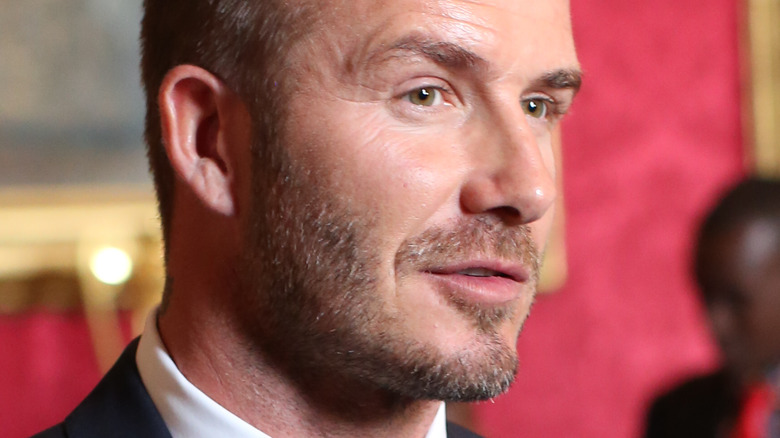 Comic Relief/Getty Images
On September 16, 2022, a familiar face showed up among the thousands in line to pay their respects to Queen Elizabeth II, as the queen lies in state for four days at Westminster Hall in London. That face belonged to retired soccer star David Beckham, according to The Guardian. Queen Elizabeth died at age 96 on September 8 at Balmoral Castle in Scotland. Her body was available to be viewed for four days in a period of public mourning. In addition to Beckham, hundreds of thousands were expected to queue up for their chance to honor the longest-reigning monarch in British history.
An internationally renowned soccer player, Beckham got his start in the late `90s and early-2000s with one of England's most beloved teams, Manchester United. While playing for Man U, Beckham won six Premier League titles and two FA cups, along with one Champions League in 1999 (via Bleacher Report). Among other accomplishments, Beckham took home many individual awards, such as most valuable player and best midfielder. He then enlisted with teams like Real Madrid in Spain, and finally, the Los Angeles Galaxy for Major League Soccer (MLS) in the United States.
Among other notable aspects of his career, Beckham married Victoria Adams, now Victoria Beckham, better known as Posh Spice from the English pop group the Spice Girls. Beckham also wrote books, appeared in movies, and worked in the front office for soccer organizations internationally (via Britannica). In 2003, Beckham was honored by Queen Elizabeth, and it was partially for that reason the star athlete queued up for his chance to say goodbye.
Beckham stood in line for more than 12 hours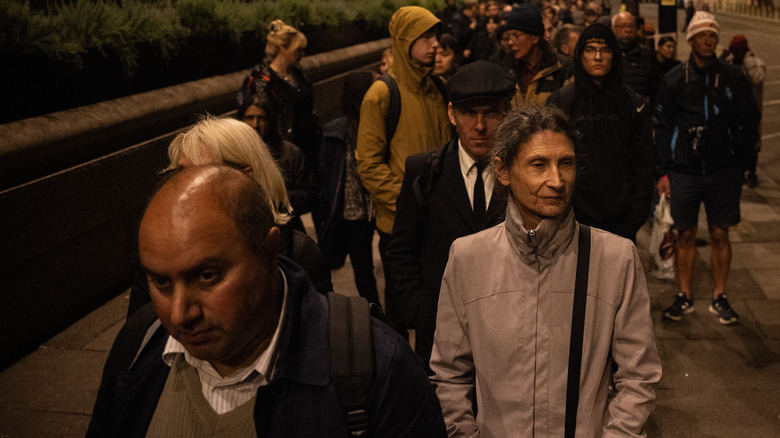 David Ramos/Getty Images
According to Town & Country, David Beckham was noticed in line with thousands of mourners around 2 a.m. He finally had his chance to see the queen around 3 p.m. the next afternoon, after waiting for more than half a day. As those hours elapsed, Beckham stopped for photographs and signed autographs. The queue to view Queen Elizabeth was expected to grow to five miles at least, if not longer. The area around Westminster underwent extensive preparation to handle the expected crowd, and people began to gather before the queen had even arrived, The Associated Press reports.
After Beckham had his chance, the wait to see the queen reached 24 hours after queuing was paused temporarily, per USA Today. When asked why he chose to stand in line for so long, Beckham mentioned (via The Guardian) that he was a royalist, and that he respects the royal family. Those values were passed down to him by his grandparents. Beckham also said that he thought showing up as early as he did might mean things were quieter, but that was not the case.
According to CNN, Beckham added, "We all want to be here together, we all want to experience something where we celebrate the amazing life of our queen. You know something like this today is meant to be shared together." He also recalled singing the British national anthem "God Save the Queen" as a player. "That was something that meant so much to us," Beckham said.
Queen Elizabeth appointed Beckham OBE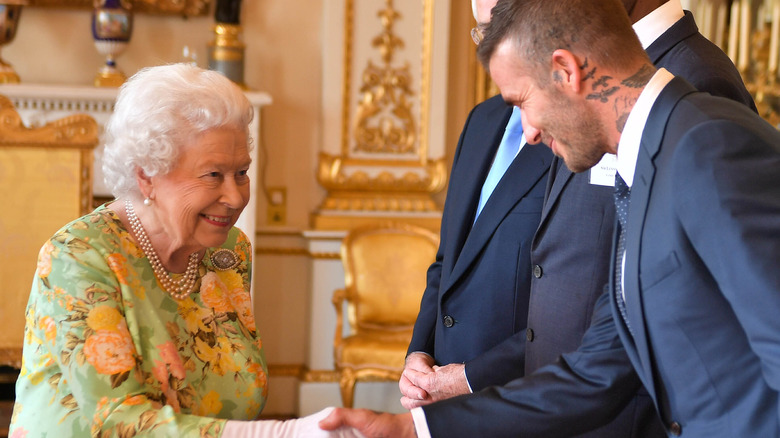 Wpa Pool/Getty Images
Among other opportunities to meet Queen Elizabeth in his lifetime, what perhaps motivated David Beckham to wait in line to pay his respects to the queen more than anything happened in 2003, when the late sovereign appointed Beckham OBE for services to British football. As explained by BBC News, the Order of the British Empire (OBE) is an order of chivalry and among the UK's most prestigious honors.
Recalling that time, Beckham said (via The Guardian) that he brought his grandparents — who were the reason he became a royalist, to begin with —  to the OBE ceremony. "To step up, to get my honor — but then also Her Majesty, to ask questions, to talk, I was so lucky that I was able to have a few moments like that in my life, to be around Her Majesty," Beckham said, adding (via BBC News), "Because we can all see, with the love that has been shown, how special she is and how special she was and the legacy that she leaves behind ... It's a sad day, but it's a day for us to remember the incredible legacy that she's left."
After four days of lying in state and giving thousands like David Beckham their chance to say goodbye, the queen's funeral service is set to take place on Monday, September 19, 2022, at Westminster Abbey, after which time she will finally be laid to rest in St. George's Chapel at Windsor Castle, according to The Telegraph.