It Turns Out Queen Elizabeth Wasn't The Only Dog Lover In The Royal Family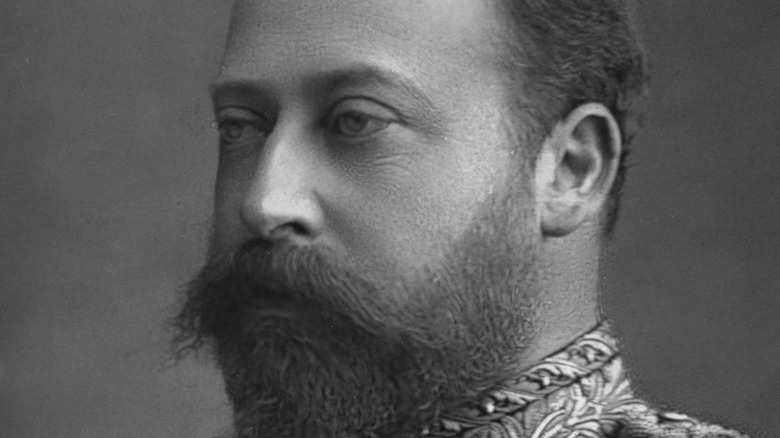 Print Collector/Getty Images
Queen Elizabeth II, who died at the age of 96 at Balmoral Castle in Scotland, famously loved the Pembroke Welsh corgi dog breed, as The Washington Post reports. The late queen was certainly not the first British monarch to love dogs, though. Queen Elizabeth's great grandfather King Edward VII (pictured), the son of Queen Victoria, who reigned from 1901 to 1910, also loved the animals (via the Royal Family website). The breed he preferred were fox terriers, and in this instance at least, a royal fondness for canines might have helped change the course of world history, as Express explains.
In 1910, King Edward VII died, and his nephew, Kaiser Wilhelm II of Germany, journeyed to England to mourn him. It was at that time that the Kaiser took exception with how King Edward's very much beloved dog, Caesar, played such a prominent role in some of Edward's memorial services.
Caesar was included Edward VII's funeral procession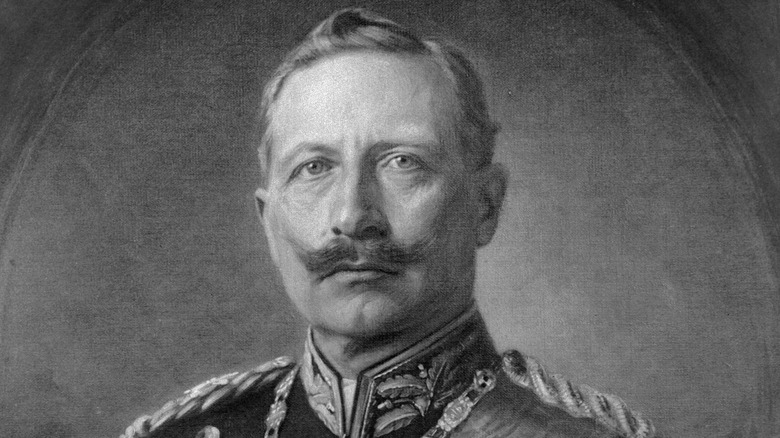 Estate Of Emil Bieber / Klaus Niermann/Getty Images
As the Daily Mail notes, King Edward's favorite pet, Caesar, tagged alongside his master's coffin in the royal funeral procession. It was an attempt to humanize the royal family in the eyes of the British public, and in that regard, the choice was reportedly successful. Kaiser Wilhelm (pictured) saw it differently, though, and apparently felt that a head of state, such as himself, being upstaged by an animal was an insult. As British broadcaster Toby Amies said (via Express), "The imperious German Kaiser was furious about being in the same procession as the little dog." 
Awkward family drama aside, the perceived slight Kaiser Wilhelm received would have devastating consequences. According to some experts, after Edward's death, Wilhelm had a poor opinion of England and the British royalty. Four years later, World War I had broken out, with Kaiser Wilhelm II's Germany on one side of the conflict and England on the other (via History). What happened at Edward VII's funeral procession certainly did not cause those hostilities, but some say that if Kaiser Wilhelm had not been insulted in Edward's funeral procession, he might have thought twice about going to war against the once-friendly nation of England.
Queen Elizabeth II's eldest son, King Charles III, is also a dog lover. He plans to move into Buckingham Palace with Bluebell and Beth, two Jack Russell terriers, his favorite dog breed, according to Reader's Digest. Even better, the dogs were adopted from a London rescue center in 2017. For this reason, it seems likely that Buckingham Palace will remain dog-friendly for years to come.