What Comes Now For Countries That Have Queen Elizabeth Featured On Their Currency?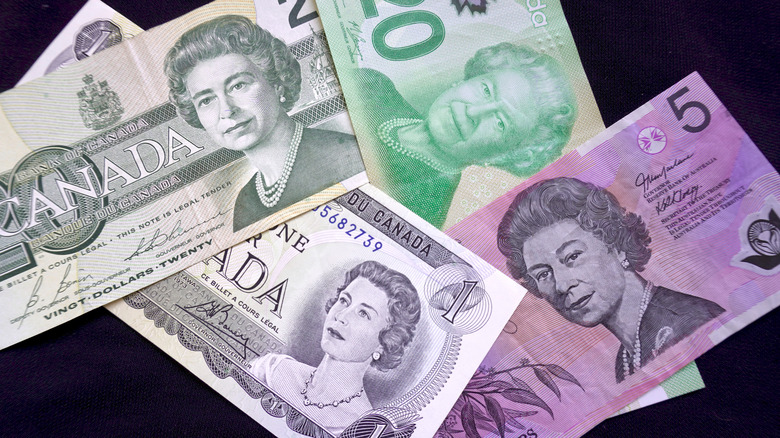 EWY Media/Shutterstock
Queen Elizabeth II's likeness has been featured on currencies for decades, not just in Britain but in other countries as well. In fact, she holds the Guinness World Record for the most currencies featuring the same individual with 33 currencies. Queen Elizabeth II was first featured on British coins in 1953, a year after she was crowned as the new monarch. Her death on September 8, 2022, sets in motion several changes, including modifications to currencies.
Preparations for the monarch's death had been happening for years, and that includes British currency. As noted by Insider, coins and notes featuring the likeness of King Charles III had already been made in advance, but phasing out currency with Queen Elizabeth II will be done gradually. But first, the Royal Mint advisory committee will put forward recommendations about the appearance of the new coins, and King Charles III must approve the designs before entering circulation (via The Mirror).
They won't be going away anytime soon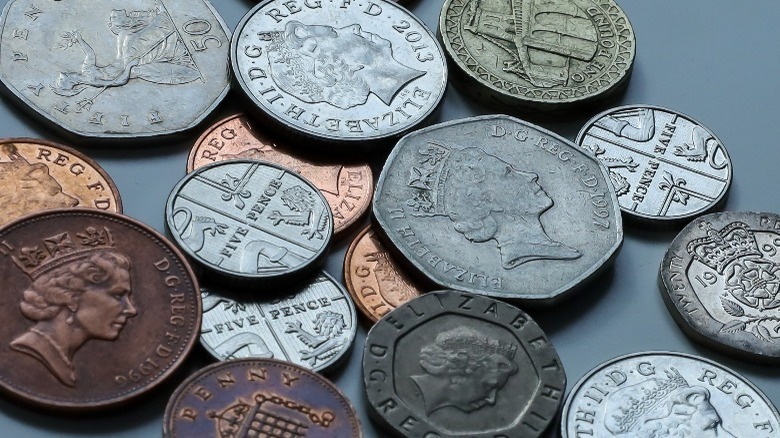 Elzbieta Krzysztof/Shutterstock
Dominic Chorney, a coin specialist, told CNBC that coins featuring the late Queen Elizabeth II won't be going away soon. "I imagine there'll be coins of Queen Elizabeth circulating for decades," he said. Currently, there are about 29 billion coins that feature the queen's likeness in circulation in different countries, and they are still considered legal tender. As noted by Chorney, what will happen in the coming years is that coins with King Charles III and Queen Elizabeth II will be used. This is "unique in modern history because nobody remembers seeing two different monarchs in circulation," Chorney continued.
As for other countries that feature the queen, it may take an even longer time for the changes to happen. As reported by AP News, the enforcement of new bank notes and coins is easier in the country where the design came from as opposed to other countries with different jurisdictions, and it will take years to completely phase out notes that feature the queen.
Other countries' plans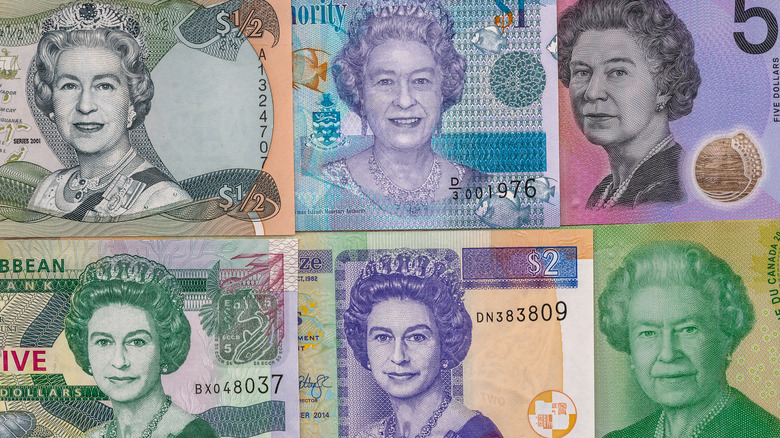 RomanR/Shutterstock
The Australian government announced that coins bearing the queen's likeness will not be recalled and will remain legal tender. Based on previous changes to coins bearing a new effigy, coins that feature King Charles III will most likely be released into circulation a year after his coronation. However, Australia also plans to release a commemorative coin that will feature Queen Elizabeth II "in due course."
In New Zealand, coins and notes featuring the queen will all remain legal tender. In a statement by the Reserve Bank of New Zealand, it is noted that it will take "several years" before a coin featuring King Charles III is introduced into circulation. The spokesperson for the bank also said that stock that features the queen will not be destroyed, and the transition will be done in the most cost-effective way.
Canada, on the other hand, has not revealed any plans to change the currency that features Queen Elizabeth II. As reported by Fortune, a spokesman for the Bank of Canada stated that the country is not required to change its design when a new monarch is crowned. "The current polymer $20 bank note is intended to circulate for years to come," per the statement. The bank also noted that the decision to update the design of notes falls on the Canadian prime minister.