Why The Queen's Funeral Poses Such A Challenge For The London Police Force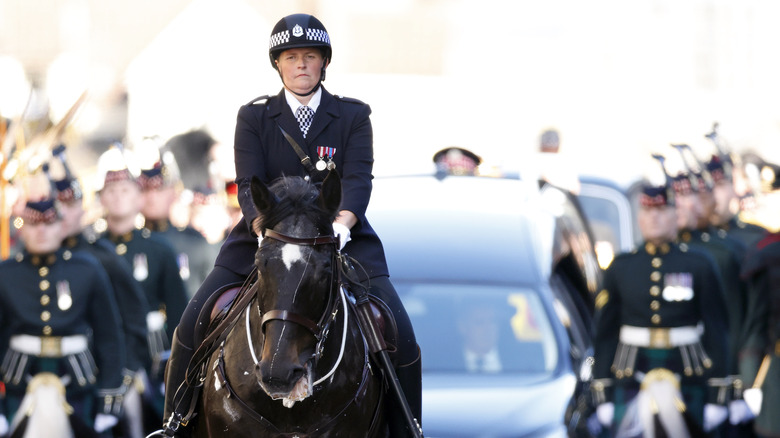 Max Mumby/indigo/Getty Images
Queen Elizabeth II died on Sept. 8, 2022, after 70 years on the throne. For many in the U.K. and elsewhere, she was the only monarch they had ever known. For this reason, hundreds of thousands of mourners lined-up to see the queen as she lay in state at Westminster Hall in London, as The Washington Post explains. It took an incredible amount of planning to brace for the crowds expected to pay their final respects. Preparing for the funeral service also presented an immense challenge for the London police force, based on reporting from Reuters.
The line to get into Westminster Hall reached as long as five miles long, if not longer, and some mourners waited as long as 24 hours for the chance to say goodbye to the longest-reigning monarch in British history, per NPR. That logistical planning on the part of British authorities during this period of public mourning won't end once the queen is no longer lying in state, though. From Westminster Hall, Queen Elizabeth II's funeral service was held on Sept. 19 in Westminster Abbey before she was laid to rest in King George VI memorial chapel at Windsor Castle, according to the Independent.
The state funeral is the biggest operation ever undertaken by London police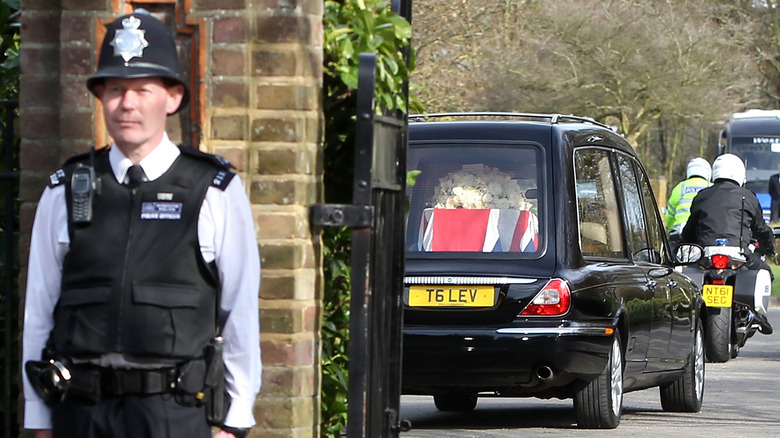 Danny E. Martindale/Getty Images
In the run-up to her state funeral of Queen Elizabeth II — which included high-profile attendees like U.S. President Joe Biden and French President Emmanuel Macron — London police said the security operation would be the most difficult in the force's history. That list includes other large events held in the English capital, like the 2012 Olympic Games, the Platinum Jubilee, Winston Churchill's funeral, and the death of Princess Diana, according to Reuters. Police also expected anti-royalist demonstrations and protests. They had already made several in the days leading up to the day of the funeral, some of which were controversial.
To help handle the unprecedented crowds expected at the London state funeral for Queen Elizabeth II, officers from all over England were reportedly on duty on the day of the event, some on horseback. Dogs and divers were on hand as well, and more than 20 miles of barriers were set up in the city. On that note, London's Metropolitan Police Deputy Assistant Commissioner Stuart Cundy told Reuters, "There's absolutely nothing that compares to our policing operation this week and particularly on Monday for the state funeral."