The Heartbreaking Death Of Princess Diana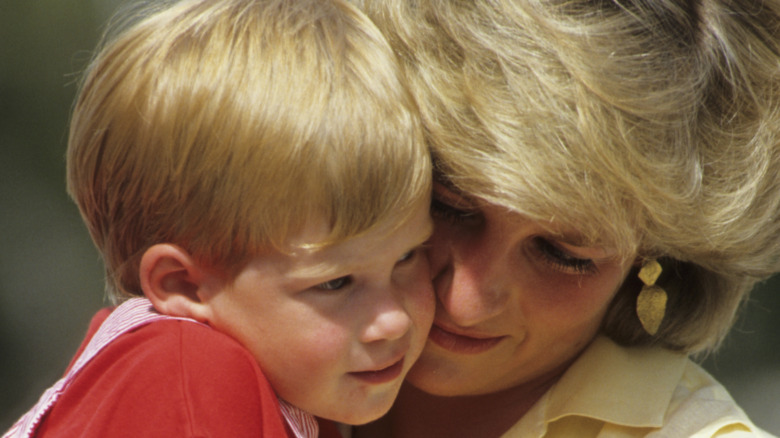 Georges De Keerle/Getty Images
Given the past several years of Harry and Megan mania, it can be easy to forget that there was a time that the British royal family somehow managed to dominate the news cycle even more than they do today — a feat in the pre-internet era — and no one made more headlines than Diana, Princess of Wales.
In the summer of 1997, Diana seemed to finally be enjoying the freedom she'd long dreamed of during the reportedly suffocating years of her marriage to Prince Charles. The two had officially separated in 1992 and divorced in 1996, on the heels of the blockbuster Martin Bashir interview (the transcript is posted by the BBC) in which Diana had infamously declared that there were "three of us in this marriage," referring to Charles' longtime affair with his mistress (and now wife), Camilla Parker-Bowles, a media spectacle on par with Harry and Megan's recent Oprah tell-all.
But those years between her divorce and untimely death seemed to be happy ones. She had several high-profile relationships, the first with surgeon Hasnat Khan (per Vanity Fair) and then with Dodi Al-Fayed, son of Harrods department store owner Mohamed Al-Fayed. It was Dodi Al-Fayed with whom she spent her final weeks.
The death of Princess Diana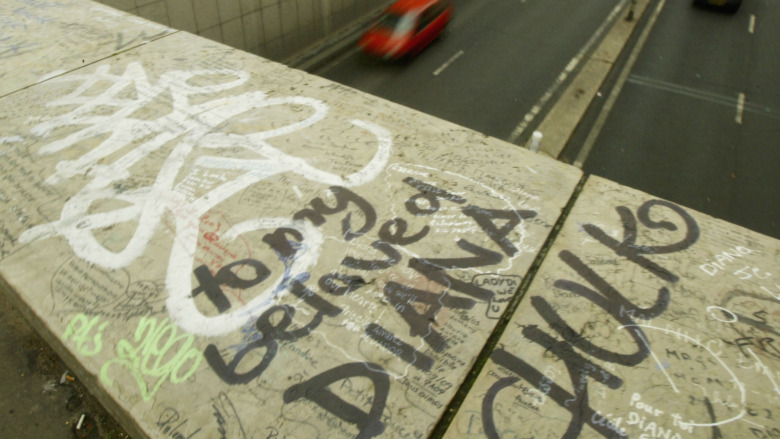 Pascal Le Segretain/Getty Images
The evening before her death, Diana and Al-Fayed left the South of France (where they'd been vacationing on a yacht) and flew to Paris, where, according to Reader's Digest, the two had tried to enjoy dinner at several restaurants but were unable to escape the paparazzi.
The Washington Post reports that there were widely varying accounts of the health of the pair's relationship. Some claimed Diana planned to break things off, while others insist Al-Fayed had a ring and plans to propose that evening. Just after midnight, the two left the Hôtel Ritz Paris (owned by the senior Al-Fayed) through a rear door. They'd employed a decoy car (driven, notably, by Al-Fayed's regular driver) to leave from the hotel's main entrance to fool the paparazzi. Meanwhile, the couple sped off into the night in a borrowed car driven by Henri Paul, the hotel's deputy head of security.
What they didn't know was that Paul was drunk, according to the Washington Post, and "darted in and out of traffic," crashing the car inside the Pont de l'Alma tunnel. Only one person in the car, Trevor Rees-Jones, Diana's bodyguard, had been wearing a seatbelt, according to Reader's Digest. Al-Fayed reportedly died instantly. Diana had to be cut from the wreckage with a chainsaw and was rushed to the hospital.
Here's what happened after Princess Diana's car crash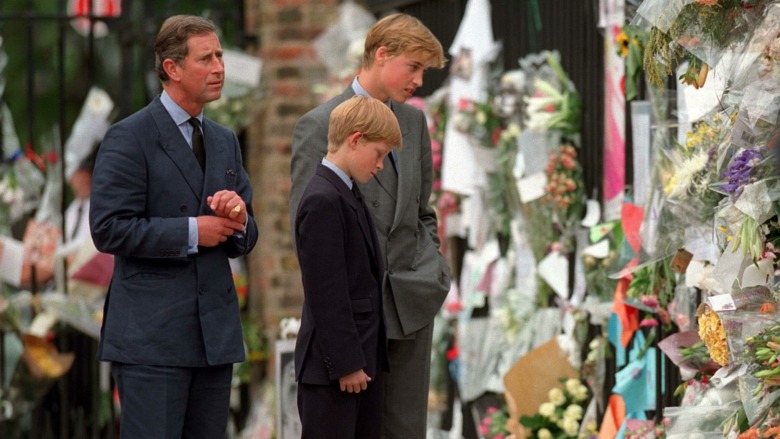 Anwar Hussein/Getty Images
According to Reader's Digest, Diana's heart stopped en route to the hospital, but she was revived by medics. By this time, news of the crash had gotten out and the media kept an all-night vigil. By 4 a.m., though, Princess Diana had died of her injuries.
According to Oprah Daily, the event is made all the more tragic by the fact that Diana is speculated to have died from a "very small, very rare injury" — a tiny tear in her lung. Though she sustained other injuries (including a concussion and broken arm), none were life-threatening. Forensic pathologist Dr. Richard Shepherd later wrote in a 2019 book that "Her specific injury is so rare that in my entire career I don't believe I've seen another," and goes on to speculate that she likely would have survived had she been wearing a seat belt.
Around the world, people awoke to the shocking news about Diana. According to History Extra, mourners left more than a million bouquets outside Kensington Palace, three million took to the streets on the day of her funeral, and more than 2.5 billion people watched the service — nearly 42 percent of the world's population at that time.
Diana's tragic story continues to resonate, particularly whenever the behavior of the royal family is under the spotlight, and time seems not to have tarnished her memory. Despite her sudden death, she appears to remain the people's princess.