What Rugby Player Mike Tindall's Medals At The Queen's Funeral Really Mean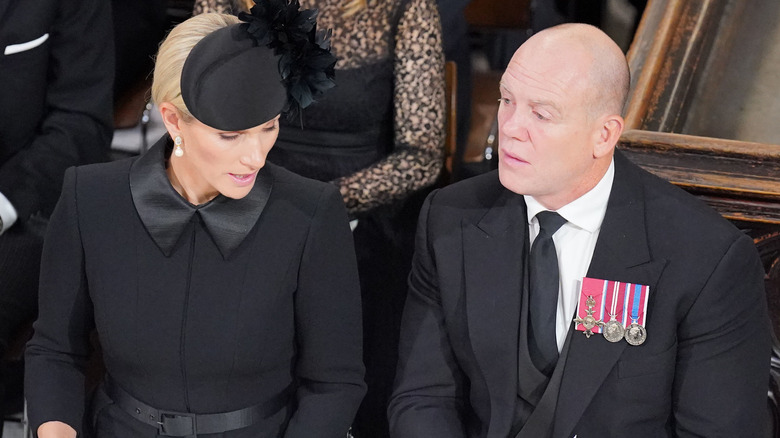 Wpa Pool/Getty Images
Throughout the 10 days of pageantry and ceremony that followed the death of Queen Elizabeth II, royal watchers have pored over countless symbolic details surrounding how the queen's coffin was conveyed, the rituals that surround the passing of a British monarch which have not been seen in most people's lifetimes, and the traditional outfits of those involved.
And while the sartorial choices of members of the queen's immediate family attracted much attention on social media, those too of more fringe figures also provoked much discussion online. Former rugby star Mike Tindall, for example, got people talking after he was pictured wearing three military-style medals on his chest at the vigil for the queen while she was lying in state. He also wore these same medals to her funeral.
As Tindall did not have a military background, many questioned why he will be wearing medals. But as i News explains, the reason for his adornments is rather straightforward. The first medal on the left in the shape of a cross was awarded to Tyndall by the queen herself in 2007: it's an MBE, denoting that Tindall has been made a Member of the Order of the British Empire for services to sport.
Mike Tyndall's commemorative medals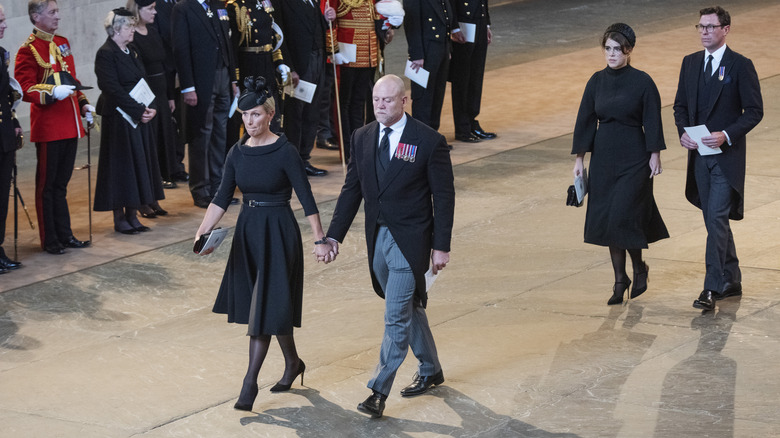 Wpa Pool/Getty Images
But Mike Tindall's royal connection goes far deeper than the award he received from the late queen for his services to sport. As i News notes, the rugby star is married to Zara Phillips, who, as the daughter of Princess Anne, is the queen's oldest granddaughter, and King Charles III's niece.
As the husband of Phillips, this makes Tindall of the British royal family through marriage, and it's this connection that explains the two other medals that adorned his chest during the queen's vigil and funeral. Per the same source, the two medals are commemorative, having been struck to mark Queen Elizabeth II's Diamond and Platinum jubilees in 2012 and 2022, and were awarded to all members of the royal family as tokens of the two occasions.
Tindall and Phillips were both involved in numerous ceremonies in the days leading up to the queen's funeral, and on one occasion, the rugby star made headlines for apparently breaking the silence of a procession by clearing his throat, leading to him being chastised by his wife, according to The Mirror.