What Princess Anne's Last 24 Hours With Her Mother Queen Elizabeth Were Like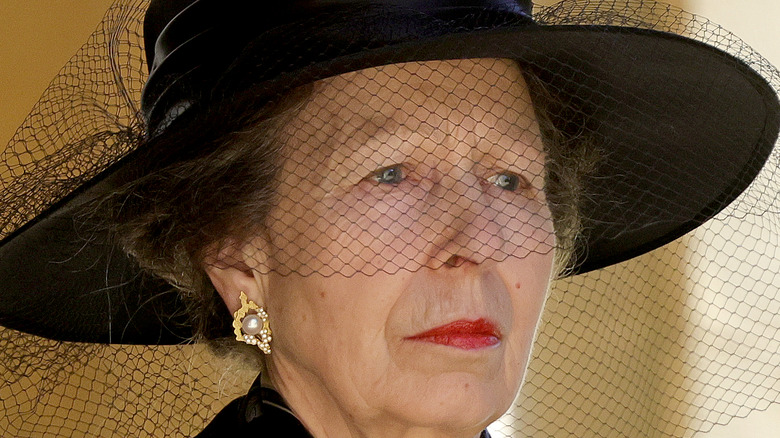 Chris Jackson/Getty Images
Princess Anne is Queen Elizabeth II and Prince Philip's second of four children and their only daughter. Her mother was crowned queen in 1953 when Anne was just 3 years old. Being the monarch, Queen Elizabeth II had countless responsibilities and left her children for months at a time, prompting many to believe that she was not as nurturing as she could have been. According to Reader's Digest, Prince Charles and Princess Anne — the queen's two eldest children — were often left in the care of their nannies. However, as historian Robert Lacy noted, it wasn't because of neglect; Queen Elizabeth II only did that because that was also how she was raised by her own parents.
In the BBC film "A Tribute to Her Majesty the Queen," Princess Anne shared how her parents enjoyed time with the family during their many holidays (via Us Magazine). Despite being busy with her many responsibilities, Princess Anne stated that the queen made it a point to have a getaway with the family once in a while without having to face the public. Princess Anne said that her parents were "nearly always around" during those times, and Queen Elizabeth II loved it, as she was with her horses, dogs, and family in the countryside. In 2002, Princess Anne also reacted to the claims that her mother was uncaring. She said she understood her mother's responsibilities as a monarch, but she never felt that her mother didn't care for her. "I don't believe any of us for a second thought she didn't care for us in exactly the same way as any mother did," she stated (via BBC).
Queen Elizabeth II and Princess Anne's relationship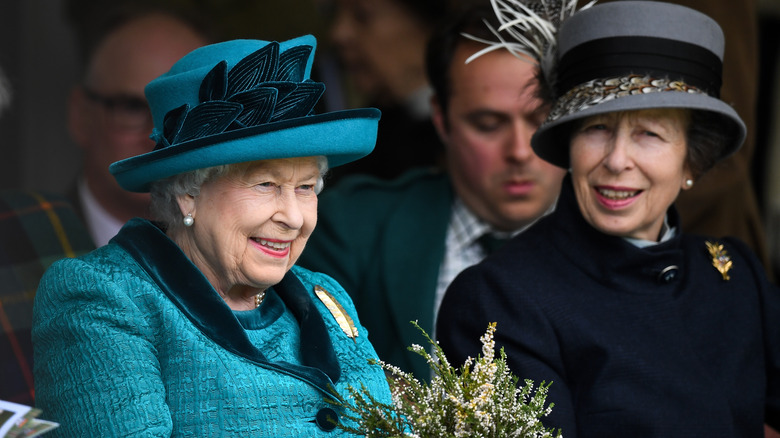 Jeff J Mitchell/Getty Images
Like any mother and daughter, Queen Elizabeth II and Princess Anne had their fair share of disagreements, as reported by Women's Health. Despite doing responsibilities as a royal, Princess Anne revealed in a 2018 BBC special titled "The Queen: Her Commonwealth Story" that she doesn't enjoy the publicity that comes with it. "How many people enjoy walking into a room full of people that you've never met before?" she asked. Princess Anne said that it became easier over the years, but it's something that she doesn't always look forward to.
According to People, Queen Elizabeth II also struggled with coming to terms with Princess Anne's divorce from her first husband, Captain Mark Phillips, in 1992. In 1989, it was revealed that Captain Phillips had an extramarital affair in 1985 that bore a child, and his divorce from Princess Anne was finalized in 1992 after 20 years of marriage. Despite their disagreements, Princess Anne and her mother had a close relationship. They shared a love for horses, and the princess was often seen in the company of her mother during royal engagements. In 2020, body language expert Judi James shared her analysis of the two women's relationship to Express. Based on their actions, James said the two seem "undoubtedly close." "Anne appears to make the Queen laugh and most poses between the two women suggest a shared sense of humor, bringing out a side of the queen that we rarely get to glimpse" she stated.
Princess Anne's final moments with her mother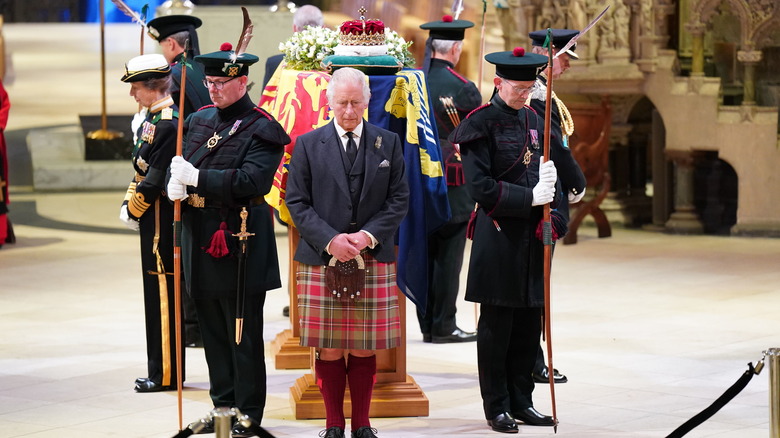 Wpa Pool/Getty Images
Days after Queen Elizabeth II's death on September 8, 2022, Princess Anne released an official statement via the Royal Household website. In it, she revealed that she was thankful to have been able to spend the last 24 hours of Queen Elizabeth II's life by her side. The queen died peacefully at 96 years old in Balmoral Castle, Scotland, surrounded by family members. According to People, the queen made her final public appearance just a couple of days before her death. Prior to that, she had problems with mobility and had been using a cane for months. "We may have been reminded how much of her presence and contribution to our national identity we took for granted," Princess Anne wrote. She concluded her statement by writing, "To my mother, The Queen, thank you."
On September 12, 2022. Princess Anne made history by participating in a royal tradition called the Vigil of the Princes. The ritual began in 1936 when King George V died and his four sons stood by his coffin and offered 15 minutes of silence to pay their final respects, as reported by the Independent. It has been a tradition ever since, but Princess Anne — dressed in her military uniform — was the first princess to participate in the tradition. She stood guard by her mother's coffin for 10 minutes together with her siblings, Prince Andrew, Prince Edward, and King Charles III.