How A Well-Known Christmas Carol Was Referenced At The Queen's Funeral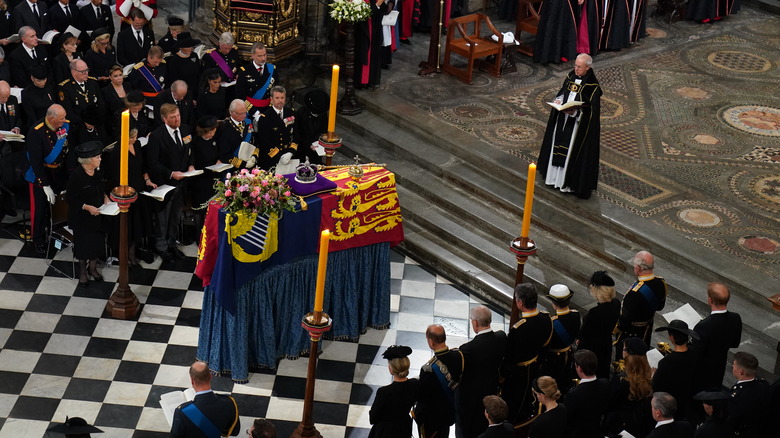 Wpa Pool/Getty Images
Conducting the state funeral service for Queen Elizabeth II on September 19, 2022, at Westminster Abbey in London was the dean of Westminster, David Michael Hoyle MBE. Also included in the Orders of Service was the sermon and commendation delivered by the archbishop of Canterbury, Justin Welby, according to CNN. As reported by Metro, in that portion of the service, the archbishop touchingly referenced a passage from a well-known Christmas carol. Paralleling those words was a quote from the queen herself, delivered in her final public address to the nation.
The state funeral service took place in London 10 days after the queen's death at Balmoral Castle in Scotland, during which time the late monarch lay in state for four days at Westminster Hall in London in a period of national mourning. Also on the Orders of Service for the queen's funeral was a newly commissioned piece sung by the Westminster Abbey choir, "Like as the hart" composed by the Master of the King's Music, Judith Weir (per CNN).
The archbishop referenced O Little Town of Bethlehem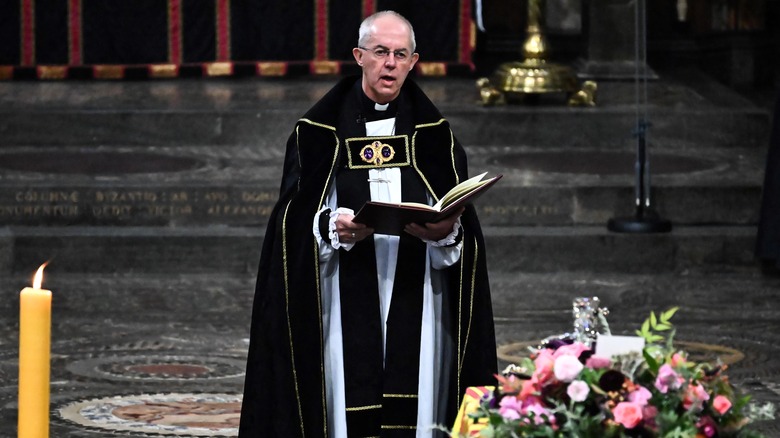 Wpa Pool/Getty Images
In his sermon and commendation at Queen Elizabeth II's funeral, the archbishop of Canterbury (the leader of the Anglican church), Justin Welby, mentioned the queen's address to the nation at the height of the COVID-19 lockdown in 2020. In her words, the late monarch quoted lyrics from British singer Vera Lynn's 1939 hit "We'll Meet Again," per The Independent. The archbishop then used words from a well-known Christmas carol "O Little Town of Bethlehem" to highlight the queen's decades spent in service. Drawn from the carol, the archbishop said, "'where meek souls will receive him, still the dear Christ enters in.'" 
From there, the archbishop continued (via Metro), "We will all face the merciful judgment of God: we can all share the Queen's hope which in life and death inspired her servant leadership. Service in life, hope in death. All who follow the Queen's example, and inspiration of trust and faith in God, can with her say: 'We will meet again.'"
Some 2,000 dignitaries, including members of the royal family and U.S. President Joe Biden, attended the funeral service for the queen, the largest event of its kind in recent London history and the first state funeral held in England since the death of former Prime Minister Winston Churchill, according to i News.