Everything We Know About The Canadian Mounties Who Led Queen Elizabeth To Her Final Resting Place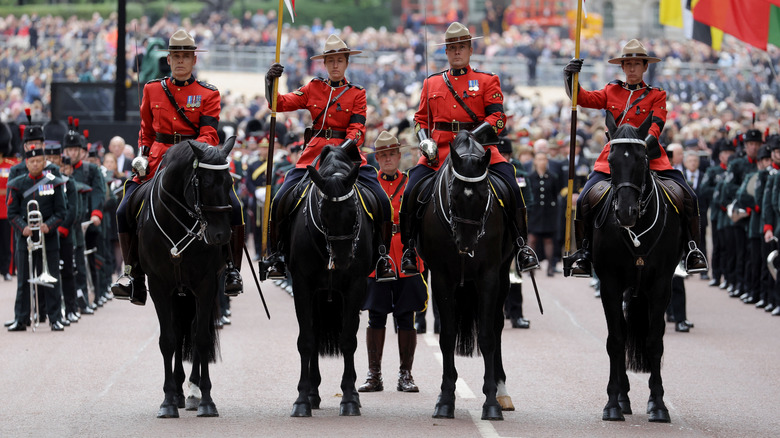 Wpa Pool/Getty Images
At the conclusion of the state funeral for Queen Elizabeth II on September 19 at Westminster Abbey in London, the coffin of the late monarch was led on a funeral procession past Buckingham Palace to St. George's Chapel on the grounds of Windsor Castle, as BBC News reports. At the vanguard of that procession were four Canadian mounties, or the Royal Canadian Mounted Police (RCMP), according to the Daily Mail. The inclusion of the RCMP Musical Ride, officers from across Canada who perform musical drills on horseback. touches on the queen's lifelong love affair with horses and the RCMP institution.
The four mounties that led the procession practiced in advance on the London streets and the grounds of Windsor Castle, based on The Star reporting. Among those mounties was Sergeant-Major Scott Williamson, who said (via the Daily Mail): "I can't obviously speak for Her Majesty but she certainly did take a special liking to the mounties and we, of course, take a very special liking to the queen ... We swore allegiance to Her Majesty the day we graduated from the RCMP Academy and I know every member of the force takes that oath very seriously."
Elizabeth likely first saw the RCMP at her father's coronation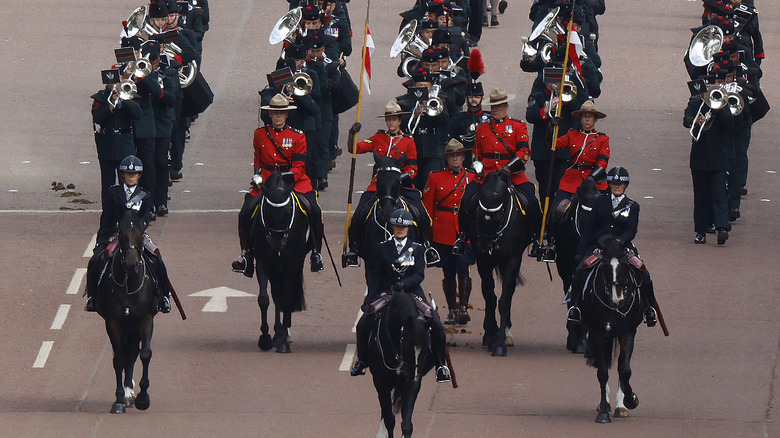 Chip Somodevilla/Getty Images
After Queen Elizabeth's likely introduction to the mounties at the 1937 coronation of her father, King George VI, she took in several performances from the RCMP Musical Ride. In 1969, the Musical Ride presented Queen Elizabeth with one of her favorite horses, a black filly named Burmese. She often rode Burmese at the so-called Trooping the Colour, her official royal birthday celebration, as Express reports. On the opportunity to participate in Her Majesty's funeral procession, RCMP Sergeant-Major Williamson added (via the Daily Mail), "The relationship that we have with Her Majesty is very special and it's fair to say it's even become quite personal."
Williamson also added "It's hard to describe everything that I am feeling right now. I have the personal emotions of sadness and grief. Obviously there is a lot of pressure." In her 70 years on the English throne, Queen Elizabeth visited Canada the most out of any other of the Commonwealth nations, CTV News reports. Alongside Williamson in the Royal Mounties who led the queen's funeral procession from Westminster Abbey past Buckingham Palace were Constable Katy Loisel; Corporal Justine Rogawsk; and Superintendent Kevin Fahey, as The Star goes on to note.