The Candle Supplier For Westminster Abbey Is Older Than You Realize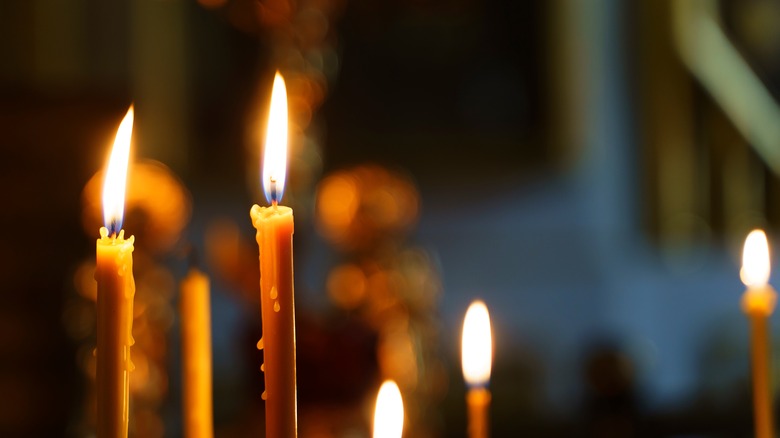 vovidzha/Shutterstock
The next time you walk through a festival, church, or even just a farmer's market, take a look at what's often overlooked: light fixtures, power sources, fabrics on tables, and all the bric-a-brac that makes a space feel full. It takes lots of work to make what most people ignore. 
Such is definitely the case for a giant event like Queen Elizabeth II's funeral. Who made the purple cushions on the chairs in Westminster Abbey, for instance? How about the flower arrangements behind the altar, or all the little medals on King Charles III's suit jacket? Someone has to produce all these things according to a business agreement, and other people have to transport them, set them up, and do an absolute ton of behind-the-scenes work for such a monumentally important event as a monarch's world-televised funeral.
So how about a commonplace item as integral to everyday life as it is to sacred events? Enter the humble candle. Long before reed diffusers or scented alcohol sanitizers hit the market, folks were in dire need of a constant supply of burnable light sources. Cathedrals, churches, and chapels must have burned through a lot of them, given that services had masses around the clock. Prominent religious sites like Westminster Abbey are no exception. Thanks to candle-makers Charles Farris, the abbey has gotten a constant flow of "pillar candles" — thicker cylindrical candles — for way longer than you might think: since 1845.
Burning wicks since 1845
irin-k/Shutterstock
As the Charles Farris website says, the candle-making company was founded in 1845, the same year it began supplying royal sites like Westminster Abbey. Charles Farris now has a Royal Warrant, which, as the royal family website explains, is basically a mark of recognition given to businesses that have been long-time suppliers to the crown. There are currently 800 such Royal Warrant holders in every industry across the world. There's even a Royal Warrant Holders Association that focuses on the promotion and support of its members.
As the Charles Farris site states, the royally-preferred candles are produced according to traditional methods rooted in the Victorian era. As detailed by Sotre Collection, the goal is to produce candles that are "slow-burning, long-lasting, and of the highest quality." The Charles Farris brand focuses on sustainability and reducing its environmental impact and gets its wax and cotton (for wicks) from natural, sustainable sources. Its packaging is completely recyclable. All in all, it sounds exactly like the kind of respectable business operation well-suited to supplying venerable institutions like Westminster Abbey. 
Charles Farris, as a separate company website shows, also happens to specialize in tons of other church goods. We're talking not only other smellables like incense and charcoal but vestments for priests and items used in Holy Communion, down to gluten-free hosts. They also produce loads of other seasonal goods that we're sure religious institutions like Westminster or St. Paul's Cathedral use.