How The UK Formed A Ring Of Protection For The Queen's Historic High-Security Funeral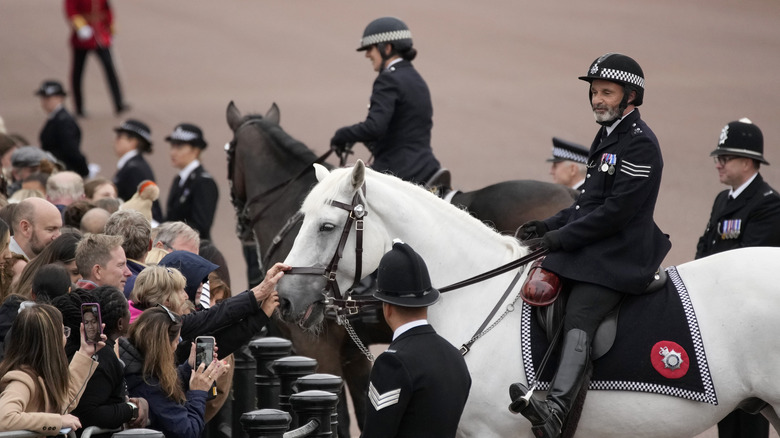 Wpa Pool/Getty Images
Inside London's Westminster Abbey for Queen Elizabeth II's funeral on September 19, 2022, choirs sang hymns, clergy eulogized, and the royal family and 2,000 guests, including many world leaders, mourned. Outside, a vast and complex security operation was underway, hyper-vigilant for any trouble. The security precautions for the unprecedented event, codenamed Operation London Bridge, are the biggest in British history, according to the Daily Mail and CNN.
With a police presence of more than 10,000 officers from across the U.K. along with 1,500 members of the armed forces, they were ready for any situation (per the Mirror). The massive police force guarded against everything from terrorist threats to accidental crushes within the crowds lining the streets to see the queen's coffin as it made its final journey to Windsor Castle for burial. Preparing for an event like this doesn't happen overnight, and in fact, Queen Elizabeth was in on the planning.
A Ring of Steel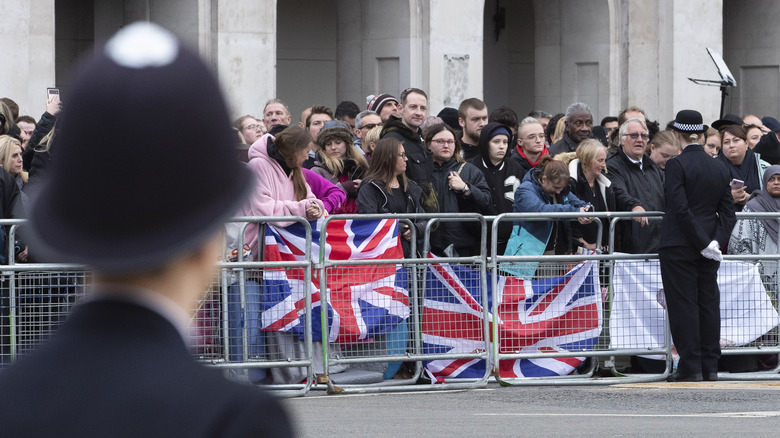 Wpa Pool/Getty Images
The three police forces in London — the Metropolitan Police, the British Transport Police, and the City of London Police — jumped into action as soon as they learned of Queen Elizabeth's death on September 8, 2022, according to CNN. The plan had been years in the making and the queen herself signed off on the details, per CNN. Among the precautions, the police created a "ring of steel," with 23 miles of barriers around central London helping with security and crowd control, along with sniffer dogs, per the Daily Mail. Snipers ringed Westminster Abbey during the funeral service with a similar setup at the Royal Hospital Chelsea, where world leaders, including President Joe Biden, gathered before the funeral, per the Daily Mail. They were then bussed under tight security to Westminster Abbey.
Among the various officers on duty, there were those on horseback and on motorcycles, and even police divers, per the Mirror. The police also planned for the possibility of a drone attack, according to NPR. "We've had some recent cases in the U.K. where drones have been used nefariously," Nick Aldworth, the former U.K. national coordinator for counterterrorism, told NPR. "And we've been very, very effective at detecting them, tracking them back, and arresting offenders." While the royal family and the rest of the U.K. mourned the queen's passing, an intricate and vast police apparatus allowed them to do so in peace and security.