The 4 Men In The Eagle Feather Hats At The Queen's Funeral Held A Special Significance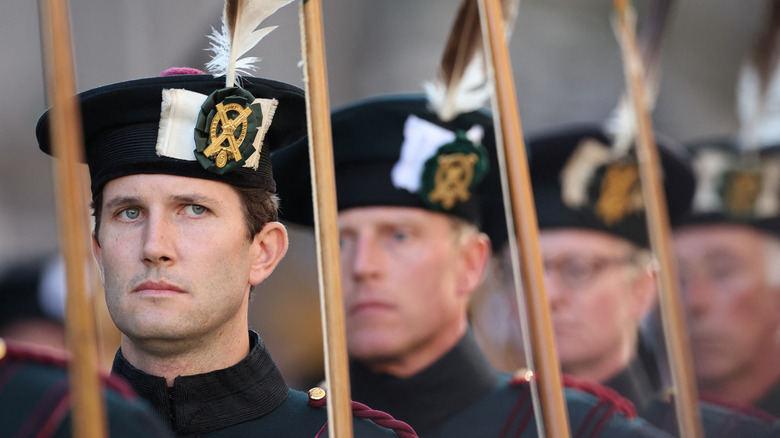 Wpa Pool/Getty Images
Alongside the funeral procession for Queen Elizabeth II were members of the royal family and a number of uniformed individuals, each with their own significance in British history, based on Wall Street Journal reporting. Some of the men who accompanied the queen's coffin in that procession wore feathered caps and carried bows and arrows. Those same men were also with the queen's coffin as it made its way through Edinburgh, Scotland, and they play a special role in the Scottish relationship to the British monarchy, as NBC News explains.
Queen Elizabeth, who died at age 96 at Balmoral Castle in Scotland, was of Scottish ancestry and she loved the time that she spend time there, according to Euro News. After the queen's coffin was brought back to London from Scotland, the late monarch lay in state for four days at Westminster Hall before her funeral took place at Westminster Abbey. Her funeral procession was then led past Buckingham Palace to her final resting place at St. George's Chapel on the grounds of Windsor Castle.
The feather-capped men belong to the Royal Company of Archers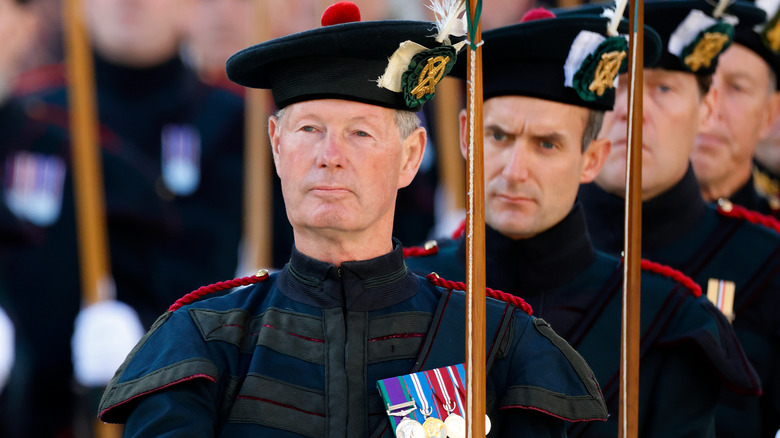 Max Mumby/indigo/Getty Images
The men in the feathered caps represent the Royal Company of Archers. Formed in 1676, the Royal Company of Archers is an archery club, and while she was alive, they acted as the queen's ceremonial bodyguards in Scotland. In addition to their feathered caps and longbows, the men also wear dark green uniforms with crimson stripes. Royal observers may also remember the Royal Company of Archers standing vigil as Queen Elizabeth's mother, Queen Elizabeth lat in state in 2002, according to NBC News.
While still in Edinburgh, one member of the Royal Company of Archers collapsed as the queen's coffin was brought forth from St. Giles' Cathedral where it had lain in state for a day (via the Daily Mail). British Defense secretary Ben Wallace and Scottish secretary Alister Jack, two members of the Royal Company of Archers, also stood vigil alongside Queen Elizabeth's casket as she lay in state at Westminster Hall, according to the Independent. On the occasion of the queen's death, Secretary Jack said (via the Independent) "Her long reign was defined by hard work and dedicated public service, earning her the respect and devotion of her citizens."