Royal Mourners Share Their Morbid View Of The Royals While Watching The Queen's Funeral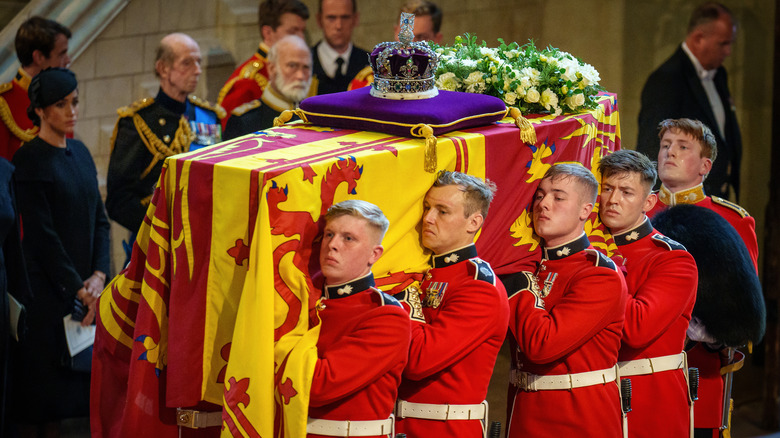 Christopher Furlong/Getty Images
Queen Elizabeth II died on September 8, and her death set off a 10-day mourning period in the United Kingdom and waves of condolences pouring in from around the world. The queen's death also put into motion an intricate, well-thought-out plan designed by the former monarch herself that orchestrated the procession and protocol to be observed throughout the mourning period, culminating with her state funeral at Westminster Abbey (per Firstpost). The protocol surrounding the mourning period was historic in many ways, including the queen's daughter, Princess Anne, as part of the so-called Vigil of the Princes (per BBC News). This may indicate that the monarchy was modernizing and moving away from a male-only designation. 
Additionally, the public was able to witness the Accession Council for the first time, where Queen Elizabeth was formally declared deceased and King Charles III was officially named monarch and head of state. Alongside this never-before-seen ceremony, the public also was able to view the first-ever televised funeral of a monarch (the funeral of King George VI had a televised procession, but the actual service was not). This pomp and circumstance can be a lot for anybody to see, but some royal observers had quite a macabre thought when they observed the entire funeral service.  
People were concerned about King Charles III and his heirs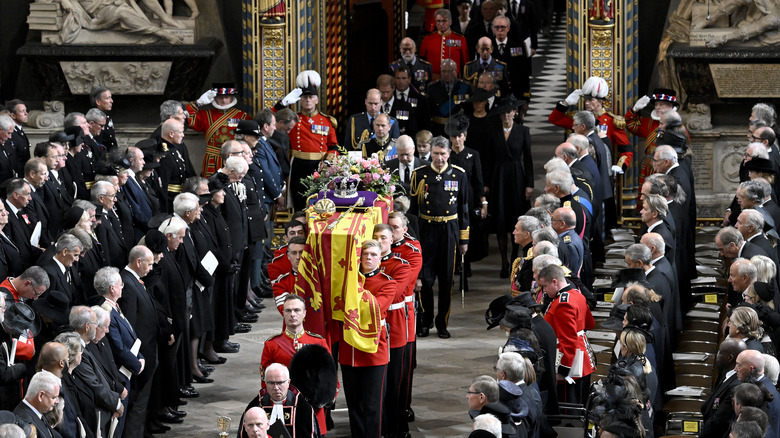 Gareth Cattermole/Getty Images
According to AP News, Queen Elizabeth II was laid to rest at St. George's Chapel at Windsor Castle in the United Kingdom, where she was interred next to her husband, the late Prince Phillip. The funeral service began with a procession throughout London to Westminster Abbey. A funeral service was held and then the procession continued to Buckingham Palace and beyond. And while the state funeral was fascinating to watch due to its protocol and military precision, some recognized a truly morbid fact about the situation: That King Charles III; Prince William, Prince of Wales; and Prince George (the Prince of Wales' son) were all watching what would eventually happen to them. 
Many took to Twitter to express their thoughts about the situation. "I keep thinking how strange it must be for King Charles, Prince William, and Prince George knowing this type of funeral will be their eventual end point," one person tweeted. "I wonder if it has occurred to young Prince George that one day he will be expected to stand at his father's funeral and hear them sing, 'God Save the King' for him," another tweeted in part. "My sympathies are with Prince George who looks as though he knows very well he's going to have to go through this twice again before he gets the job he's been lined up for," a third shared. One thing's for sure: It must be a strange situation for someone to be in if thought about too closely.