The Furry Friends At The Queen's Funeral That Set Off A Wave Of Emotions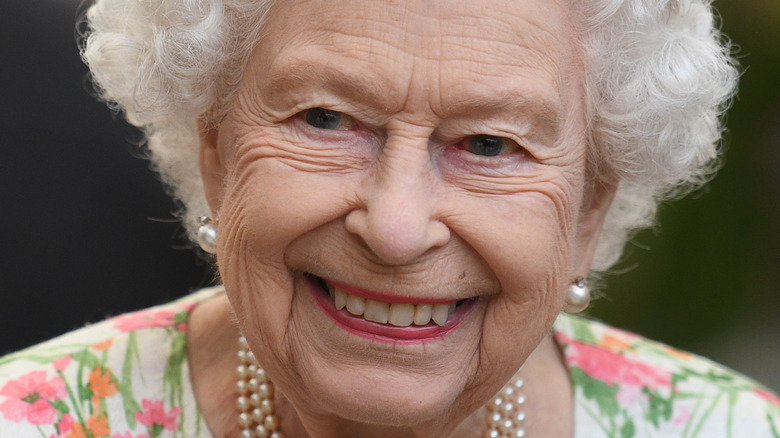 Wpa Pool/Getty Images
There were many reasons to shed a tear during the state funeral for Queen Elizabeth II on Monday, September 19, 2022. From the queen's extended family together in mourning — including her young great-grandchildren, who played a prominent role in the ceremony — to the sad faces on the multitudes of mourners lining the streets as the queen's coffin was taken to its final resting place, it was difficult for those following the live broadcast on TV and the internet to keep a dry eye for long. But if reactions on social media are anything to go by, it was in the final stages of the journey of the coffin towards Windsor Castle many viewers' hearts were truly broken. Specifically, upon the appearance of some possibly unexpected non-human friends from the last few years of the late monarch's life.
The first of Queen Elizabeth II's furry friends to make an appearance was Emma, the queen's favorite pony. It was brought out from her stable by the queen's head groom Terry Pendry to pay respects to her owner and rider as the hearse drove past, according to OK! "This moment, out of all the incredibly moving ones, was the one that really broke me, to see her pony, without her rider," one viewer tweeted. Another asked: "Why is it that Emma, the Queen's favorite [pony], is what got me[?] I think because she'll not understand why her person is gone."
Muick and Sandy pay their respects
Within minutes of viewers catching sight of Queen Elizabeth II's favorite pony, Emma, the late monarch's hearse passed through the gates of Windsor Castle, where more of her furry friends were waiting to see her coffin pass into the royal residence. According to The Independent, Muick and Sandy were the queen's beloved corgis, gifts from her son, Prince Andrew, who both kept her company and entertained her with their boisterousness in her final months.
The Reverend Richard Coles, a popular British writer and broadcaster as well as an active member of the clergy, tweeted that he was "utterly destroyed now" after seeing the queen's corgis waiting at Windsor Castle, encapsulating the feelings of many who came to share their emotions online. "The Queen's corgis came to say goodbye to their mummy IM NOT OKAY," tweeted one user, while others noted that the dogs seemed saddened by the loss of their owner.
The queen had a lifelong love of animals, especially corgis. She first owned a corgi when she received one of the dogs as a gift from her father on her 18th birthday, per The Independent. She would go on to have more than 30 corgis throughout her life, including her last canine companions, Muick and Sandy.