The Real Reason Japan's Prime Minister Did Not Attend Queen Elizabeth II's Funeral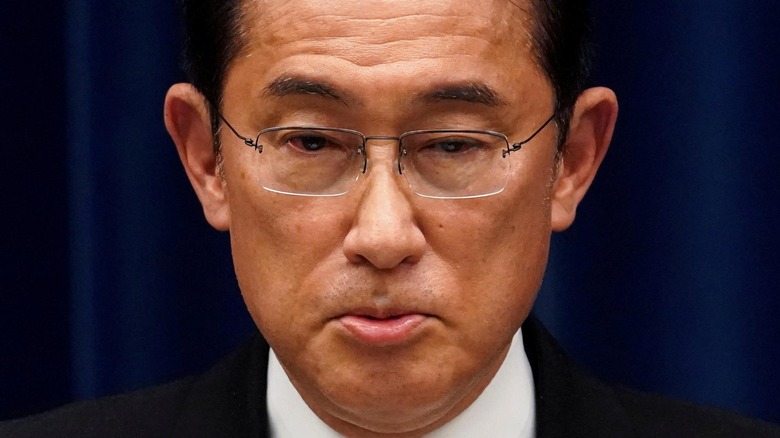 Shag 7799/Shutterstock
Japan's Prime Minister Fumio Kishida did not attend Queen Elizabeth II's state funeral on September 19, 2022. Instead, Chief Cabinet Secretary Hirokazu Matsuno explained his whereabouts — the prime minister attended the U.N. General Assembly in New York that day (via Japan Today). However, sources say that Prime Minister Kishida's absence is not a snub to the royal family. On the contrary, Kishida's absence makes way for a historical move that shows a singular respect for the British royal family, explains Japan Today. Emperor Naruhito and Empress Masako attended the monarch's funeral in place of Kishida. The Japanese Imperial Household Agency reported that the British government extended two invitations to the queen's state funeral, and Prime Minister Kishida stepped aside and passed the invitation to the imperial couple.
Spectrum News writes that a Japanese sovereign attending a funeral is remarkably unusual. Traditionally, the Shinto religion associates funerals with impurity, and the imperial family typically avoids funerals altogether. The Emperor and Empress' attendance signifies the close relationship between the two families. The Japanese imperial household considers the British royal family an exemplary modern monarchy. The fact that the journey is the Japanese imperial couple's first international trip as Emperor and Empress magnifies the visit's significance. Emperor Naruhito ascended the Japanese Chrysanthemum Throne in 2019 (via Japan Today).
The Japanese imperial family went into mourning after the queen died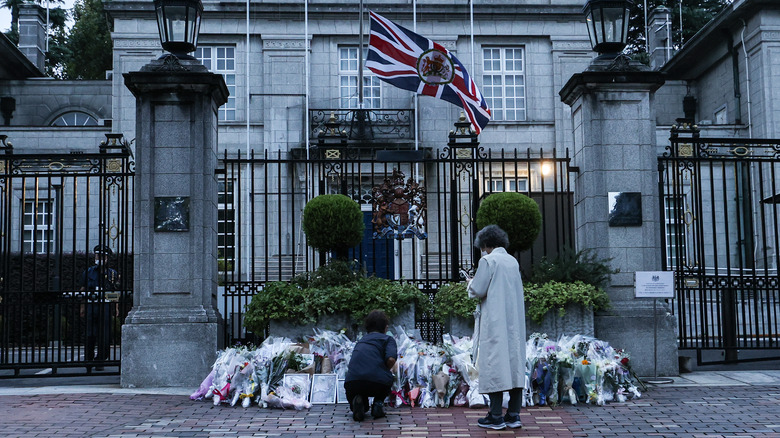 Takashi Aoyama/Getty Images
The Japanese imperial family took extraordinary steps to honor Queen Elizabeth II's life. Japan Today writes that the current imperial couple — former Emperor Akihito and former Empress Michiko — participated in a three-day mourning period directly following the queen's death. "During Queen Elizabeth's 70-year reign, the British royal family and the Japanese imperial family have maintained friendly relations for three generations," a top government spokesperson told the press.
The relationship between the two sovereign families began as soon as Queen Elizabeth ascended to the throne. Former Emperor Akihito attended Queen Elizabeth's coronation in 1953 as a crowned prince on behalf of Emperor Showa. Over the next 70 years, the imperial family and the British Royal family enjoyed periodic diplomatic visits. Emperor Naruhito, who had spent time with the royal family during his studies at Oxford, said of the queen's death (via Japan Today), "I express my heartfelt sorrow and deep sadness." The emperor continued, "From my heart, I declare my gratitude and esteem for her many achievements and contributions."
While the imperial couple's attendance has explained Prime Minister Kishida's absence, Kyodo News reports that not all are satisfied. One of Prime Minister Kishida's aids encouraged him to visit London and show engagement in "funeral diplomacy." To attend the events in some manner would have aligned Prime Minister Fumio Kishida with other heads of state, including the Bidens, who attended the queen's funeral.