What We Know About The Queen's 7-Foot-Tall Royal Aide, Matthew Magee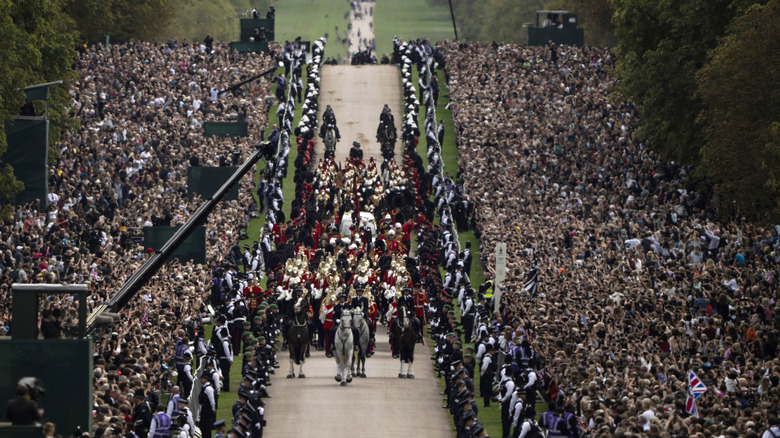 Wpa Pool/Getty Images
The BBC reports that Queen Elizabeth II's funeral procession to Windsor included the military, her family, and her trusted staff. As her coffin was transported through London, two men caught the eye of viewers — Matthew Magee and Paul Whybrew (via WalesOnline). Both men towered over the rest of the procession. In fact, Whybrew, who stands at 6 feet 4 inches, is nicknamed "Tall Paul," Yorkshire Live reports. He is also a royal aide and had a particularly close relationship with the queen. However, social media, specifically Twitter, went crazy for Magee. Due to his abnormal height, he was mistaken to be "Tall Paul."
LADbible explains that Magee was seen walking through the funeral procession in a black suit wearing a single medal on his chest. This prompted tweets asking about his height and his identity, with one person stating (via the Daily Mail), "I can't stop paying attention to the incredibly tall man walking in front of the vehicle carrying the queen's coffin." Per the Daily Mirror, Magee is 7 feet 2 inches and was the queen's private secretary. In comparison, Queen Elizabeth was only 5 feet 3 inches tall. According to the Daily Star, this has earned him the nickname "the royal slender man." Slenderman is a meme — "a mythical creature often depicted as a tall, thin figure wearing a black suit and a blank face," according to Know Your Meme.
He aided Meghan Markle on her first solo trip with the queen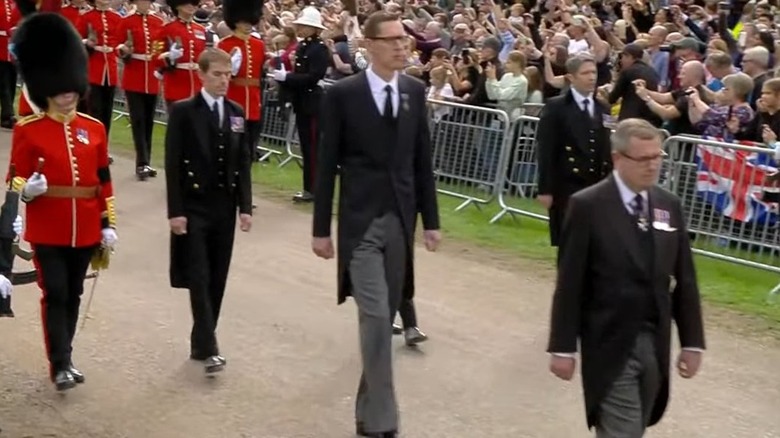 Sky News
The Sun reports that Matthew Magee has been working for the queen since 2018. He replaced the former queen's private secretary, Samantha Cohen. Prior to this role, the publication states that Magee worked as Prince Edward's secretary. Although not much is known about his personal life, one royal insider stated at the time of his hiring, "He is a smashing guy with a great sense of humour and the queen will love working with him on a daily basis." WalesOnline notes that the queen likely asked for both Magee and Paul Whybrew to walk in her procession, as Prince Philip did the same with his staff.
The Daily Mail writes that Magee, who is Irish, played an important role when the queen and Meghan Markle went on a trip to Cheshire back in June 2018. Per Town & Country, this was the first outing Markle went on without her husband, Prince Harry. Insider explains that Harry and Markle had only married weeks before in May. That said, the queen brought three members of her staff — including Magee — to assist Markle with her first solo trip. According to the International Business Times, Magee and the rest of the staff followed closely behind as the queen and Markle attended events in Cheshire. As the queen's private secretary, Magee's job involved organizing, scheduling, and more.