The Lone Pony Outside Of Windsor Castle Held A Major Significance To The Queen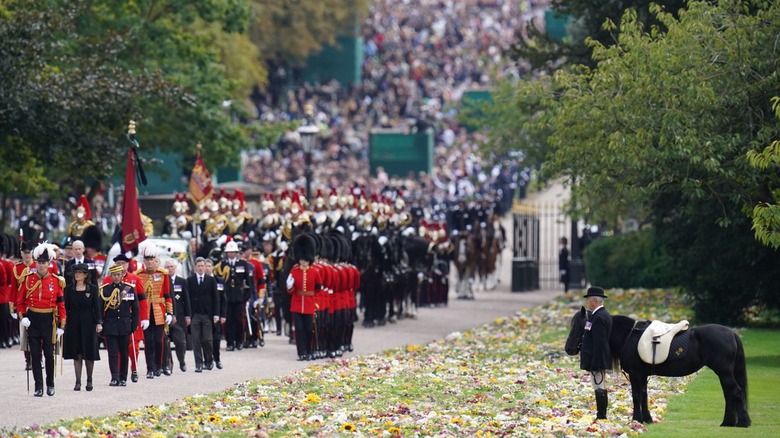 Wpa Pool/Getty
The late Queen Elizabeth II's love of animals was no secret, and during her funeral services on Monday, her corgis Sandy and Muick greeted the funeral procession at Windsor Castle. Another of the queen's animal companions was in attendance, too: her favorite pony, Carltonlima Emma. Per the Independent, the black pony stood on the Long Walk up to the castle, in a gap among flower tributes, while the coffin and guards passed. She was with the queen's stud groom, Terry Pendry. Behind them stood horse grooms from the Royal Mews of Windsor Castle, Emma's home.
Horse Talk says the queen was often pictured riding Emma, and People notes that she continued to ride the pony in her 90s. Emma became a bit more famous when the American company Breyer Animal Creations chose to make and sell a model of her. A portion of the sales of these models goes to the Fell Pony Society and to Britain's Girl Guides. The queen was a patron of both organizations (via Breyer).
England's horsey history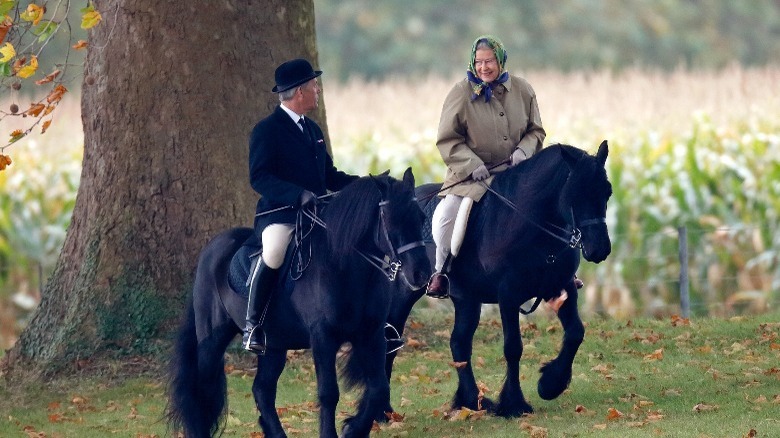 Max Mumby/indigo/Getty
Emma is a fell pony, an ancient breed native to Britain and especially associated with Northern England (via Horse Talk). The word "fell" comes from Nordic languages and refers to hilly areas used as common grazing land. Even recently, some semi-feral ponies still lived in areas like these, especially in the county of Cumbria. Breyer says fell ponies are known for intelligence, stamina, strength, and agility.
Appropriately for an English girl, the queen's love of horses started early. According to the Independent, her first riding lessons probably began in January 1930, when she was three, at Buckingham Palace Mews. She received a horse of her own at age 4 and owned hundreds more throughout her life. The four horses leading her funeral procession were gifts from the Royal Canadian Mounted Police (via People).
Queen Elizabeth and her mother bought a steeplechaser, Monaveen, in 1949, at which point the future queen adopted her racing colors: scarlet with purple hooped sleeves and black cap, according to the Independent. The queen was knowledgeable of many different horse breeds, but must have been especially fond of fell ponies: She had at least two more who appeared with her in her 96th birthday picture (via BBC). Still, Emma remained the favorite, ridden by the queen and her granddaughters (via Breyer).