Here's Why Flags Flew At Full Mast During The Queen's Mourning Period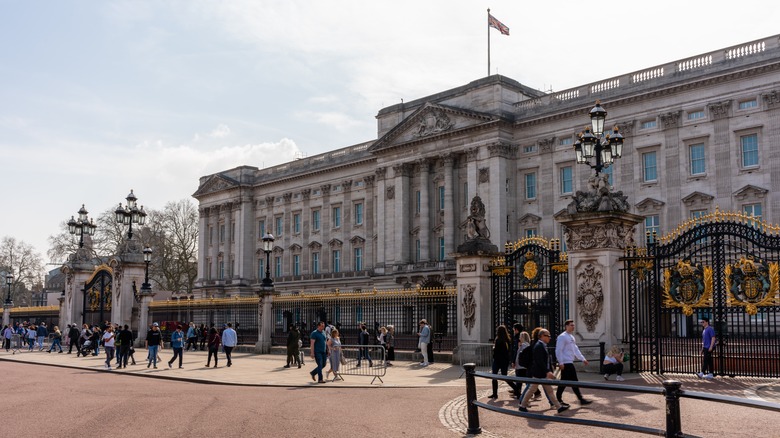 Scott Jenkin/Shutterstock
Upon Queen Elizabeth II's death on September 8, 2022, NBC News writes that the UK subsequently went into a 10-day mourning period. Almost immediately, Reuters explains that the public was informed of the news. A death notice was placed outside of Buckingham Palace. Moreover, the royal family's website went dark and they too made an announcement. Notably, flags across the nation were flown at half-mast at royal residences and government buildings. Flagmakers reports that this tradition goes back to the 17th century and is a sign of honor and grief. The Independent adds that flags are also flown at half-mast in the UK for members of the royal family, prime ministers, and at times, other world leaders.
According to The Hill, President Joe Biden obliged this practice. In light of the queen's death, he ordered the flags of various federal buildings to be flown half-mast. U.S. News & World Report notes Biden has only done this a number of times, including when former Japanese Prime Minister Shinzo Abe was assassinated. In his proclamation, Biden stated that the flags would be flown at half-mast until sunset, on the day of the queen's funeral. As for the UK, the flags will remain at half-mast until 8 a.m. the day after the funeral, per Euronews. However, this protocol was briefly broken for a special occasion shortly after the queen's death (via Wales Online).
They honored King Charles III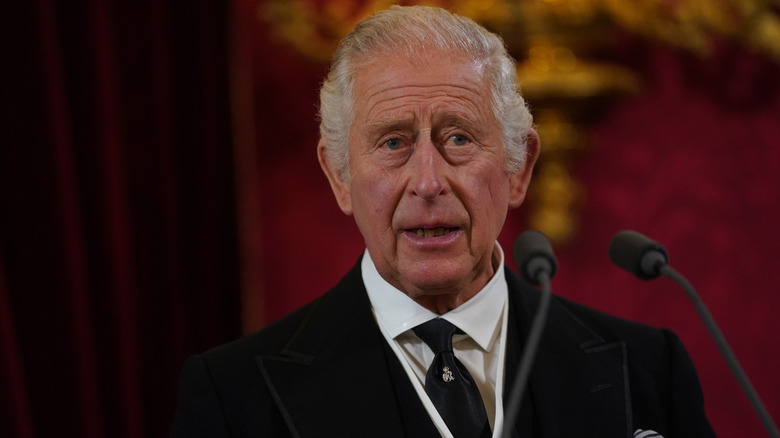 Wpa Pool/Getty Images
Flags were flown at full-mast for 25 hours to mark the proclamation of the new monarch, King Charles III, according to Wales Online. NBC News explains that Charles immediately became king after his mother's death. However, the proclamation, which was held at St. James Palace in London, is a formality. With this, Wales Online reports that the royal's official website stated, "In recognition of the new Sovereign, flags will be flown at full-mast from the time of the principal proclamation at St James's Palace until one hour after the proclamations in Scotland, Northern Ireland and Wales, after which flags will return to half-mast in mourning for the death of Her Majesty The Queen."
At his proclamation, NBC News writes that Charles signed his name as king and swore an oath to his people. He announced, "Even as we grieve, we give thanks for this most faithful life. I am deeply aware of this great inheritance and of the duties and heavy responsibilities of sovereignty, which have now passed to me." According to the Independent Charles' ascension to the throne is also the reason why one flag was not lowered to half-mast. Per Yahoo News, the Royal Standard flag is never lowered to represent that there is a monarch on a throne.