Queen Elizabeth's State Funeral Outdid Churchill's In One Major Way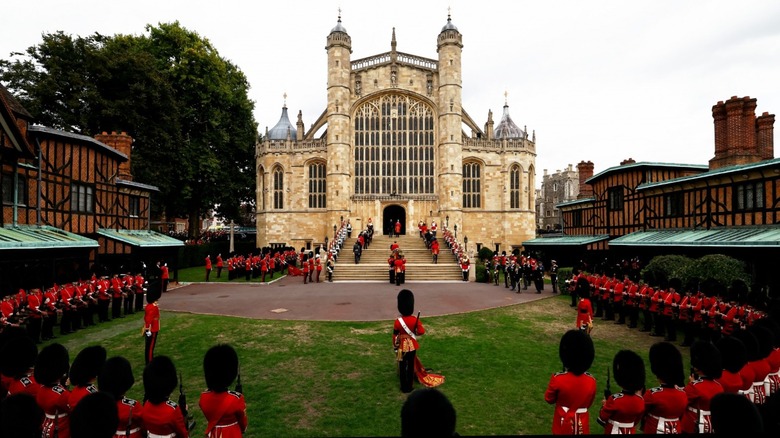 Jeff J Mitchell/Getty Images
Britain's state funerals tend to be large, impressive affairs. Although usually associated with the monarchy, state funerals can also be organized to honor "people of national significance" and high-ranking public figures. Isaac Newton had a state funeral in 1727, and so did Queen Elizabeth II's father, George VI (via The Week UK).
Prince Philip, who died in April 2021, would've been entitled to a state funeral but he had requested a simpler, more private ceremonial royal funeral instead. Because of the COVID-19 pandemic, his funeral ended up being even smaller than expected, with only 30 people attending (per Insider). Since Prince Philip didn't have a state funeral, the September 19, 2022, funeral of Queen Elizabeth II was the first state funeral since Winston Churchill received one in 1965, according to "PBS NewsHour."
At the time, Churchill's funeral was a massive event. It lasted three days and attracted over 300,000 people wanting to pay their respects, with more than 350 million watching the events unfold through their TVs. It was hailed as "the last time that London would be the capital of the world" by the press and because it was held at St. Paul's Cathedral, it had over 3,000 attendees (via The Washington Post). It was an event of gigantic proportions that attracted presidents and monarchs from around the world and many thought could never be topped.
Queen Elizabeth II's funeral broke all records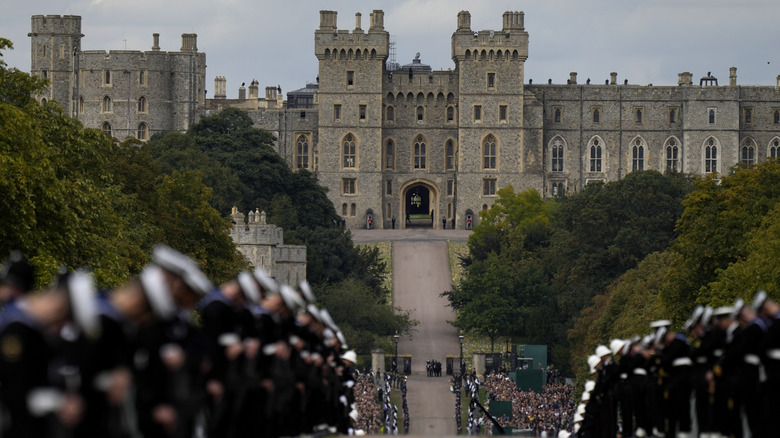 Wpa Pool/Getty Images
For anybody watching Queen Elizabeth II's funeral on September 19, 2022, there's no doubt that her majesty's send-off was bigger than Winston Churchill's. It wasn't only the majestic preparations and the large royal family gathering to pay their respects – the number of mourners watching the queen's farewell was truly astonishing.
It's no surprise perhaps that, because of this, Churchill's funeral required a police force of "just" about 1,000 officers to watch the streets, while the queen's funeral engaged over 10,000 officers, drones, and even snipers on rooftops (via The Washington Post).
While there's no final count yet as to how many people waited in line to see the queen lying in state prior to the funeral, the queue was so long that at one point, it reached a waiting time of over 24 hours (via BBC News). Millions more who couldn't make it watched from home. Churchill's final funeral procession saw about 1 million people take to the streets to watch the parade – the queen attracted at least double that number.
In an era of live streaming, internet, and satellite television, it's hard to estimate how many people tuned in to watch the queen's state funeral. While numbers as unlikely as 4 billion have been mentioned, there's no doubt that her funeral broke global viewership records and attracted a lot more than the very impressive 350 million that Churchill's funeral commanded. When official counts are finally announced, we might end up with bigger numbers than expected.