The Story Of The English Man Who Was Beaten To Death With A Piece Of Bread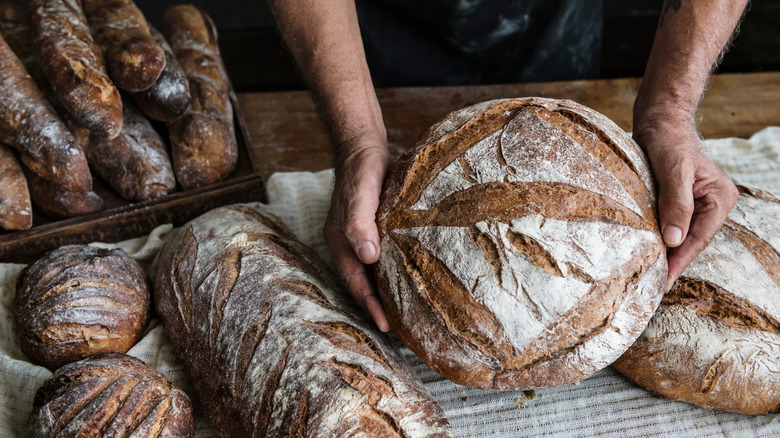 Rawpixel.com/Shutterstock
According to the World Health Organization, the leading cause of death is heart disease, followed by other medical conditions, which is not all that surprising. However, records throughout the years also show the unusual ways people met their demise. For instance, as noted by Insider, thousands of people die each year of falls involving beds and accidental strangulations and suffocations while sleeping. Using heavy machinery is also a common cause of death among individuals. But all those mentioned are accidental.
When it comes to news about murder, we often hear perpetrators using guns and knives but as List 25 points out, some criminals have chosen some unusual weapons that you wouldn't think of as dangerous. Some of them include a banjo, a dessert spoon, a pickle jar, a prosthetic leg, and even a woman's own breasts. In one instance, however, a man was found murdered with what appeared to be a loaf of bread.
Death by pumpernickel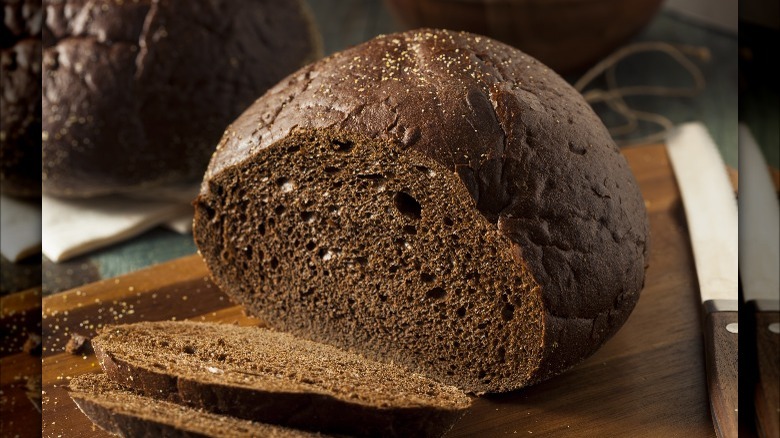 Brent Hofacker/Shutterstock
An article in the Opinion section of the Sarasota Herald-Tribune on January 25, 1988, mentioned the murder of an English man named Sir Reginald Hemsley-Doddingdale, who was discovered deceased with a "lump on the back of his head." The incident was also covered by North Carolina's Wilson Daily Times on January 29, 1988. As noted by the reports, Scotland Yard was investigating the death of the man, and the authorities found the alleged murder weapon at the scene of the crime. Beside the body of Hemsley-Doddingdale was a loaf of pumpernickel bread.
According to Cooks Info, pumpernickel bread is typically made with sourdough and is quite dense. But it is dense enough to kill a person? An officer who investigated Hemsley-Doddingdale's murder stated that the pumpernickel bread found at the scene was as hard as an anvil. "Worse case of pumpernickeling I've ever seen," the officer stated. This proves that badly-baked or stale bread can be an effective murder weapon.
Other instances of attacks using bread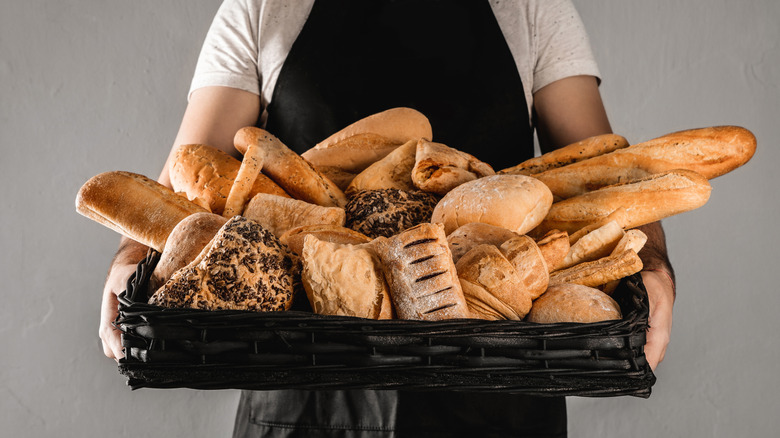 Jukov studio/Shutterstock
Unfortunately, Sir Reginald Hemsley-Doddingdale isn't the only person killed by bread. According to Alpha History, a Welshman named William Hopkin was also killed by a loaf of bread in 1801. During the inquest, it was revealed that a laborer by the name of Morgan Hopkin threw a loaf of wheat bread at William, who died a few days later. In the report, the coroner stated that when Morgan threw the bread, he delivered "a mortal blow upon his private parts," which ultimately caused his demise.
There have been more recent reports of attacks using bread, but fortunately, the victims survived. As reported by SF Gate in 2017, a man shopping at a Safeway grocery store yelled at the employees, asking them to let him pay for his items. One employee attempted to appease the disgruntled customer, but he was hit several times in the face with a loaf of French bread. In 2022, a domestic dispute between a couple ended up with a man being charged with aggravated assault after he used a loaf of bread and a board to hit his wife during an argument (via Newsweek).