What Was Taylor Hawkins' Last Foo Fighters Performance Before He Died?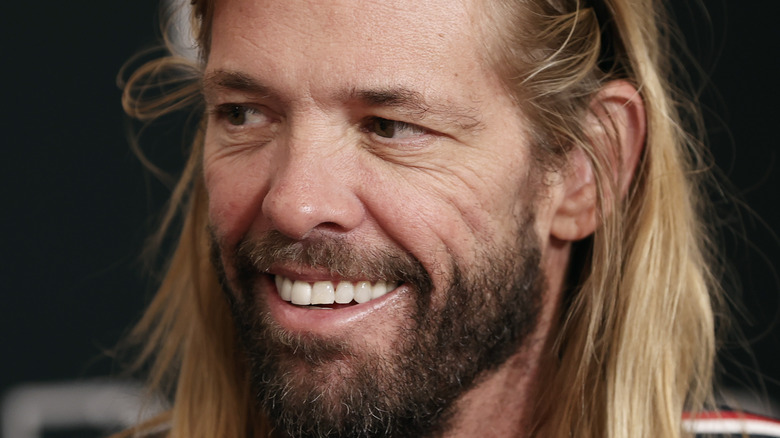 Arturo Holmes/Getty Images
The drummer for the legendary rock band Foo Fighters died in his hotel room on March 25. Paramedics arrived at the hotel because Hawkins was reportedly having chest pains, but there was nothing they could do upon their arrival. The autopsy revealed antidepressants and opioids, but the most prominent issue was likely an enlarged heart. After he died, some of his friends stated that Hawkins expressed to them the toll that rigorous touring schedules had on him. According to fellow drummer and friend Matt Cameron, Hawkins "had a heart-to-heart with Dave (Grohl)" about his struggles with the demands of three-hour concerts on lengthy tours. However, representatives for the Foo Fighters claim that he did not discuss that with anyone involved with the band (per Rolling Stone).
The Foo Fighters were on tour in South America in March of 2022. Newsweek states that the band was in Bogotá, Colombia, when Hawkins died at the age of 50. Hawkins was the drummer and a "beloved brother" in Foo Fighters for 25 years. The band cancelled their 2022 Grammy performance and all tour dates to follow.
Taylor Hawkins' last performance was in Argentina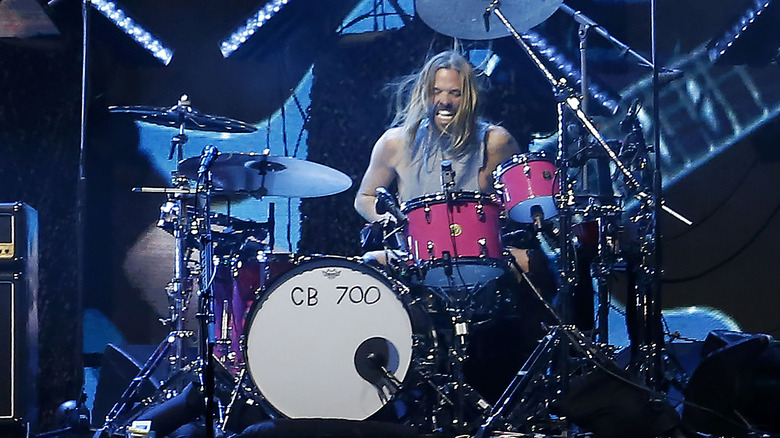 Marcelo Hernandez/Getty Images
Among the shows on the South American tour for Foo Fighters was a stop at the Lollapalooza Festival in Argentina on March 20. This popular three-day music festival included performances from big names like Machine Gun Kelly and Miley Cyrus (per Live for Live Music). During many Foo Fighters performances, Hawkins would take the lead for a song. When he did so on March 20, he sang "Somebody to Love" from his favorite band, Queen. He voiced his gratitude for front man Dave Grohl as well, stating, "I'd be delivering pizzas if it wasn't for Dave Grohl" (per Deadline).
His vibrant attitude during this last-ever performance made his death all the more shocking. Newsweek reported that his widow, Alison Hawkins, expressed her desire for the fans to continue his legacy and spoke of the love that she and her late husband had for Foo Fighters. "Taylor was honored to be a part of the Foo Fighters and valued his dream role in the band ... We consider every band member and the extended Foo Fighters team our family."
Foo Fighters held tribute concerts for Taylor Hawkins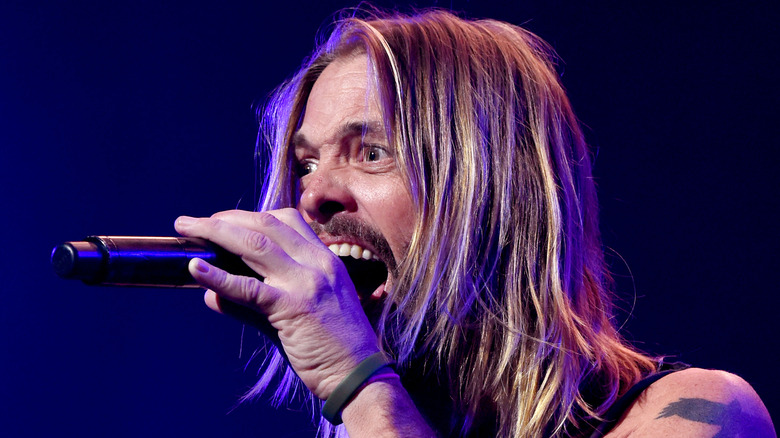 Kevin Mazur/Getty Images
Foo Fighters planned two powerful tribute concerts to honor Hawkins: one at Wembley Stadium in London and one at The Kia Forum in Los Angeles. Brian May and Roger Taylor from Queen, Mark Ronson, and Liam Gallagher joined Foo Fighters for the concert in London. During the band's hit song "My Hero," Hawkins' 16-year-old son, Shane Hawkins, played the drums and did his own drum solo. Grohl's happiness at having Shane on drums was clear to fans watching in the stadium and via livestream (per "Today"). 
Hawkins had stadium-sized musical ambitions in his youth, but always suffered from stage fright, even after years of performing (per Rolling Stone). Perhaps this adds to the adoration he received from fans who could relate to his humanity. Messages of love and grief came pouring out after his death. Loudwire highlighted the multiple tributes to Hawkins, including those from Paul McCartney and first lady Dr. Jill Biden.