The Unexpected Event That May Have Inspired Paul McCartney To Write A Classic Beatles Song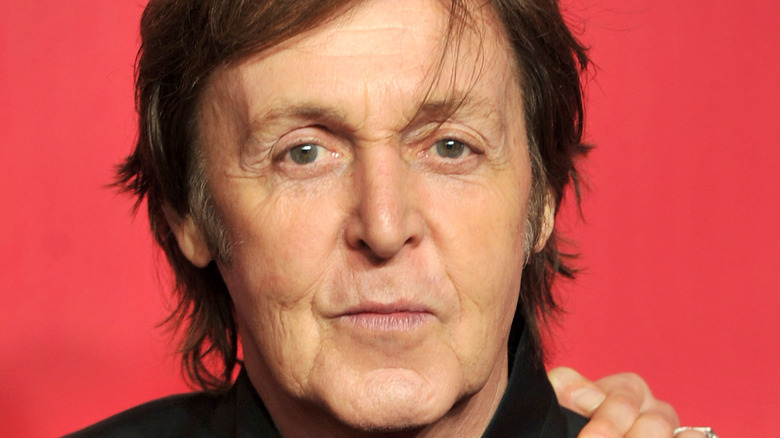 Kevin Winter/Getty Images
The Beatles had, and continue to have, an incredible influence on the music industry. The British band, according to Guinness World Records, is officially the best-selling group in history, accruing a dizzying one billion album and single sales (approximately) around the world. One billion fans, surely, can't be wrong.
Each of the iconic members that became the Fab Four had their own part to play in the group's success, and they surely wouldn't have been the same without any one member. The legendary Paul McCartney's songwriting, for instance, was just one crucial element of many. The man himself has explained that the process, for him, isn't one to get too far into your own head about. "Not having a method," he said, per Far Out Magazine, is the method that tends to work the best for him. "I'll sit down and I'll start something I fancy doing, you know, either a key that I fancy playing around in ... or on piano ... and ... just see where it leads me."
Along the way, McCartney has been inspired by all sorts of things. As part of a series of new writings McCartney offered for a British Library exhibition dedicated to him, the BBC reported that he wrote, "I came to realise that my parents, Jim and Mary McCartney, were the original inspiration for so much that I've written." With one particular Beatles song, however, a harrowing event may have been the writer's catalyst.
She Came In Through The Bathroom Window may have been inspired by a home invasion
Harry Durrant/Getty Images
"She Came In Through The Bathroom Window," per AllMusic, first appeared on 1969's "Abbey Road." The second side of the album features a medley of intriguing Beatles material, but this particular song had some rather unsettling undertones. "Gonna come out now. Ha-ha-ha. Wow! Look-out," the song begins, raising the question of who exactly is coming in through whose bathroom window and what exactly they're going to do now that they have. There could indeed be every reason to look out.
AllMusic's Richie Unterberger states that it was a popular belief that Linda Eastman, whom McCartney had married the year before the album's release, was the bathroom-window-enterer in the song. This, it seems, was not the case, per Unterberger: "it actually referred to the Beatles' fans who would break into his London house to take souvenirs."
Needless to say, the Beatles were surrounded by excitable fans wherever they went. One particular group of faithful followers was the Apple Scruffs, described by William Shaw in Rolling Stone as "a tiny but intense group of (mostly) young women who gained their name from the thick coats and sweaters they wore against the London cold, and from hanging around the Georgian doorstep of 3, Savile Row, London, the address of the Beatles' Apple headquarters."
The Apple Scruffs, it seems, came in through the bathroom window, and stole photographs and a pair of Paul McCartney's pants.
The Apple Scruffs' break-in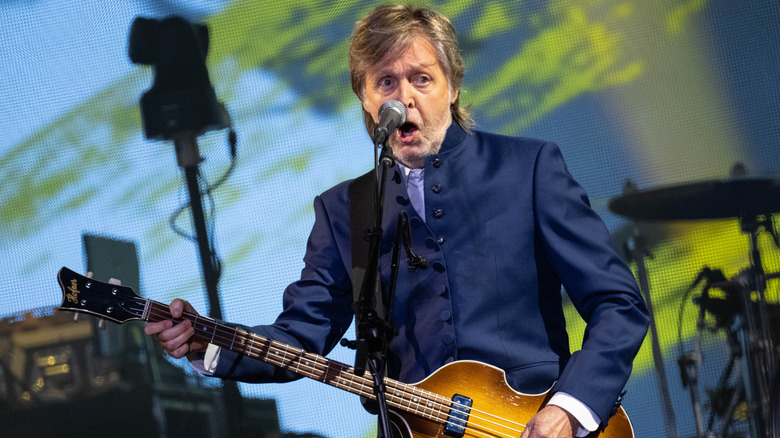 Harry Durrant/Getty Images
In Steve Turner's "A Hard Day's Write: The Story Behind Every Beatles Song" (via The Beatles Bible), Margo Bird states that some of the Apple Scruffs would simply wait outside hoping for an encounter or an autograph. Other Scruffs, however, would break in.
On one particular occasion, per William Shaw in Rolling Stone, a group of them did just that at Paul McCartney's home, while its famous resident was away: "they played, for a while, on the Buckminster Fuller geodesic domes McCartney had installed in his garden, until one of them – possibly a girl called Chris – spotted a ladder and an open window."
According to Shaw, a recording of "The End" was stolen that day, along with various photographs and a pair of the Beatle's pants. Nothing of any particular monetary value was taken, though, which was reportedly how McCartney knew the Apple Scruffs were responsible. He said, according to Shaw, "a real burglar would have taken more expensive things."
The Beatles Bible states that there's an alternative origin story for the song: The Moody Blues' Ray Thomas and Mike Pinder told McCartney about the time that a fan had climbed in through a bathroom window to spend time with the former, and McCartney apparently started putting the song together on the spot.
Whether McCartney was inspired by one or both of these events, one thing's for certain: The allure of celebrities and the dangers of fame are as real today as they ever were.