The Subtle Tribute From The Queen's Favorite Pony Even Royal Watchers Missed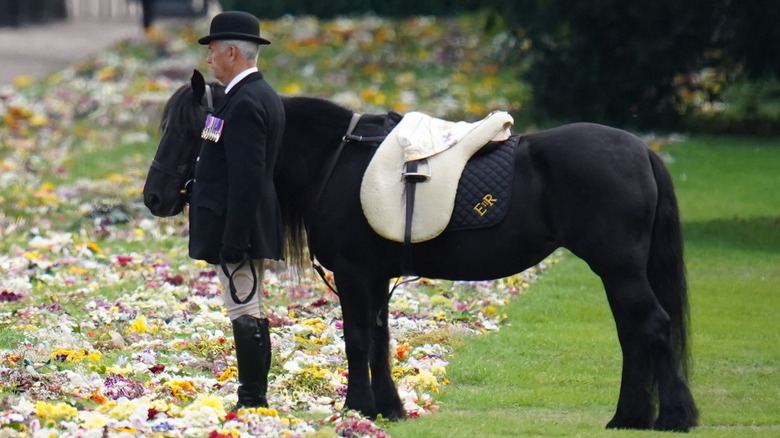 Wpa Pool/Getty Images
A touching moment in the state funeral for Queen Elizabeth II came as her procession arrived at Windsor Castle, according to Reuters. At the royal residence, her coffin was greeted by Sandy and Muick, two corgi dogs, a breed she famously loved. Along the procession route there was also the queen's black pony, Emma. Horseback riding and breeding were two of her life's most enduring passions, and Carltonlima Emma, shortened to Emma, was reportedly her favorite mount. The queen, who died at the age of 96, only stopped riding horses after age 90, as the BBC explains.
It was moving enough that some animal companions of the queen turned out to honor her; the queen's pony Emma lifted one hoof as the queen's coffin passed and it's said that the animal seemed to have a sixth sense about what had happened, according to the head groom (via the Daily Mail). There was also one of the queen's scarves draped over the horse's saddle, as she rarely wore a riding hat. It was also in that saddle area where one further tribute to the late monarch was located, a detail that some royal watchers may have missed.
Emma also wore the queen's favorite saddle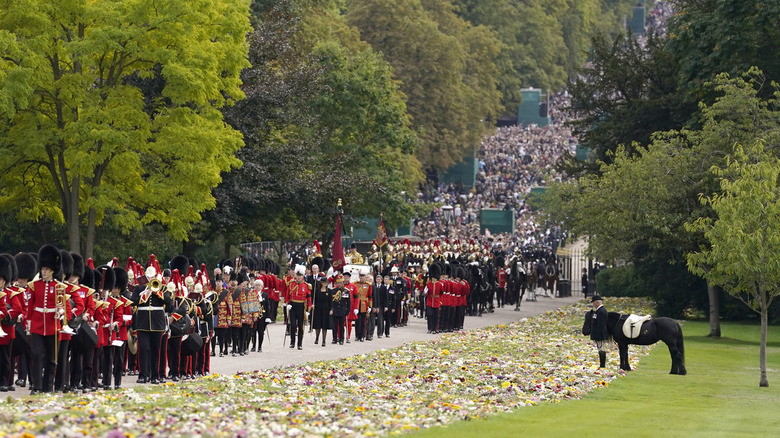 Wpa Pool/Getty Images
The saddle that Emma wore while along the funeral procession route was the queen's favorite saddle, made from sheepskin, based on Daily Mail reporting. The queen rode Emma for 20 years, and according to the queen's groom, Terry Pendry (via the Daily Mail), it only felt right for the animal to be there. Pendry also said, "I've been riding with the Queen for years and the last time she was on Emma was back on July 18 — two days before she left for Balmoral," referring to Balmoral Castle in Scotland where the queen died peacefully on September 8, some two months later, as ABC News explains.
Pendry said he also considered adding the queen's riding crop and gloves but decided a minimal approach was more fitting. "I'm just so glad that Emma and I were able to say our goodbye at Windsor where Her Majesty enjoyed riding her horses so much," Pendry added (via the Daily Mail).